A few weeks ago, I shared my Ann's Cheer Party. It took me a year to share that party, but as promised… here is her luau birthday party.  Only a few weeks this time! Aren't you proud? You are going to love these hawaiian luau party decorations so much!!
We decided to do a late evening pool party and just serve dessert.  The pool party is always a win for us as it makes it easy to accomodate a lot of guests.  This mama doesn't have to clean her house, either!
 The majority of the homemade Hawaiian decorations focused around the dessert table.  I love the Dollar Tree and used six of their grass skirts to go around the table.  They were the perfect height.  Then, I placed paper and draped netting over it.  I placed bamboo skewers on either side of the chocolate fountain and hot glued a few flowers from some leis on the glass.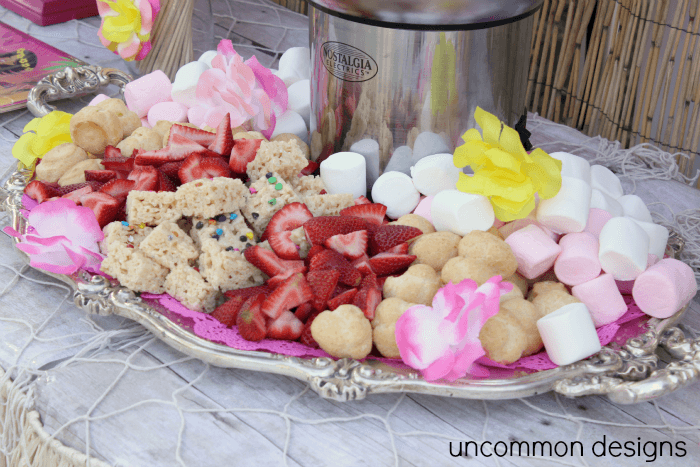 The chocolate fountain was a huge hit with the kids!  I decided to order the Nostalgia Electrics CFF-986 3-Tier Chocolate Fondue Fountain, Stainless Steel
 and it was the perfect size for our crew of 20.  I had a tray of all sorts of goodies that could be dipped and there was nothing left, so I'm guessing I had just what they wanted.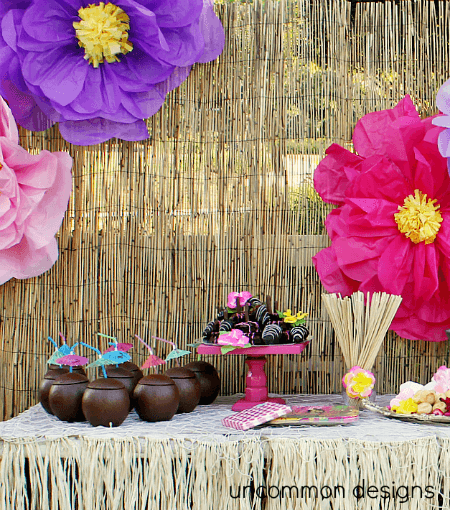 Of course, we had festive coconut drinks with fun umbrella straws for their lemonade. Who wouldn't need a coconut drink at a luau?!
 The cakes were just beautiful.  I had a friend make this brownie layered cake for me and it was delicious.  It had brownies, cookie sticks, and incredible chocolate covered strawberries.  I put them on my DIY cake stands that were painted pink, of course.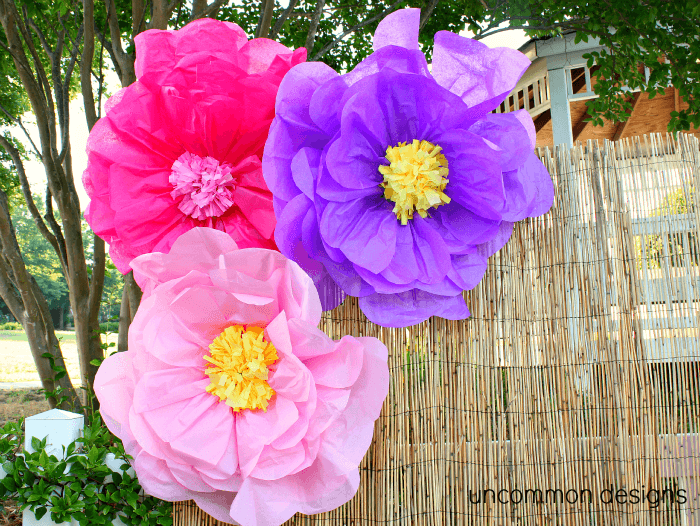 My favorite part of the luau birthday party had to be the giant tissue paper flowers.  They were larger than life and they even found a new life after the party.  Here is  the giant tissue flower tutorial to make your own!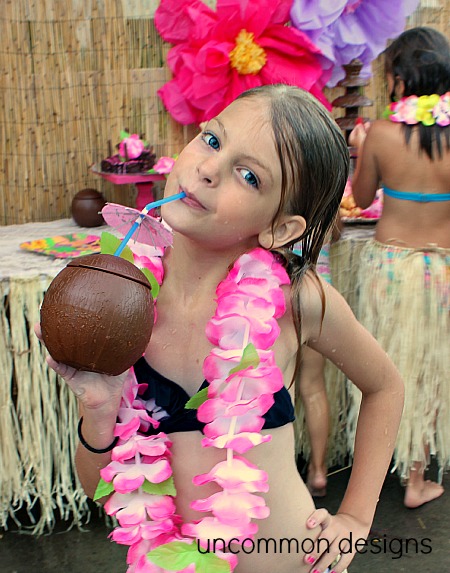 My little hula girl had a blast with her friends  and I love seeing her have that much fun!
*Trish
The following two tabs change content below.
Hey y'all! I am Trish and the creative voice behind Uncommon Designs. I adore party planning, holiday celebrations, and all things crafty! I am so excited to share my creative adventures with you!
Latest posts by Trish Flake (see all)