Brrrr… it has been cold outside!
I hope that you have been staying warm this week.  Even here in South Carolina it has has been bitter cold, but things are looking up.  After all… there is always the perk of enjoying hot chocolate. These Hot Chocolate Cupcakes are sure to warm you up!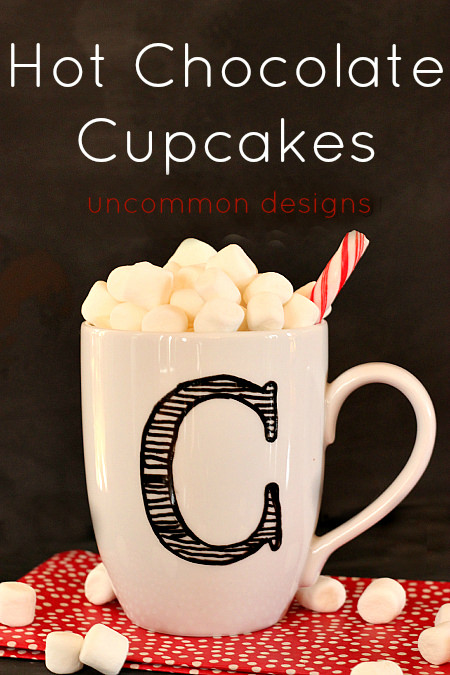 The girls and I made these gifts for our friends this year.  I have always loved the idea of cupcakes in a mug, but wasn't quite sure how it would work.  After doing a little research, I decided to go easy on myself… the box mix won!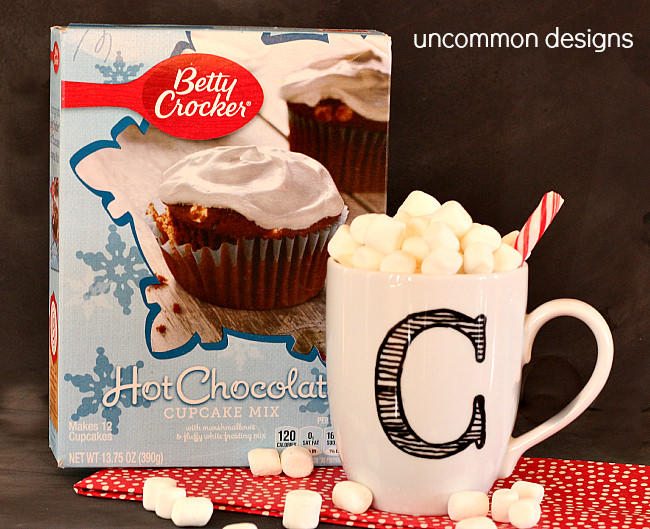 Instead of baking it inside of a mug, I thought that it would be easier to just make the cupcakes and then build them once they had cooled.  I was super exicted to try out Betty Crocker's latest cupcake mix flavor, too!
I whipped up a batch of the cupcakes and we were ready to build! First, I removed the cupcake wrappers.  Then place one cupcake inside the mug and top with icing. Yes, I used the spray icing… I know you aren't surprised!  I then repeated the process with another cupcake.  Finally, top your hot chocolate with some marshmallows and a little peppermint stick.  I just used  a candy cane.  If you are giving this as a sweet surprise to someone, I would recommend doing it the same day as the candy canes will melt a little… you could always just add them right before you are ready to eat or gift!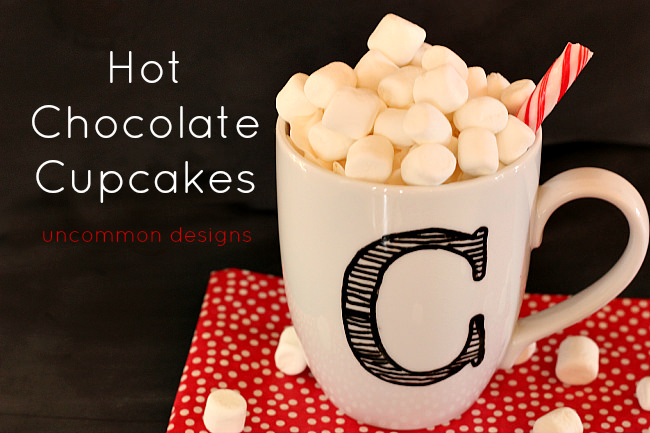 They were so easy to make, delicious, and just too cute!!  Our neighbors loved their gifts and our girls were so proud making the deliveries. Nothing like easy baking and teaching the kids about the gift of  hospitality and thoughtfulness. It was a lot of fun just spending time with them in the kitchen, too!
And yes… we decorated the mugs!  No worries… I promise to show you how to make those in the days ahead!  Stay warm everyone!
*Trish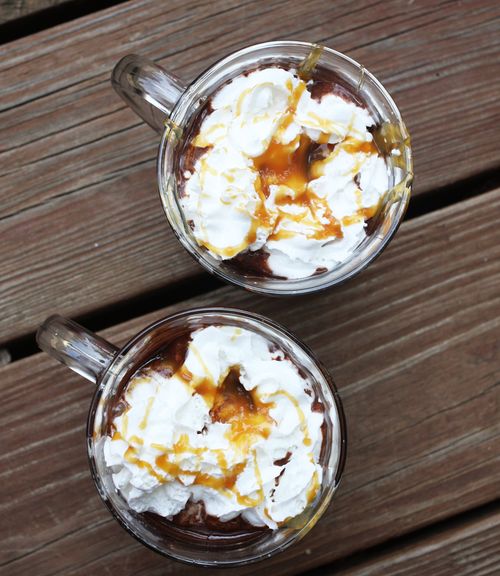 Does all of this talk have you craving hot chocolate?  Well, take a look at these delicious Hot Chocolate Recipes and Treat Ideas!
The following two tabs change content below.
Hey y'all! I am Trish and the creative voice behind Uncommon Designs. I adore party planning, holiday celebrations, and all things crafty! I am so excited to share my creative adventures with you!
Latest posts by Trish Flake (see all)