Happy Holidays to you! It's Laura from Inspiration for Moms back with another recipe that you're going to love. One of my favorite things about the Christmas holiday is knowing that eggnog is back. I have been in love with eggnog ever since I was a little girl and was daddy's little eggnog drinking buddy. If you're not a fan of the rich drink, don't walk away from the computer just yet. This Holiday No-Bake Eggnog Pie has earned praise even from eggnog haters. It's that good!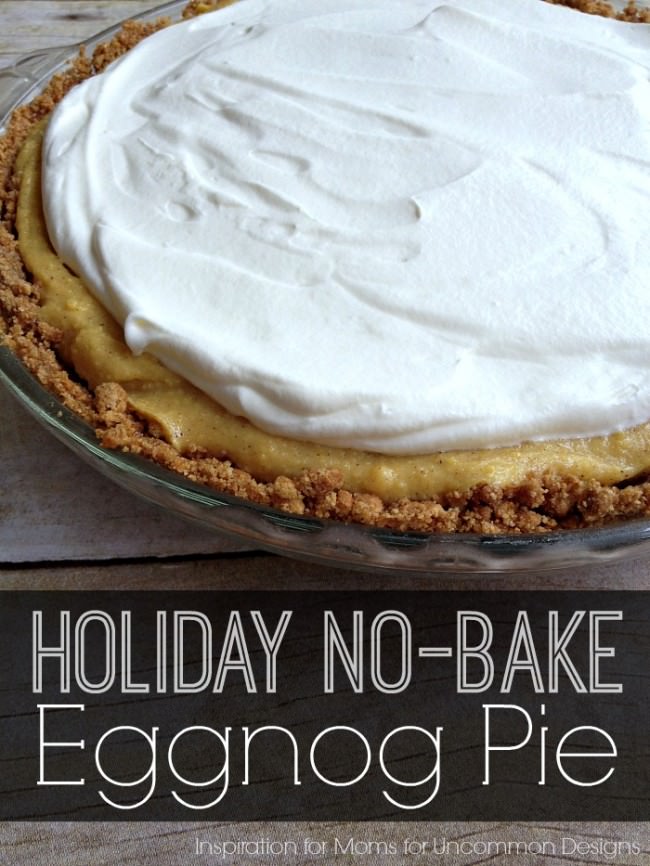 This sweet pie begins with a homemade graham cracker crust, seasoned with cinnamon and nutmeg. Then it's topped with a vanilla and eggnog pudding mixture that is super tasty. Add a little whipped cream on top and you my friend, have a super easy but oh so impressive little dessert.
My in-laws have never been fans of eggnog, so when I offered them a slice to try I was sure to inform them of the main ingredient. But like I told you, they both loved it! They have enjoyed it multiply times saying the taste has only improved more as the flavors have blended. 🙂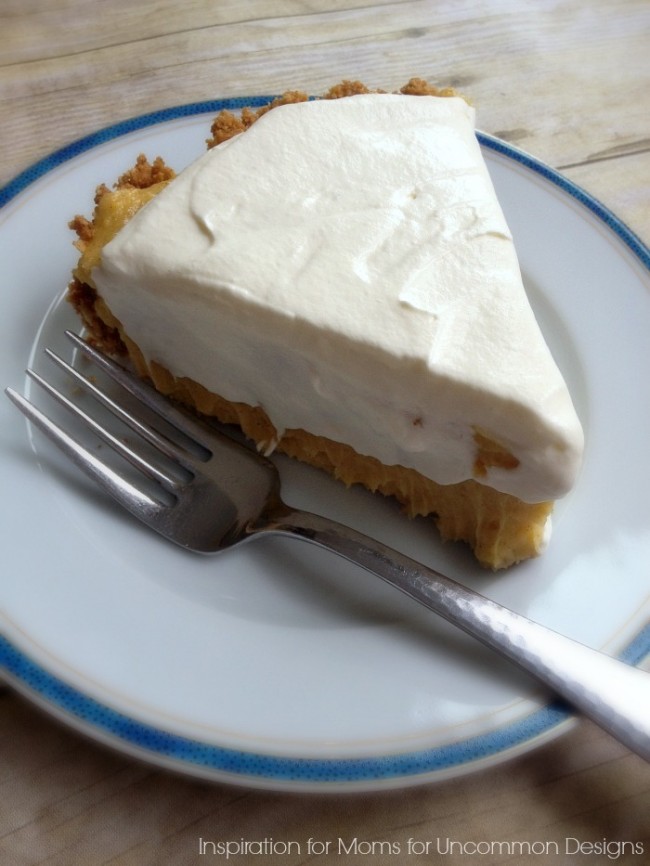 So I hope you will give this recipe a try and let me know how many non-eggnog lovers you win over. 🙂  I wish you a very Merry Christmas and a extremely blessed new year! Feel free to stop by Inspiration for Moms anytime and say Hi!
Holiday No-Bake Eggnog Pie
Prep Time: 15 minutes  Chill Time: Overnight
Makes 1 Eggnog Pie
Ingredients:
Crust:
2 1/4 cups graham crackers, finely crushed
10 tablespoons unsalted butter, melted
3 tablespoons brown sugar
1 teaspoon cinnamon
1/4 teaspoon nutmeg
Filling:
3 (5.1 oz) vanilla instant pudding packages
1 quart of eggnog
1 teaspoon cinnamon
1/4 teaspoon nutmeg
Directions:
Melt the butter in a large mixing bowl and then add the graham crackers, brown sugar, cinnamon and nutmeg. Stir until combined and then place in a 9-inch pie pan.
Begin forming and pressing the mixture down into the pie pan and up along the sides as well.
Place the formed pie crust into the refrigerator to harden while you make the filling.
In a large mixing bowl, combine the eggnog and the pudding mix. Mix on low for about 1 minute then add your cinnamon and nutmeg. Mix on high speed for about another 3 minutes or until mixture starts to thicken up.
Grab your pie crust from the refrigerator and pour in your eggnog filling. Spread around and smooth out until pie filling meets the edges. Cover with whipped cream and then place back into the refrigerator until chilled and ready to serve. Enjoy!
The following two tabs change content below.
Hey y'all! I am Trish and the creative voice behind Uncommon Designs. I adore party planning, holiday celebrations, and all things crafty! I am so excited to share my creative adventures with you!
Latest posts by Trish Flake (see all)