Did you hear?  It is officially late enough to start your Halloween decorating.  Well… that is if you call my opinion  official.  Ha!  Today I am sharing how I decorated a cloche for a little Halloween decor in my home.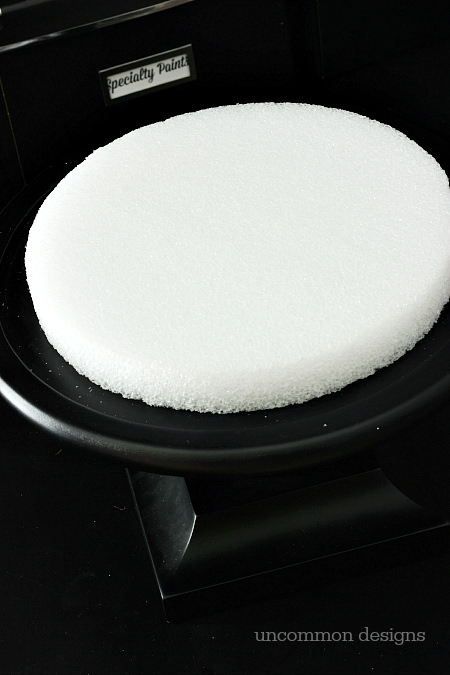 To start out, I had a really pretty cake stand and a glass cloche that sits perfectly on top.  For the base, I added a styrofoam disc.  I just layed it right on the cake stand.
I picked up this sparkly Halloween branch to be my tree.  I also used these ultra-fun led lights.  They are so pretty and twinkly.  They are made with a bendable wire and I just threaded them through the branches of the tree.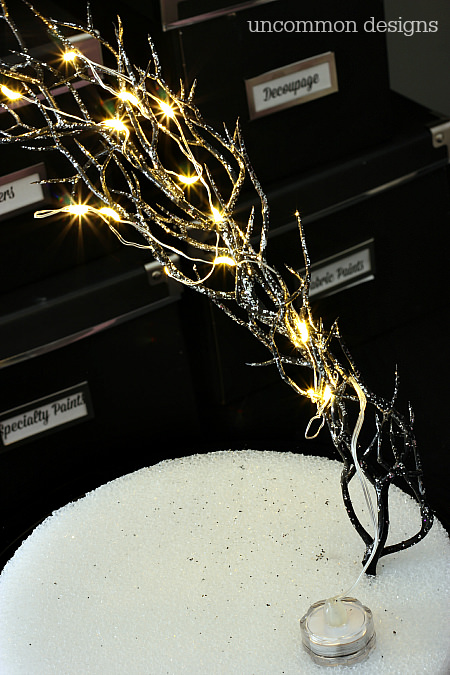 Time to put my tree on the stand.  I just pushed it in and then pushed in the dial for the lights.  Super easy!  This is also a good time to trim your branches.  Mine were a little long.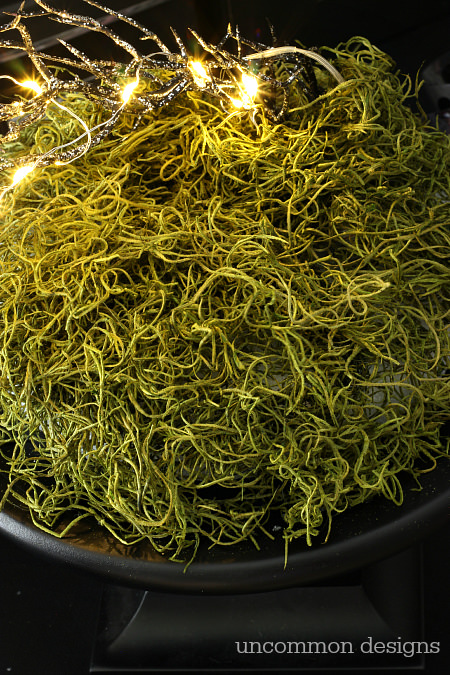 To cover the disc, I used some moss that I had on hand and just placed it on top.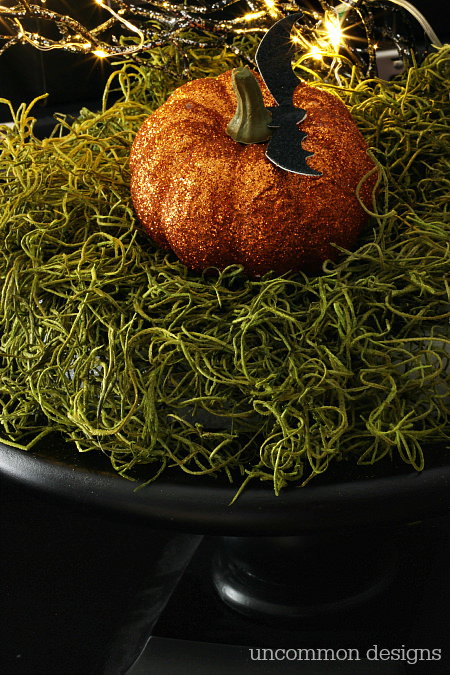 For a little color and added fun.  I used an artificial and glittered pumpkin.  Remember my Halloween Goddess Sculpture?  I used the left over bats to decorate the tree and placed on on top of the pumpkin.  We are just about finished!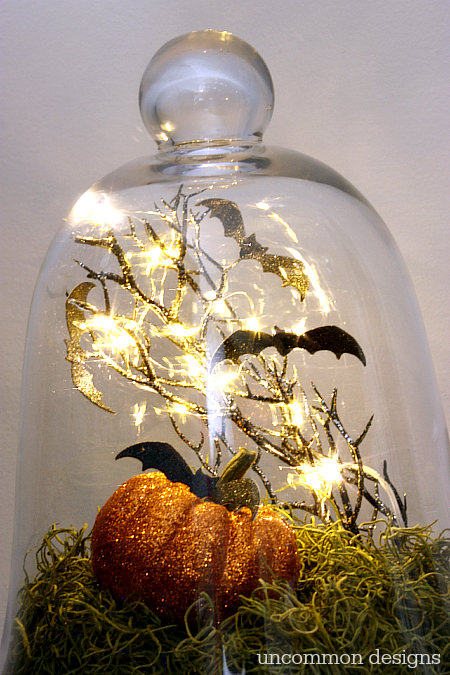 Add the cloche to the top and you have the most elegant and glittery display for Halloween!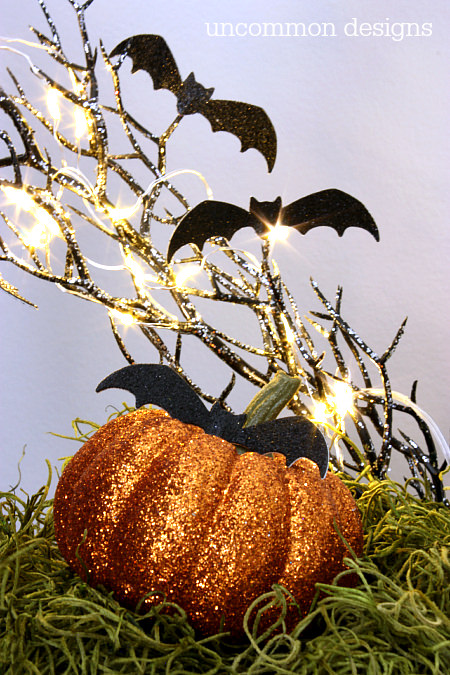 Don't overthink projects like this.  You probably already have on hand several items to make one for yourself.  Just keep it simple and have fun with it!
I used similar pumpkins when I made this Elegant Halloween Feather Wreath.  Another so simple, but gorgeous project.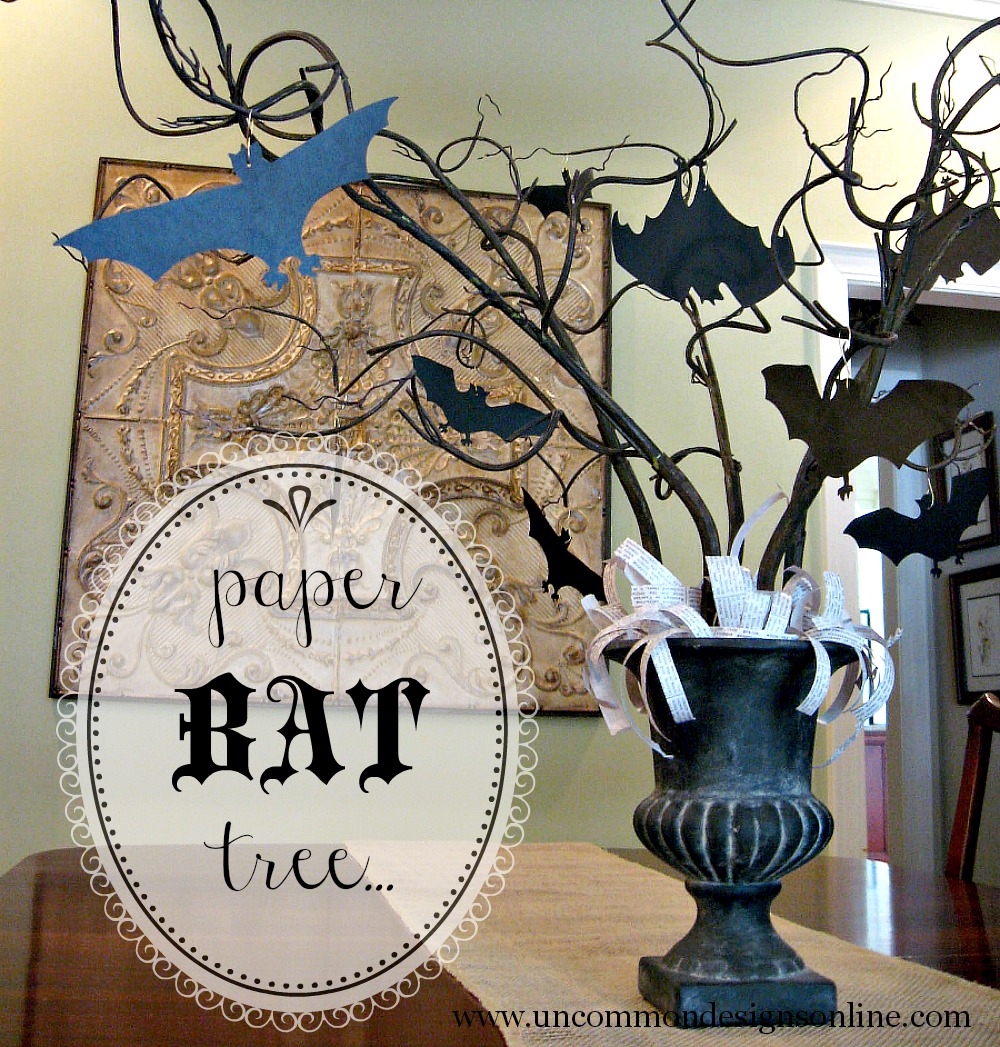 Need something a little bigger?  Make a Paper Bat Tree for your table!
The following two tabs change content below.
Hey y'all! I am Trish and the creative voice behind Uncommon Designs. I adore party planning, holiday celebrations, and all things crafty! I am so excited to share my creative adventures with you!
Latest posts by Trish Flake (see all)