"This shop is part of a social shopper marketing insight campaign with Pollinate Media
Group® and Sharpie, but all my opinions are my own. #pmedia #StaplesBTS  http://my-disclosur.es/OBsstV"
Hey y'all!  It is me… your average mama desperately trying to get all of my ducks in a row for my kids to head back to school. Please tell me I'm not the only one who gets a little overwhelmed this time of year!  Thankfully, some of the things I wanted to do this year were quick and easy… like these Sharpie Monogrammed Pots.
See, I am heading out of town on Thursday for work and I won't get home until Sunday.  Not usually a big deal, but the day after I get home my kids start school.  I am also going to miss Meet the Teacher night…. which I know my husband can handle, but I'd like to be there (sniff sniff).  Since I can't, I wanted to make a little something special for my kids… something to wish them luck as their newest year begins.  I saw these potted bamboo plants the other day and knew they'd be perfect to show them that I was thinking of them!  Being the crafty mama that I am, they needed a little extra touch… in came the Sharpie markers to the rescue to monogram these planters in a snap!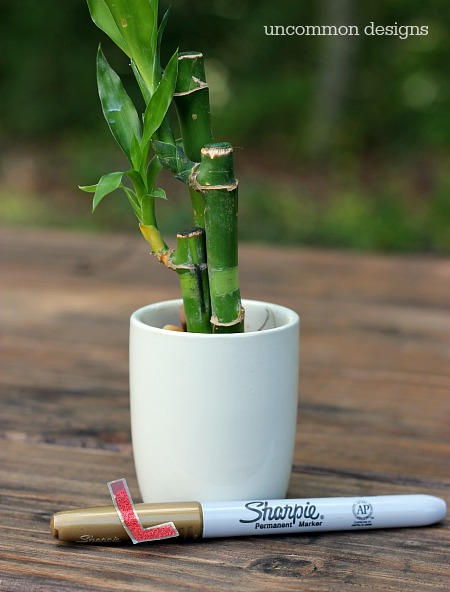 The supply list is super easy… a Sharpie permanent marker and a letter sticker.  I headed out to my local Staples and picked out a few value packs of Sharpie Markers.  Their fine and ultra-fine markers and highlighters are on sale while supplies last and I know that they will come in handy for projects, organization, and crafting of course!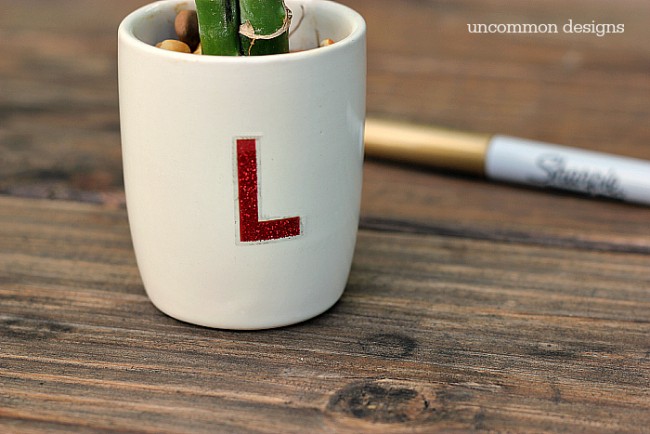 To make this adorable project simply adhere the sticker.  Make sure that your sticker has all of the holes cut out before you apply it to the pot.  For example, if you have an a, you might need to verify that the hole is already cut out of the middle.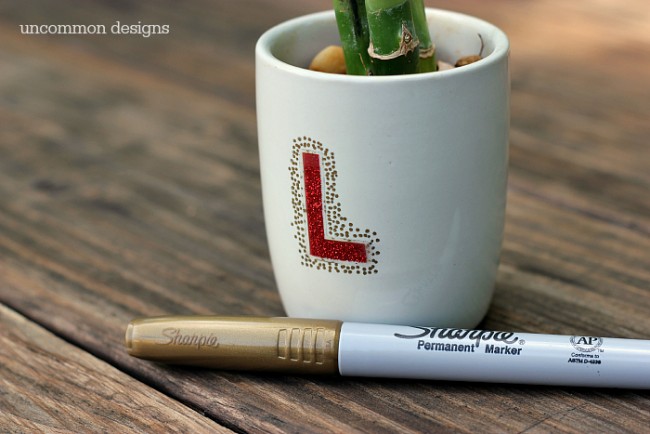 Now, you want to mark all around the letter with a quick dot.  Add more and more layers of dots, right now the closer the better!  It will really help to define the shape of the letter.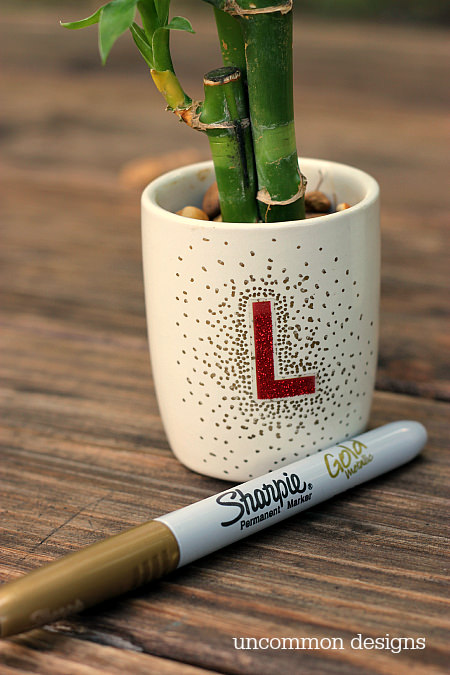 This is the super fun part, add more and more dots around the letter.  The best part about this is that you don't have to be perfect.  Just randomly dot all around the letter getting more sparse the further out you get.  When you are all done, remove the sticker.
I know that my little ones are going to love their lucky bamboo plants.  In my heart, I know that they don't need luck… they are prepared and prayed for.  However, this crafty mama loves to make her kiddos a special something for special times.  These would also be perfect to wish teachers luck as school begins or even for other moms that you know that may be struggling to keep it together during this super busy time of year!
Are you ready for the school year to begin?  I'm getting there!
Here are a few other projects that you might like for Back to School!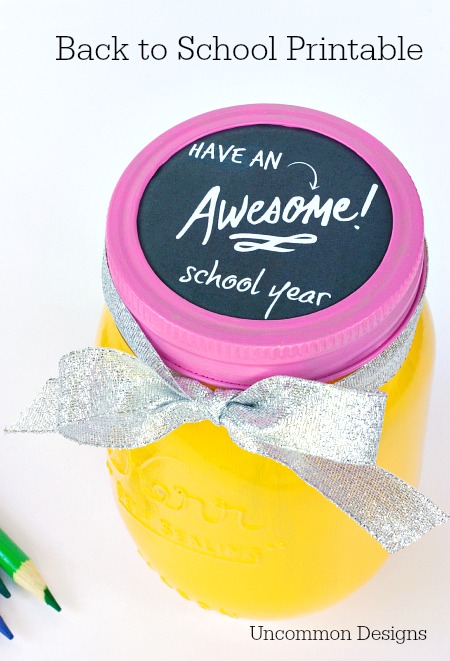 Have an Awesome School Year Mason Jar Printable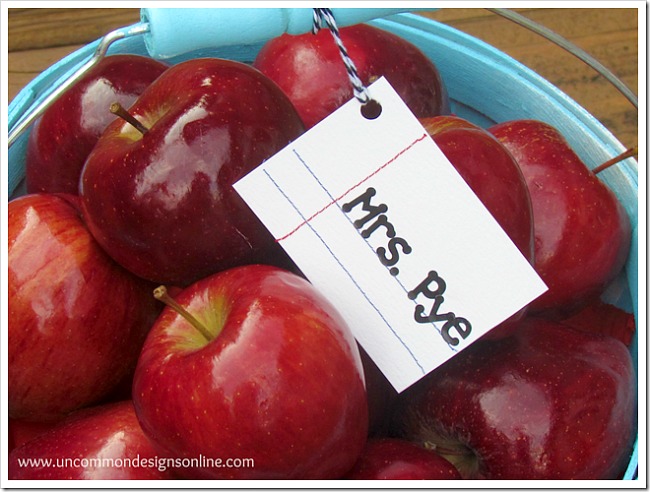 The following two tabs change content below.
Hey y'all! I am Trish and the creative voice behind Uncommon Designs. I adore party planning, holiday celebrations, and all things crafty! I am so excited to share my creative adventures with you!
Latest posts by Trish Flake (see all)