Disclaimer: We were supplied products to review from Golden Tote but all opinions are 100%  our own. 
Soooooo…..can I share a secret with you?
Shopping gives me hives.
Like I hate it.
Seriously, all my life.
I just want a magic fairy to stop by every now and then and deliver perfectly picked out clothes for me to wear. Can anyone else relate? I hope so.
With the age of online shopping, the ability to not have to leave your home to shop is quickly becoming a way of life. Enter GOLDEN TOTE.

Never heard of Golden Tote? It is a wonderful, online way to shop each month without having the commitment of a subscription service or fee.
Let me tell you quickly how it works in 4 easy steps…
1. Choose Your Tote. The first Monday of each month a new "tote" goes on sale at 9am PST. You can choose a Golden Tote (5 items total) a Mini Tote ( 2 items total ) or a Surprise Tote ( 3 items total). Psst. they also will have a few mid-month additions for those of you who just can't have one tote a month.
2. Pick Your Favorites. Yes, this is the best part. Unlike a monthly subscription service, YOU get to choose some of your favorites to go in your tote depending on which tote you have chosen. The other items will be surprises picked out just for you by the Golden Tote stylists.
3. Select Your Add Ons. Ok this is another way Golden Tote is set apart from other styling services. When you choose a tote, you can also add on other items at reduced prices. They have shoes and accessories to complete that perfect outfit.
4. Create Your Style Profile. Golden Tote has one of the best style profiles I have seen and I have tried quite a few styling services and monthly subscription services. The style profile really helps those fabulous Golden Tote stylists choose your surprise items to include in your tote.
That's it! Best part…you decide if you want a tote and which one each month. No subscription necessary.
So when we were asked to review a tote, I gladly said.. "You bet!".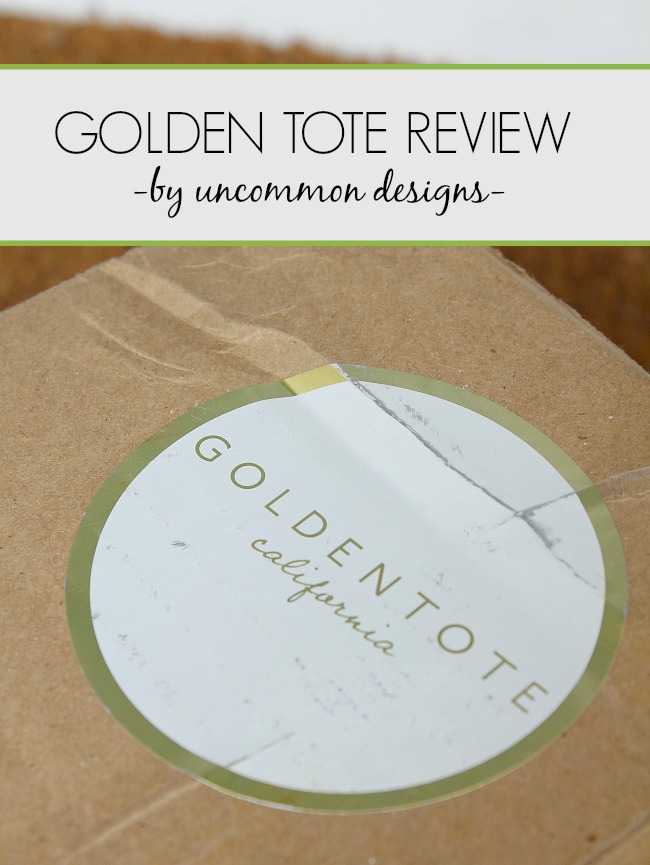 Let me give you a bit of background on myself. I am a 46 year old stay at home mom to 2 teenagers. I went back to work part time last year and, well only had my mom uniforms. So I have tried a few monthly subscription services because of time and lack of enthusiasm about shopping. I can tell you….I am loving Golden Tote.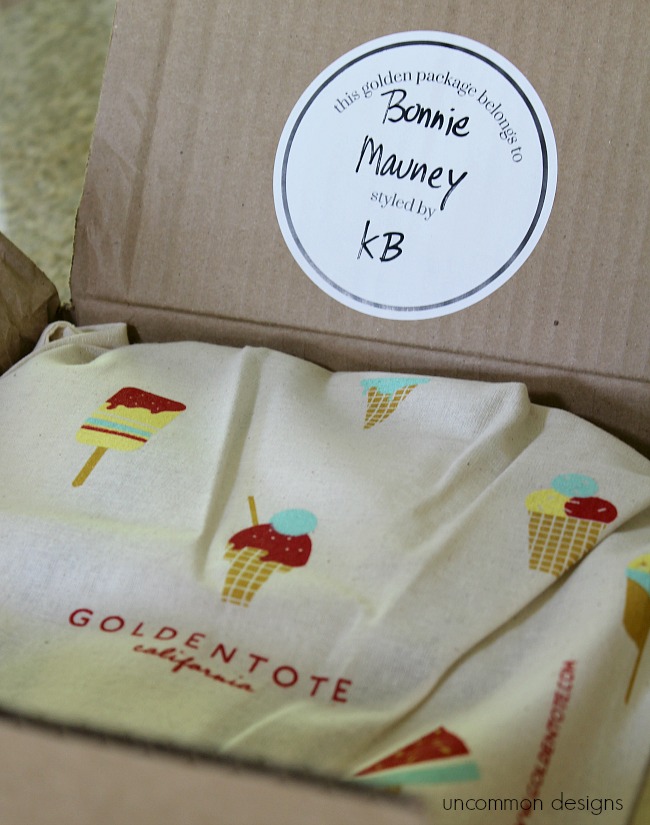 When you receive your tote, well it will come in just that.. a tote! Each month the tote bags are different and so cute. A great bonus!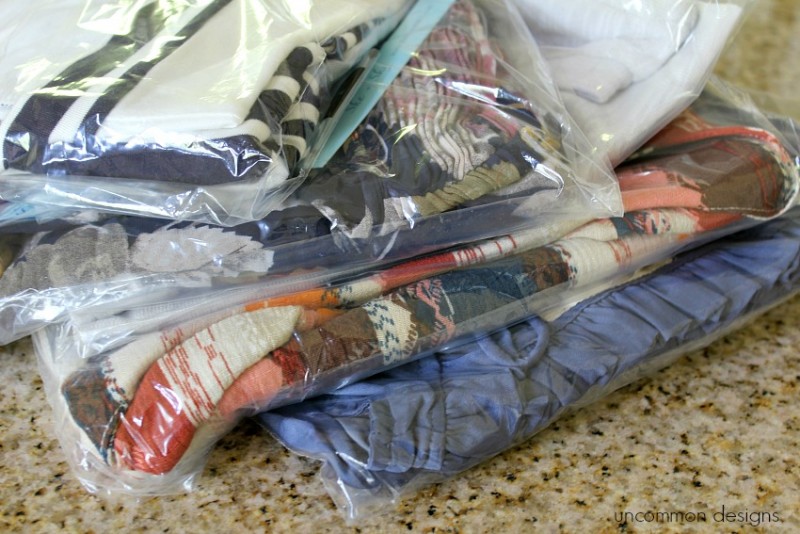 I was given the opportunity to review a Golden Tote, so that meant 5 items total. 2 that I specifically chose including size and 3 selected for me based on my style profile. The Golden Tote is $149 and the shipping to you is free.
Let me share with you my items.
My first chosen item was this beautiful midi dress called the Endless Possibilities Dress. So comfy, and a great length for work. It is warm here until October so this one will be awesome all fall and throw on a dark wash denim jacket over it and I am done! The fabric is polyester but a beautiful weight and color. Love!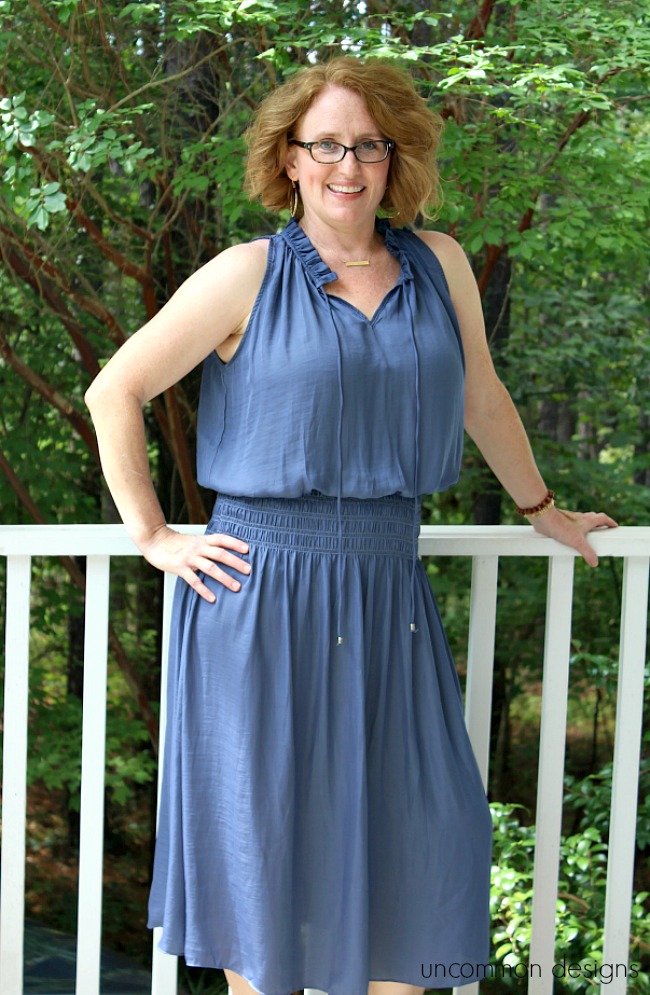 Yep…that is elastic smocking at the waist…can you say comfy! The quality is great and I adore the color on my fair complexion.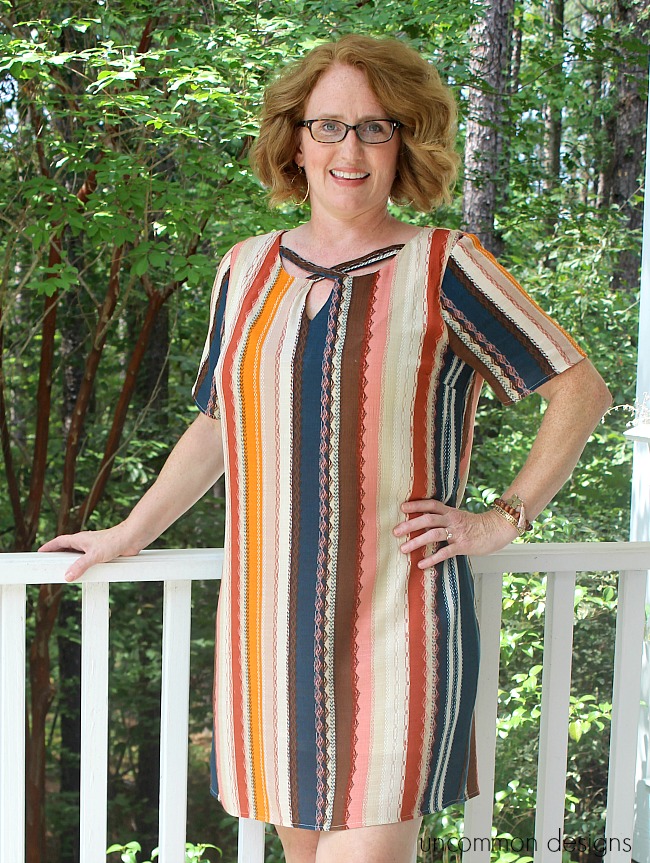 I love the feel and colors of this Everyday Adventures Dress. This was the second of my chosen items. I love a shift dress,but I am not sure if they love me. I think the addition of a simple jean jacket this fall will give me the waist definition that I am missing from this shape. But, the colors just scream fall and I love them.
The criss cross front detail is so unexpected and unique. I am gonna make this one work for my curvy figure.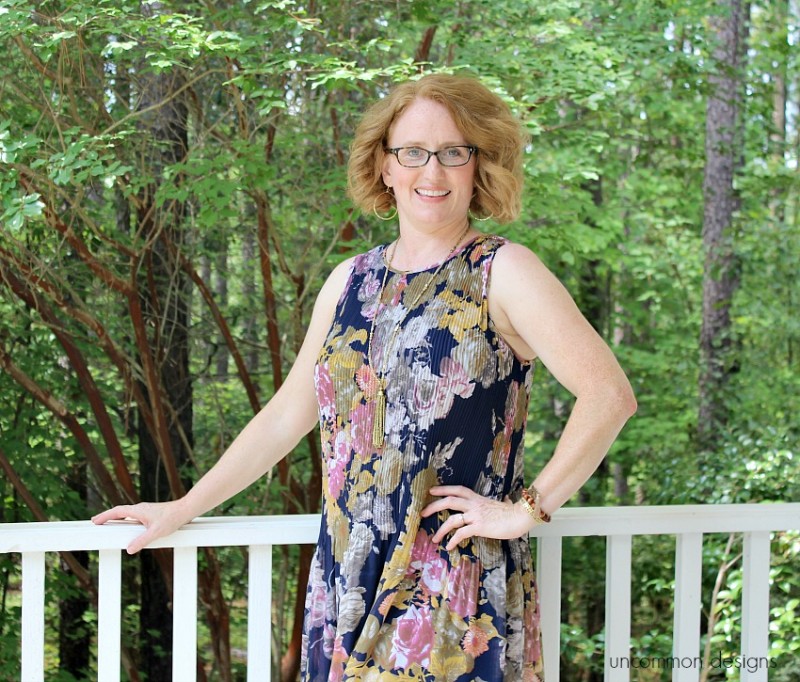 I adore navy and pair it with a fall floral color scheme and, well it is a winner! I actually requested this beautiful She & Sky Floral Pleated Dress in my style profile. Yep, even though it is a surprise item I was able to ask for it. I had seen it on the Golden Tote Instagram account and knew I wanted to try it. I plan on adding a long cardigan when it get cooler to carry me through the fall.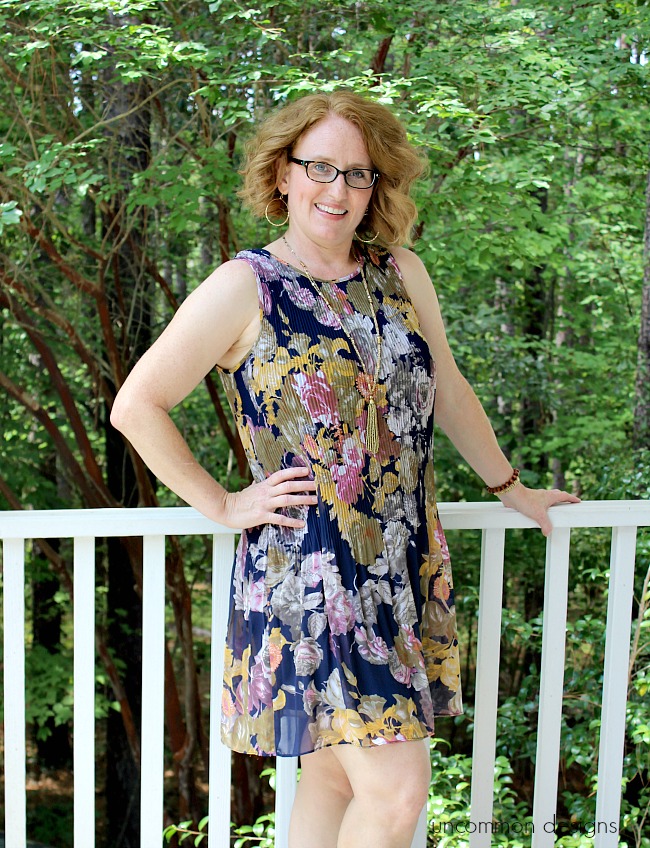 This one is a bit short for me but nothing some tights and a long cardigan can't camouflage. The quality of Golden Tote items was better than I expected. They really do search for quality boutique pieces to offer at great prices. The founders are clothing designers from LA. They work with fashion brands to get you deep discounts and they design clothing items as well.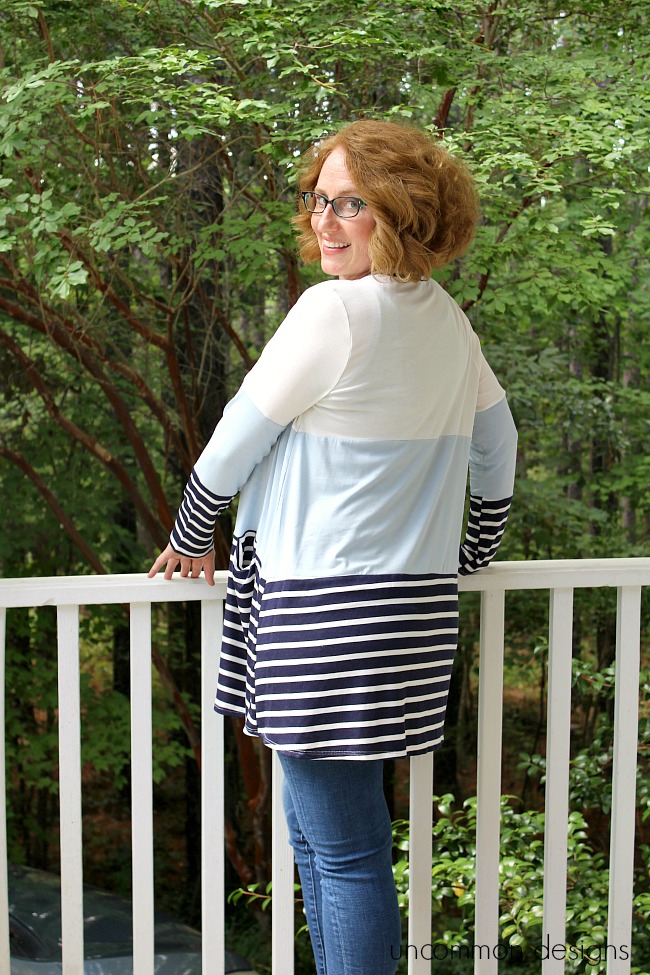 My next item was another surprise one. I had mentioned in my style profile that I love throwing on a simple cardigan to carry tops through seasons. This Peach Love Colorblock Cardigan is super soft.
This style is not really me. I am usually a solid cardigan, non-color block kinda girl. It is also just a bit big on me. But OH SO COMFY! Another benefit to Golden Tote is that you can join a Golden Tote Facebook Group monitored by them where you can buy,sell, and even trade items that do not work out for you. The tote prices are so fabulous that if you love almost everything, it really does make sense to keep the tote and perhaps visit the facebook group to make a trade. They also have a new return policy which allows you to not have to keep the entire tote. You can send back individual items and keep the ones you love.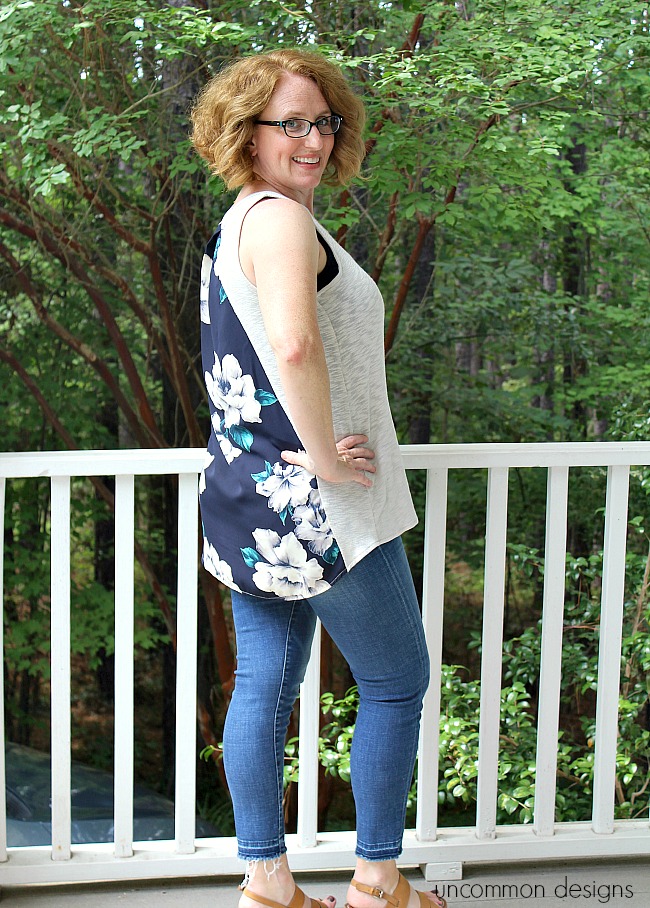 My last surprise item was this really cute Le Lis Surprise Back Tank. This is completely out of my comfort zone but my 17 year old daughter gave it the thumbs up for me. I don't usually go for such a mixed media look. It was a bit sheer so I added a simple navy tank underneath it and it fit perfectly.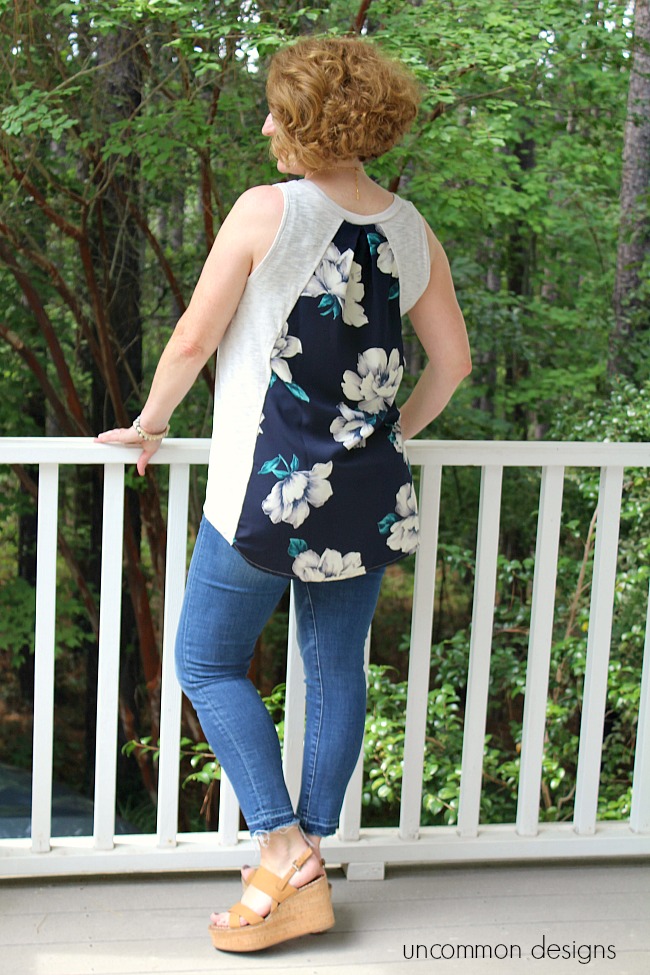 That's another benefit of using Golden Tote, allowing you to step out of your comfort zone and try something unexpected. All styles are not for everyone, but don't let your age keep you from trying something new. It is all in the way you style the outfit.
So what are you waiting for? Step out and give Golden Tote a try. You can sign up for their newsletter and/or create an account to get started.
The following two tabs change content below.
Hey y'all! I am Trish and the creative voice behind Uncommon Designs. I adore party planning, holiday celebrations, and all things crafty! I am so excited to share my creative adventures with you!
Latest posts by Trish Flake (see all)