So, I can officially say I can cross one thing off my New Year's Resolutions….freshening up my family room! I did a little window shopping last week at Kirkland's and then used some incredible pieces to freshen up  my family room as part of ….
I had so much fun picking out some key items and changing up my room…for the first time in almost 9 years. Here is how I did it…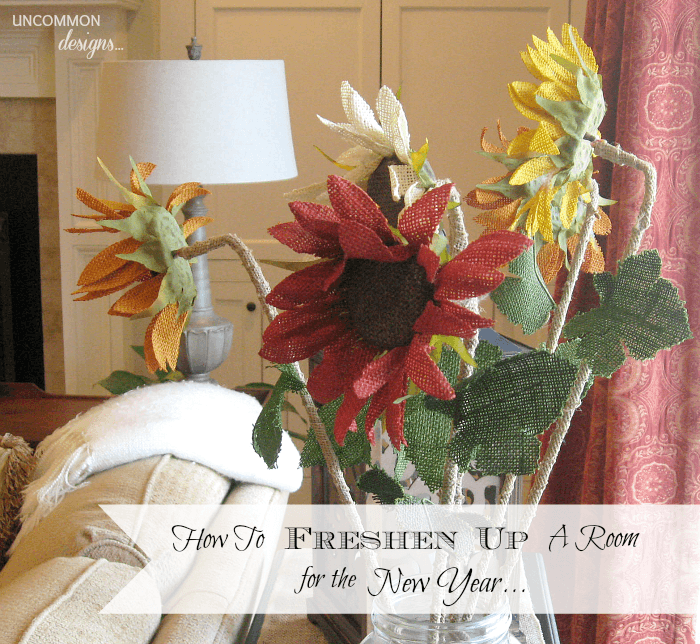 Freshening up any room can be done easily by simply switching around accessories and adding some new ones. You do not have to change up paint or permanent lighting to make a huge impact in your space. I found that at Kirkland's, you can find a variety of home decor items for lots of different tastes and styles.
I started with some fabulous pieces that I selected at my local Kirkland's, after doing a little online window shopping and then heading to the store…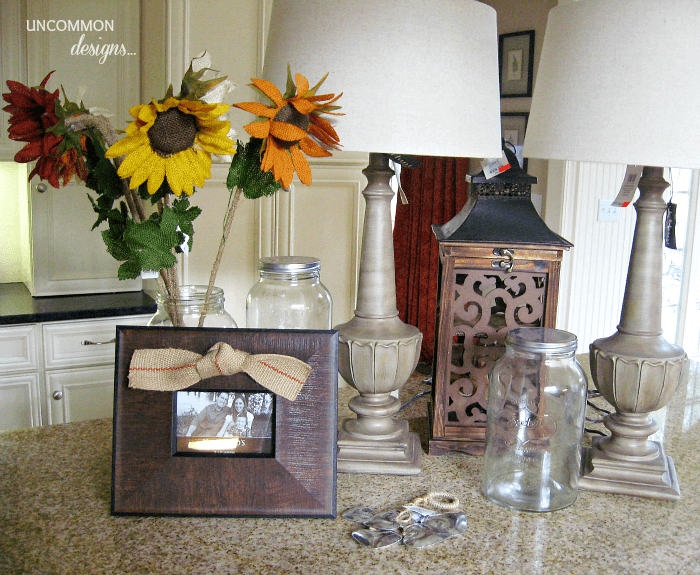 I knew the first thing that we needed were new lamps. Ours were too short and one of them no longer turned on or off with the switch. So when I spied these beautiful Gray Wash Table Lamps online and then saw them in person….I snatched up two! Lamps can make or break a room, and I knew they needed to be the anchors of my new decor.
Do you see a somewhat natural, casual, and traditional vibe going on..yep that's us!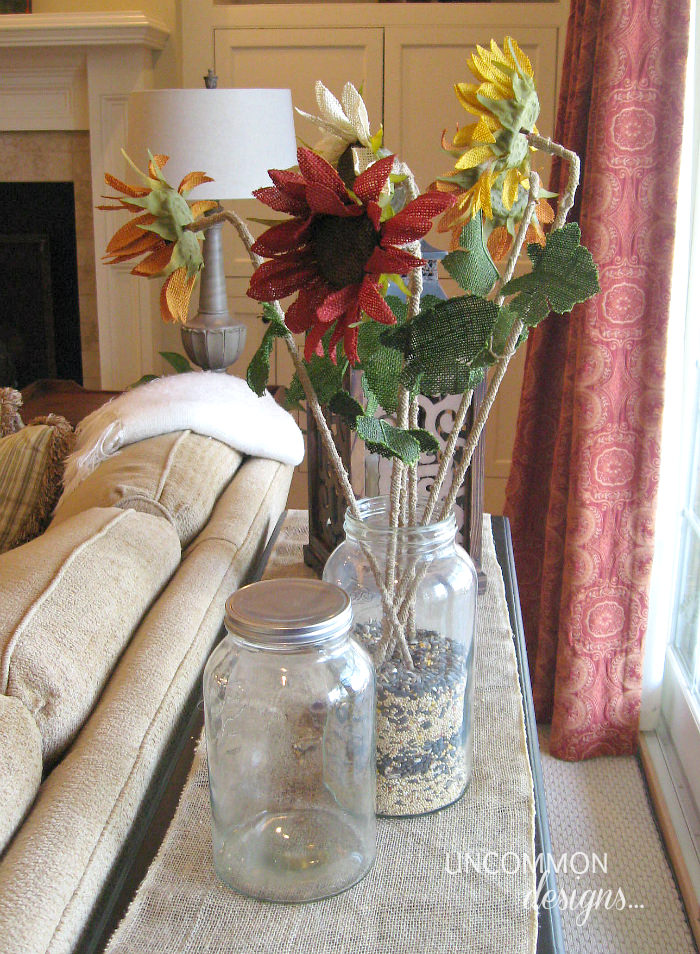 I saw the huge Mason Jar Set and envisioned how it would look on my sofa table with those incredible Burlap Sunflowers in one. I found those in the clearance section of my Kirkland's…they are gorgeous!
See how I simply added birdseed to one of the Mason Jars to give a little weight to it? I love using unusual things like that as vase fillers. The glass pops on the natural jute runner I placed over my sofa table.
On the other side of the sofa table, I placed this fabulous Rustic Scroll Lantern. The color,size, and style were the perfect contrast to the Mason Jars to provide visual interest and weight. These are very large and there were a couple of different lantern styles to choose from in the store…at incredible prices!
Now look at it all with those new lamps! I just love it! I try to mix styles and formality of accessories to create a somewhat casual yet traditional look. My husband was so happy to see new lamps that we could actually read with and turn on and off with the switch…hey it is the little things!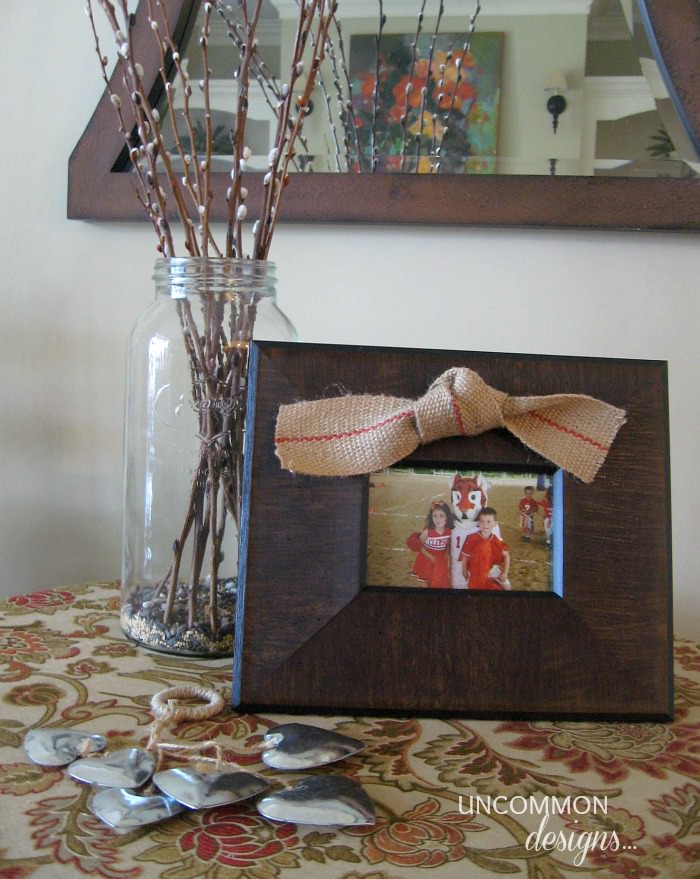 I also changed up things on my fabric covered table on another wall… I just loves this little Picture Frame I spotted in the store and the jute webbing even has an orange stripe. If you did not notice my curtains earlier, they are cinnamon orange…we love orange around here.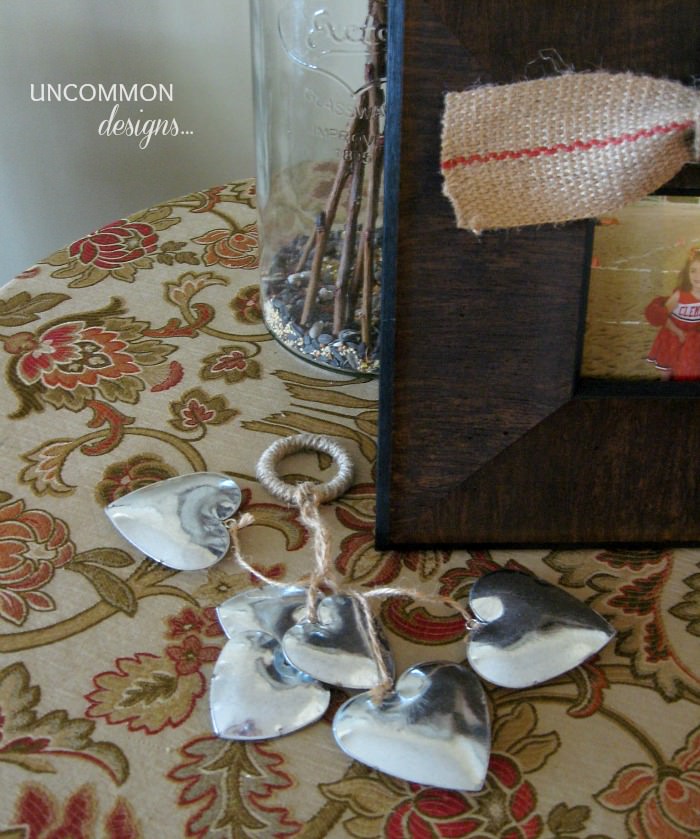 I even found something for Valentine's Day…this adorable jute hoop with silver hearts…lovely!
Kirkland's even has a Spin to Win App you can use to get coupons to use instore. How great is that!  With Kirkland's Spin to Win App you can get a new coupon every day to use in-store at your local Kirkland's, and you can find inspiration in their design tips gallery.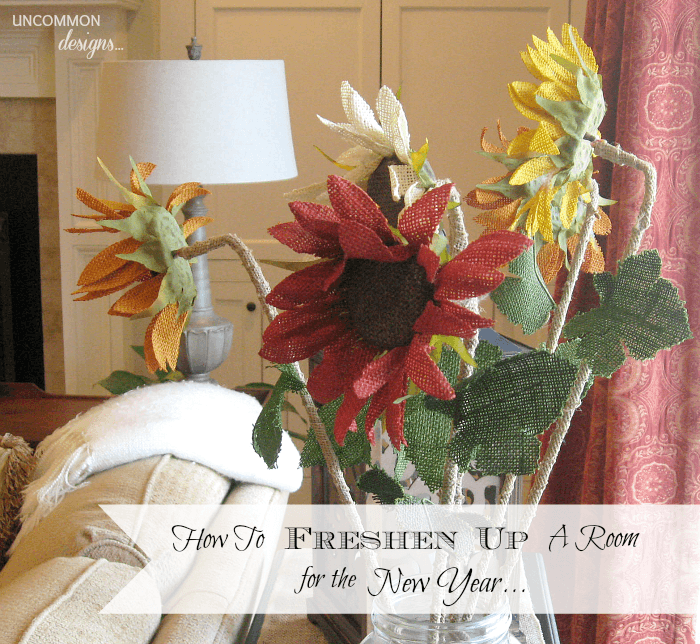 So who is ready to Freshen Up a Room? Well, the fabulous folks at Kirkland's are offering a $100 gift card to Kirkland's for one of our readers! Simply enter below through Rafflecopter for your chance to win!
I received compensation for my Room Resolution blog post. Kirkland's partnered with several bloggers like me to raise brand awareness in the month of January. All purchases and content are on my own accord and reflect my personal opinion and style. Kirkland's blogger outreach policies abide by the WOMMA Ethics Code, FTC guidelines and social media engagement recommendations. For official Kirkland's giveaway rules, visit http://www.kirklands.com/content.jsp?pageName=blogger_rules-03.
The following two tabs change content below.
Hey y'all! I am Trish and the creative voice behind Uncommon Designs. I adore party planning, holiday celebrations, and all things crafty! I am so excited to share my creative adventures with you!
Latest posts by Trish Flake (see all)