We are so thankful to have worked with Rose Art for to host this fun Fairy Tea Party!
 Oh my goodness… my girls had so much fun on their day off yesterday!  We had a few friends over for a fairy tea party and it was such a good time.  We had a chance to play with RoseArt's Magic Fun Dough, eat some yummy treats, and play dress up.  This mama really enjoyed planning the party and seeing her girls relax and just have fun… priceless!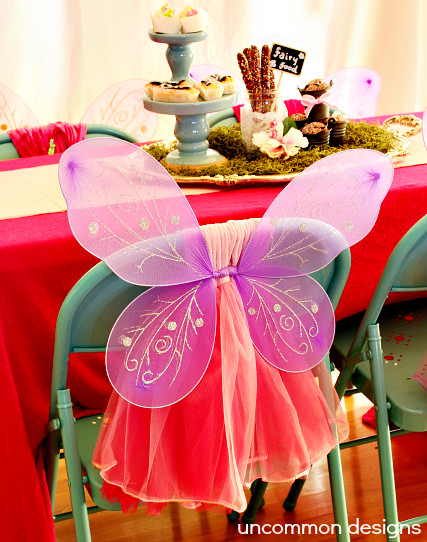 I am sure that you all know that it doesn't take a whole lot of arm twisting to ask me to plan a party.  I was more than excited to do this and know that this is something that you can plan for those cold winter days with minimal effort.  I picked up a few fairy dresses and some wings for the girls to wear and they also served as chair decorations.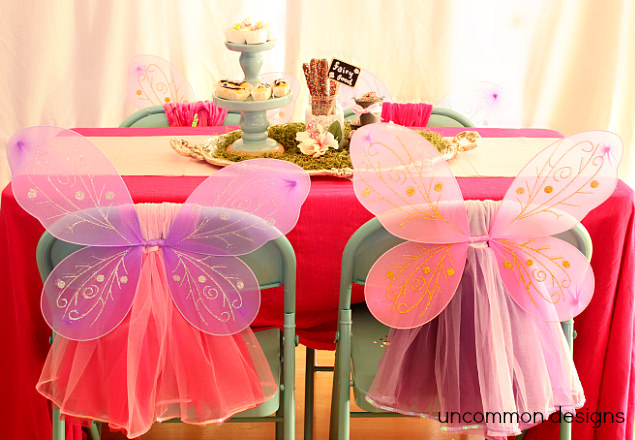 It really did turn out so cute!  I used some pink fabric that I have in my stash and picked up a pink plastic tablecloth to use as a table runner.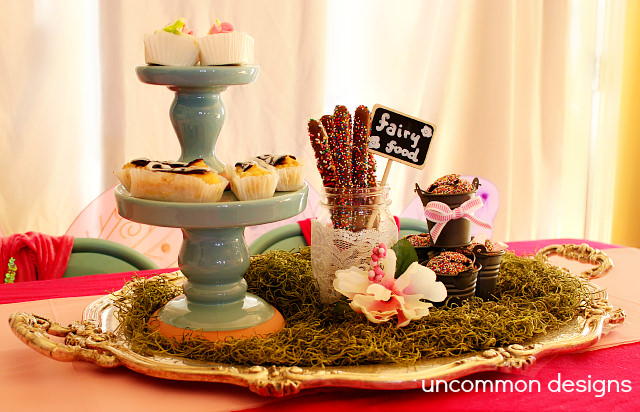 In the spirit of convenience, I picked up all of the food pre-made and already brimming with cuteness!  The kids love sweets and could care less if I made it or not 🙂 All of our goodies were fairy-size, of course.
For the table runner, we used a $1 plastic tablecloth and a few bunches of artificial flowers.  I unfolded the tablecloth so that it was long and trimmed it to the perfect length.  My little La La and I removed the tops of the flowers from the bunches and glued them in two lines… so sweet!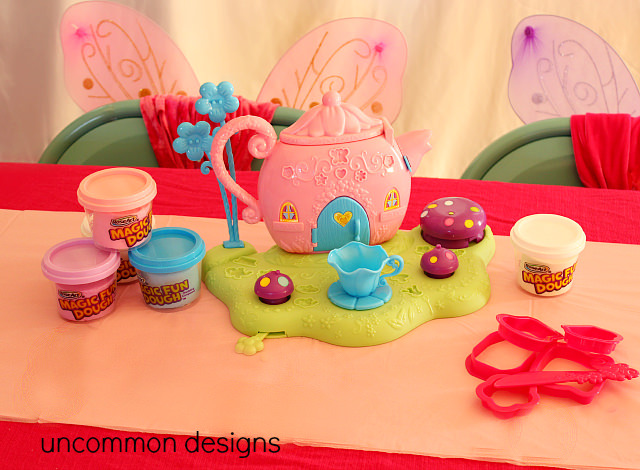 Here is the fun part… the RoseArt Magic Fun Dough Tea Party!!  It took about 2 minutes for my five year old to take it out of the box and get it ready for her friends to have some fun.  I love that you can pick up the kits at  Walmart, Target and on Amazon. Just look in the craft aisle.  You can also check out Amazon for all of the fun details.  If you have boys, don't worry… there are 6 different themes available and three are for girls and three are for boys.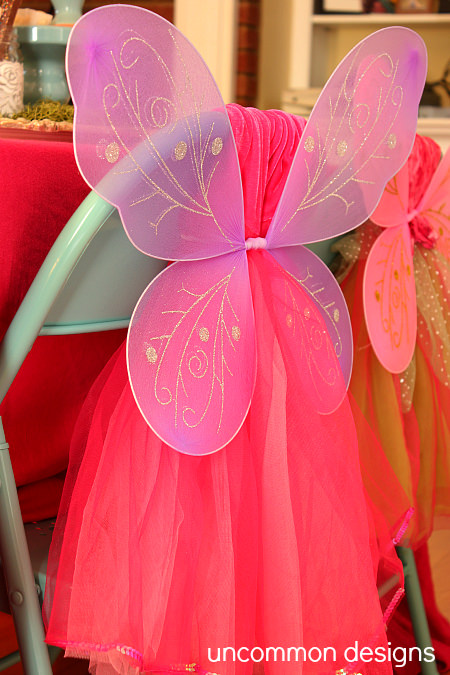 Once we had everything all set up, it was time for the girls to arrive and the fun to begin!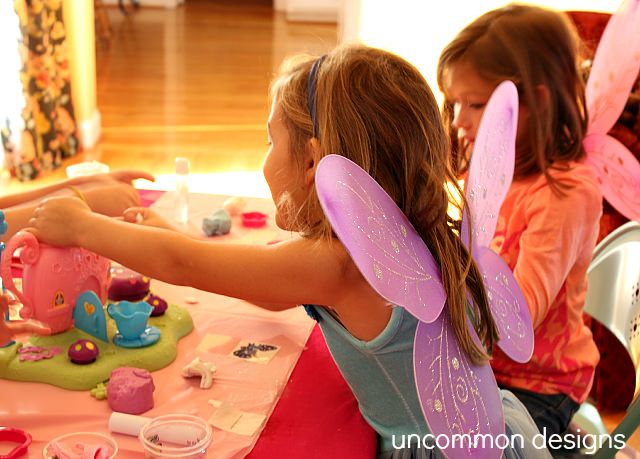 The girls had so much fun playing with the kits.  I am definitely going to keep these in mind for Christmas gifts, especially for toy drives when you don't know what the kids are into.  They really are affordable and I think most kids would enjoy playing with them. It is non-toxic, corn-based and the dough is wheat-free, which is helpful.   You can't beat no batteries required for imaginative play and I know my kids really needed a break from their electronics!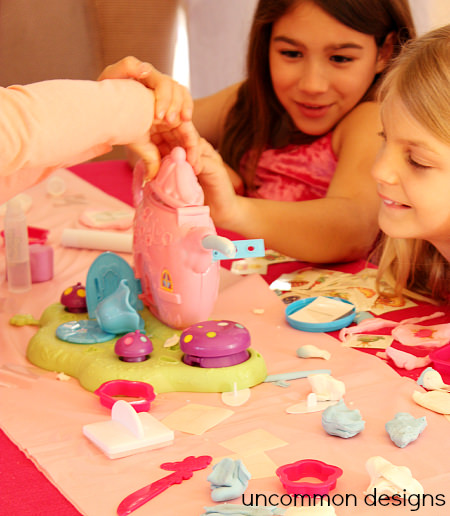 These kits are loaded with activities.  Not only can you play with the dough in the traditional manner, this kit had lots of accessories and one very special feature…
It included image transfers were you can pretty much "tattoo" the dough and create characters.  You can even knead the dough again after you use the transfers and the transfer absorbs into the dough and doesn't change the color… instantly ready for another masterpiece!
Here is a video of the the color transfer in action… or you can visit the RoseArt site for a video that showing all of the ins and outs of the kit.
You can also follow these simple instructions:
1. Roll out the dough with the included roller
2. Choose a full color transfer
3. Peel back the plastic film, and place the image side down on the dough
4. Roll over the back of the transfer with the "Magic" water pen thoroughly
5. Pat the transfer with the square shaped blotter for about 45 seconds (this gives preschoolers the opportunity to practice patience)
6. Peel back the paper to reveal the character you've just created
7. Use the included shaped cutters to finish your dough creation
8. Add the dough project to a plastic stand to let dry (over a couple of days) or play with in the dough play environment (the toy part)
9. If you want to try more transfers, just squish the dough back up and start again. The color on the transfer will not change the color or texture of the dough.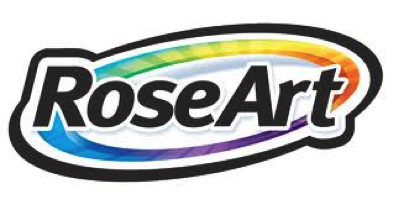 Here is one last really fun bit of info…
RoseArt is celebrating their 90th Anniversary this year. As such, they are hosting a Facebook sweepstakes where participating fans are eligible to win weekly gift cards and prize packs, as well as a $1,000 VISA gift card for holiday spending.
Enter through 12/21/13.
We had a ball and hope you'll check out the RoseArt Magic Fun Dough Kits!
*Trish
The following two tabs change content below.
Hey y'all! I am Trish and the creative voice behind Uncommon Designs. I adore party planning, holiday celebrations, and all things crafty! I am so excited to share my creative adventures with you!
Latest posts by Trish Flake (see all)