Does your family celebrate the holidays with a special little someone?  We sure do and we adore our little Sleigh bell.  Today I am sharing my master plan with this very special Elf on the Shelf Printable Calendar.
 We have always had so much fun with our elf, but I have to confess that there were days when I felt so unorganized and found myself waking up in the middle of the night to find some mishcheif for our elf to get into.  This year, I am vowing not to lose any sleep!  Please tell me I am not alone in this and that I am  not the only one who has these issues. I have compiled 25 awesome ideas for your elf and have them all organized in a calendar for you to print.  Let's get started!
First, Download and Print the 25 Days of Elf on the Shelf Calendar.  Now you are ready! Here are 25 awesome ideas for your favorite elf…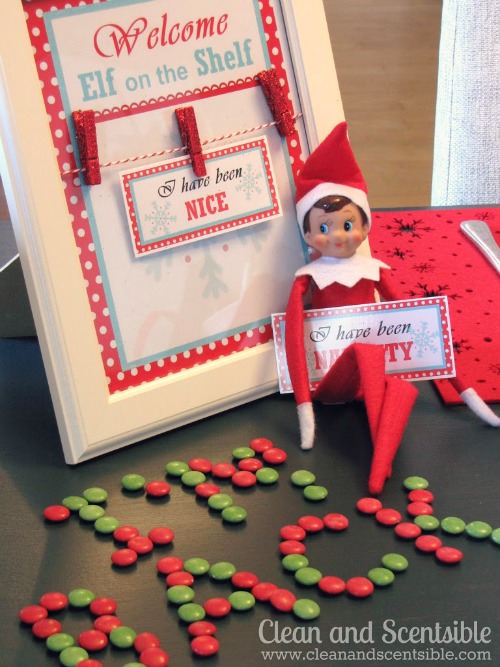 1. Spell out a welcome message with candy.  I love this idea from Clean and Scentsible.
2. Gift wrap the potty like Nifty Thrifty & Thriving.  I may have girls, but they think anything potty related is hysterical, so I know this will be a hoot!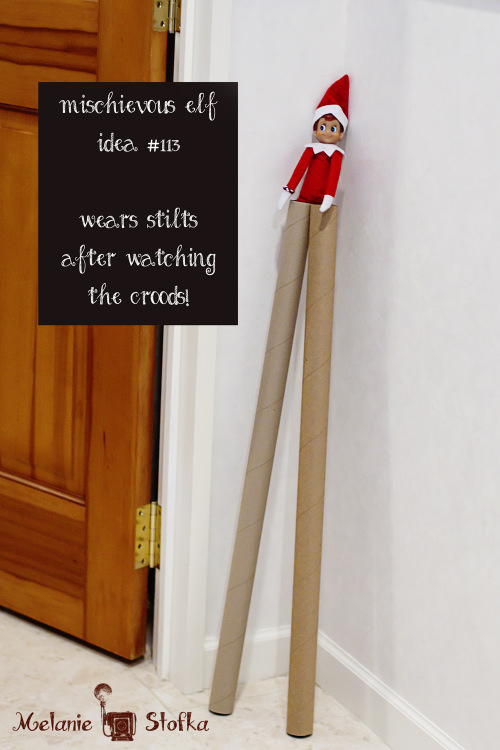 3. Make stilts out of the leftover gift wrap tubes from day 2.  Such a great idea from Melanie Stofka.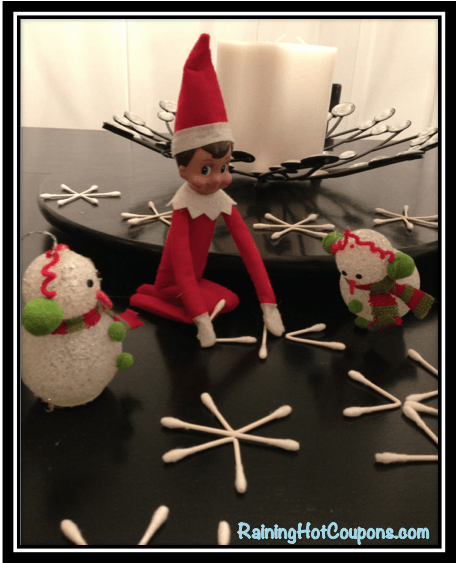 4.  Make q-tip snowflakes like Raining Hot Coupons.
5. Make miniature chocolate covered marshmallow pops for your elf and kids to enjoy.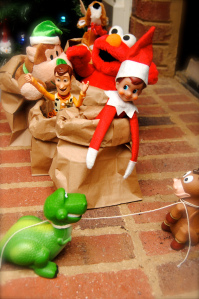 6. Have your elf do a sack race with his other friends like Biscuits and Crazy did.
7.  Build a marshmallow snowman similar to this one by Bombshell Bling.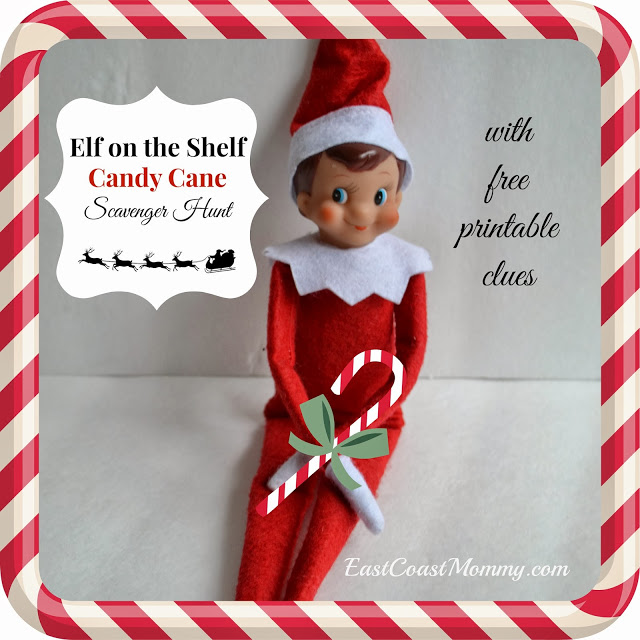 8. Host a candy cane scavenger hunt.  East Coast Mommy shares how to do it and has included some free printables for clues.
9. Have your elf unroll the tp down the steps like A Thrifty Mom.
10.  Have your elf make copies of himself on your printer.
11. Have your elf zip line with a candy cane like this one by My Frugal Adventures.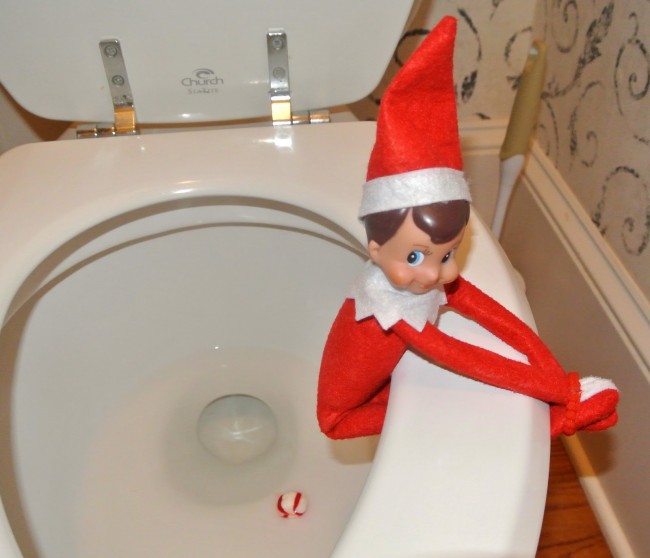 12.  Elf poop.  Yes… more potty humor with Everyday is a Hollyday with 4.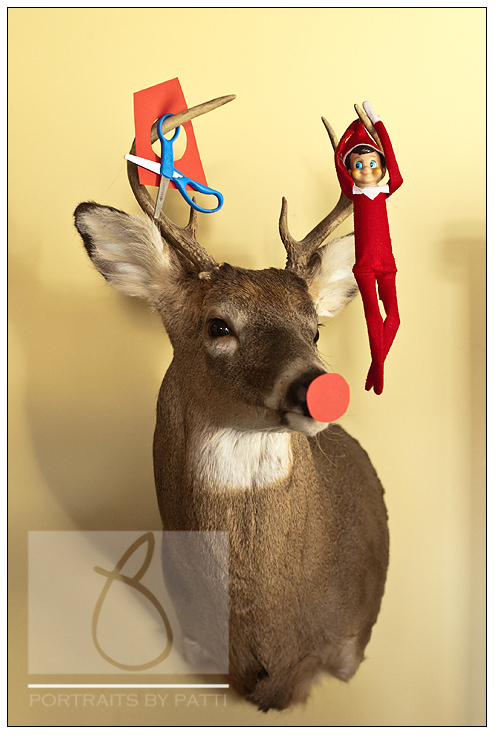 13. Portraits by Patti decorated a deer to make it look like rudolph.  If you don't have a deer head, use a stuffed animal!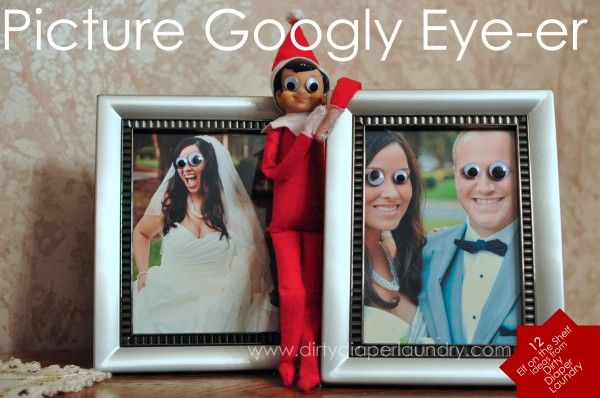 <!––nextpage––>
14.  Have your elf on the shelf grow some extra large eyes when you use stick-on googly eyes on your elf or family pictures like Dirty Diaper Laundry.
15. Have your elf make paper snowflakes.
16. Replace stockings on the mantel with underwear.  Use socks for a more g-rated antic.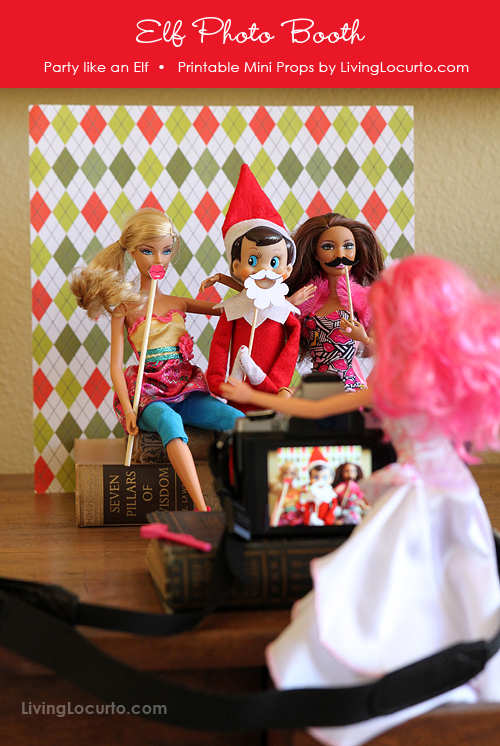 17.  Make an elf photo booth with these free printables from Living Locurto.
18.  Add some antlers made from pipe cleaners to make your elf into rudolph.  Don't forget the red nose!
19.  Let your elf catch some rays like the elf from My Book Corner.
20.  Have your elf TP the Christmas tree.
21. Have your elf deliver donuts and make some miniature sized donuts with this awesome free printable box from Toni Ellison.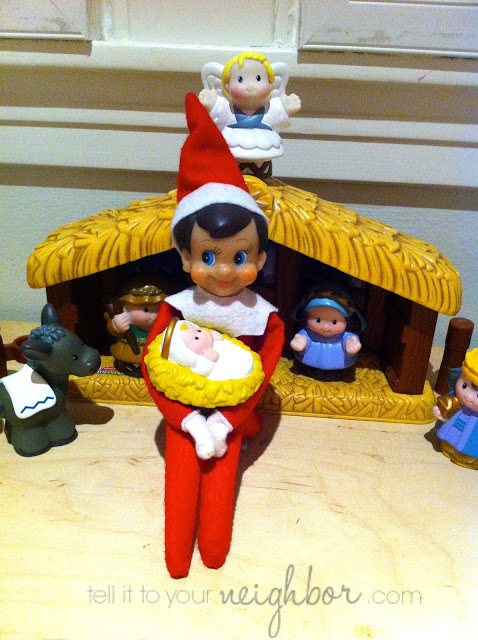 22.  Read the Christmas story together like Tell it to your Neighbor.
23.  Trap your elf in a plastic ornament.  So fun!
24.  Say goodbye to your elf with a Christ-Centered Goodbye Letter from Watch me Homeschool.
25.  Merry Christmas!
*Trish
The following two tabs change content below.
Hey y'all! I am Trish and the creative voice behind Uncommon Designs. I adore party planning, holiday celebrations, and all things crafty! I am so excited to share my creative adventures with you!
Latest posts by Trish Flake (see all)