I hope you guys are having a wonderful weekend so far!  We are on a road trip to Charlotte this morning for my oldest's cheer competition, but I had to share this fun Easter dessert idea… marshmallow pops!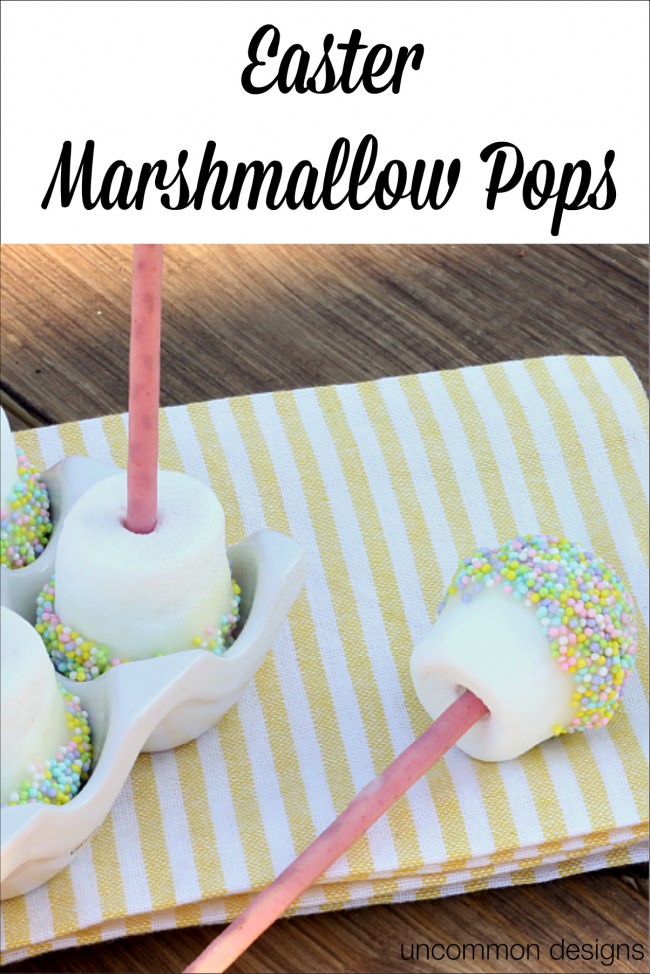 These treats are crazy simple to make and the best part is that the entire pop is edible!  It also doesn't hurt that it involves chocolate and sprinkles… I guess I am still a little girl at heart.  I find that marshmallow pops are pretty easy to do and the kids love them.  I think it is because they just look so festive.  Are you ready to learn how to make them?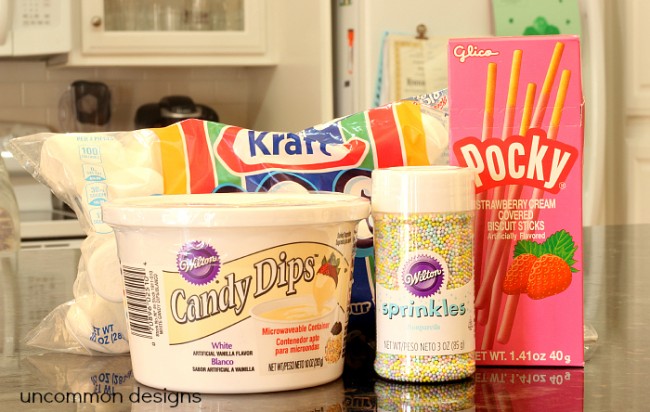 Here are the supplies that you are going to need:  
White Chocolate for Dipping
Spring Colored Sprinkles
Pocky Sticks
 Marshmallows
 I found the Pocky Sticks at my local Wal-Mart in the hispanic food section.  They are these pink strawberry flavored biscuit sticks and super yummy!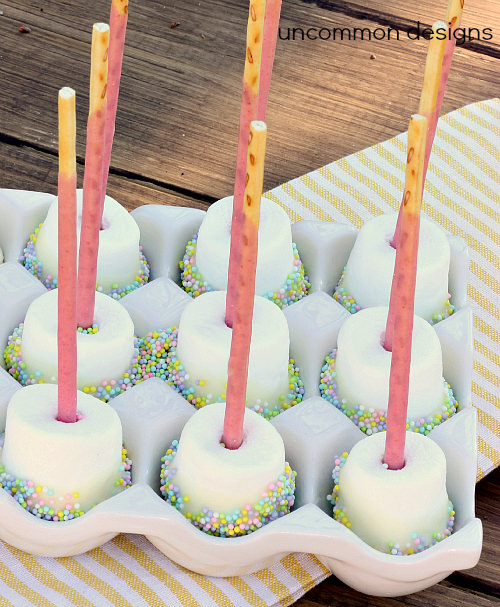 To make the pops there are a few simple steps.  First, go ahead and put the sticks inside the marshmallows.  You may need to be gentle while doing this as they are cookie sticks.  Meaning, my little La La had a hard time doing them without breaking, but mama had no issues at all 🙂   Next comes the fun part… chocolate and sprinkles!
Heat up your chocolate according to the package directions.  You are also going to want to fill a small up with the sprinkles.  Now that you are armed and ready, it is time to dip!  Dip each marshmallow pop into the chocolate and then dip into the sprinkles.  Be sure to roll it around just a bit to get fully covered.  Lay them on way paper to cool off and dry and you are good to go!  These are just as cute and just as easy as my Easter nest cupcakes, but on a stick!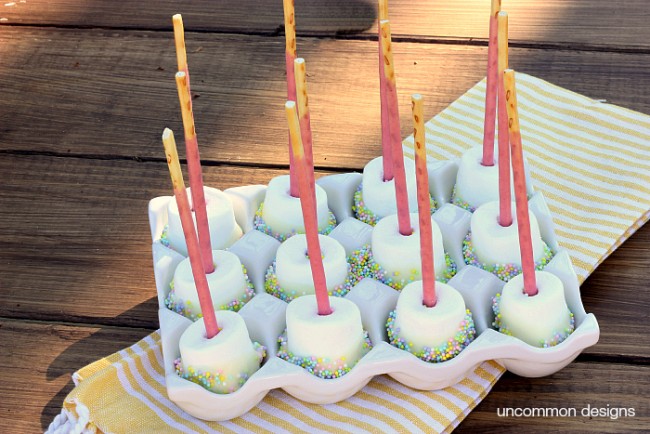 These cuties are perfect to take to an Easter celebration at school, as a teacher gift, or as a part of your Easter celebration.  I think they make really adorable table decorations, too!  At any rate, they are simple and festive… my kind of Easter dessert!
*Trish
this post contains affiliate links
The following two tabs change content below.
Hey y'all! I am Trish and the creative voice behind Uncommon Designs. I adore party planning, holiday celebrations, and all things crafty! I am so excited to share my creative adventures with you!
Latest posts by Trish Flake (see all)