Ever since the Olympics, my girls have been really into gymnastics!   Every time I turn around my oldest is turning cartwheels, round-offs, and back walkovers! My little one is even using my couch as a balance beam! I just keep crossing my fingers that we won't have any broken bones any time soon!   They want me to judge and give them a score…. which is always a perfect 10!  Not that I am biased or anything!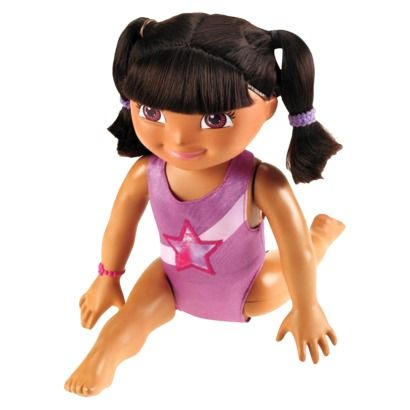 Nickelodeon has come out with a  Dora Gymnastics! line that I am sure my girls will love!!  They have thought of everything… a doll, dvd's, coloring books, video games, and more!  The doll is super cute and it even talks in English and Spanish!!  You can see the doll and her accessories online now at Wal-Mart online! What little one wouldn't want a doll that can speak two languages, can do the perfect split, and lots of other fancy moves!  
This weekend, September 20-23rd, participating Wal-Mart stores will have some very special in-store events to celebrate this new line!  Your children will have a chance to see the Dora doll in action and be able to decorate their own gymnastics show ribbon!  The evens will be held infront of the toy aisle inside the store from 11am- 4pm on Thursday, Friday and Saturday September 20-22 and from 1pm-6pm on Sunday, September 23rd.  
Be sure not to check out all things Dora Gymnastics! and plan on coming out this weekend to see Dora in action and to make your own show ribbon!
The following two tabs change content below.
Hey y'all! I am Trish and the creative voice behind Uncommon Designs. I adore party planning, holiday celebrations, and all things crafty! I am so excited to share my creative adventures with you!
Latest posts by Trish Flake (see all)