The sun is shining this morning and it is time to share another very fun and very easy Easter project.  Last week I shared my Easter Egg Decorating Party.  You guys loved the monogrammed Easter baskets, so I thought I'd show you how to make them.  They are a cinch, but look so incredible!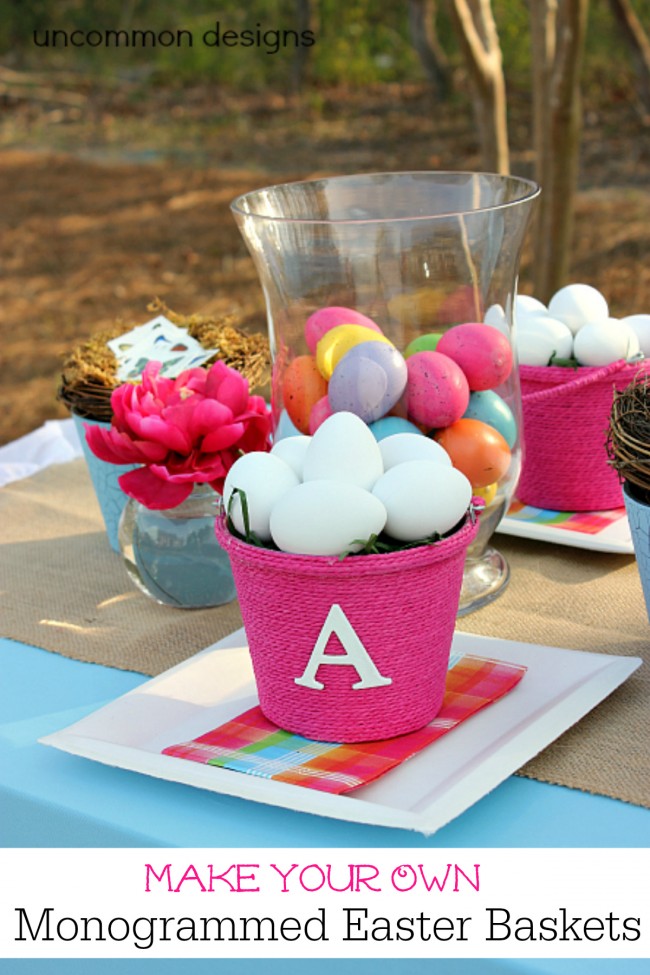 So  many of you just adore anything monogrammed, but don't have the time or money to have something personalized.  As every Southern girl knows, a monogram is a must for certain occasions.  As my children are getting older, I take every chance I get to monogram something for them that is more "grown up" as the girls say.  Decorating Easter baskets is the perfect occasion to use such monogram, so you better know that I am!  Let's learn how to make them!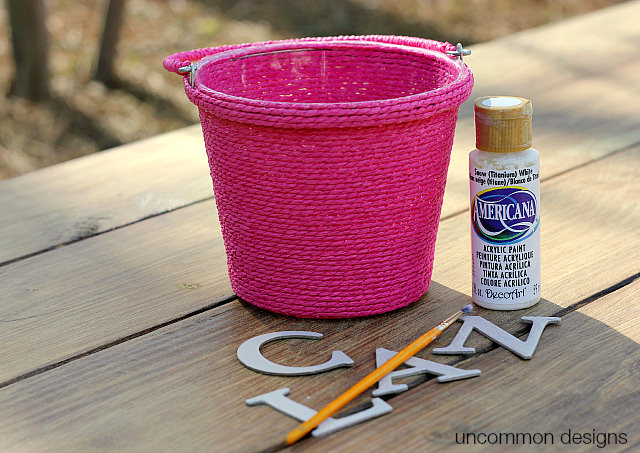 Step One.  Gather your supplies.  I used a hot pink sisal wrapped basket that was picked up at Hobby Lobby.  It was the perfect size for my table because it wasn't too big or too little.  Just right!  You will also need acrylic craft paint, a paint brush, and unpainted paper maché letters.  I picked up a pack in the scrapbooking section at Michaels.  Finally, a hot glue gun and glue sticks to adhere the letters to the basket.
Step Two.  Paint your letters.  A few tips that you might find helpful are to make sure to paint the sides of the letters. Also, don't worry after your first coat of paint if it looks messy.  Finish up with another coat or two of paint and it will turn out perfectly!  I love that it doesn't take these letters to dry.  Even with a few coats of paint they were finished in just a few minutes.
Step Three.  Once those letters are dry, you are going to attach them to the basket with hot glue.  Another helpful tip for you… I glued down the top first and held the letter in place for a few seconds to make sure it was secure.  I then did the same with the bottom portion and it was extremely secure and the letter looked great! All done… now fill those baskets!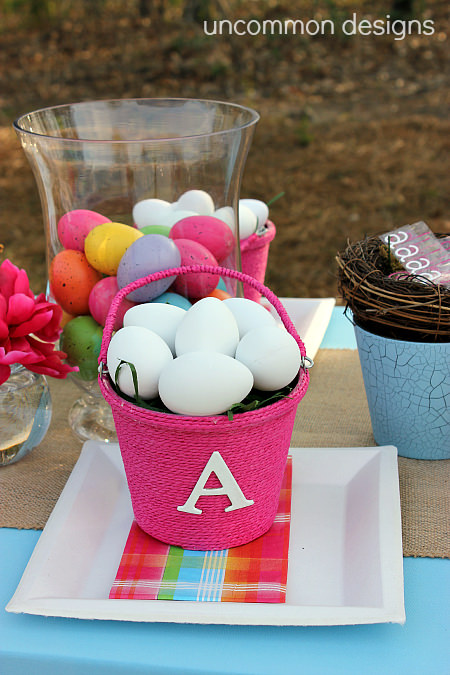 Really personalizing your holidays doesn't have to cost a lot of money or take a lot of time.  One package of these scrapbooking letters can make several baskets.  Children love having something that is just for them and I love making my kiddos smile.  I'm sure you do, too!  Have a wonderful day friends!
*Trish
Be sure to check out all of the fun details of our Easter Egg Decorating Party…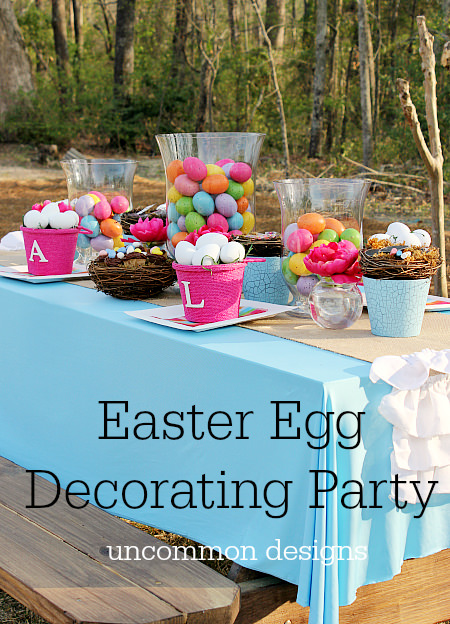 We also have some really unique and fun easter egg decorating ideas for you…
The following two tabs change content below.
Hey y'all! I am Trish and the creative voice behind Uncommon Designs. I adore party planning, holiday celebrations, and all things crafty! I am so excited to share my creative adventures with you!
Latest posts by Trish Flake (see all)