Welcome back to our second month of The 12 Months of Christmas! If you are new to Uncommon Designs or visiting for the first time, we are celebrating Christmas all year here! Each month, on the 3rd Thursday, we have a Christmas tutorial for you!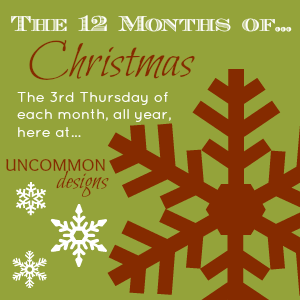 Last month we showed you how to create these adorable Bell Jar ornaments…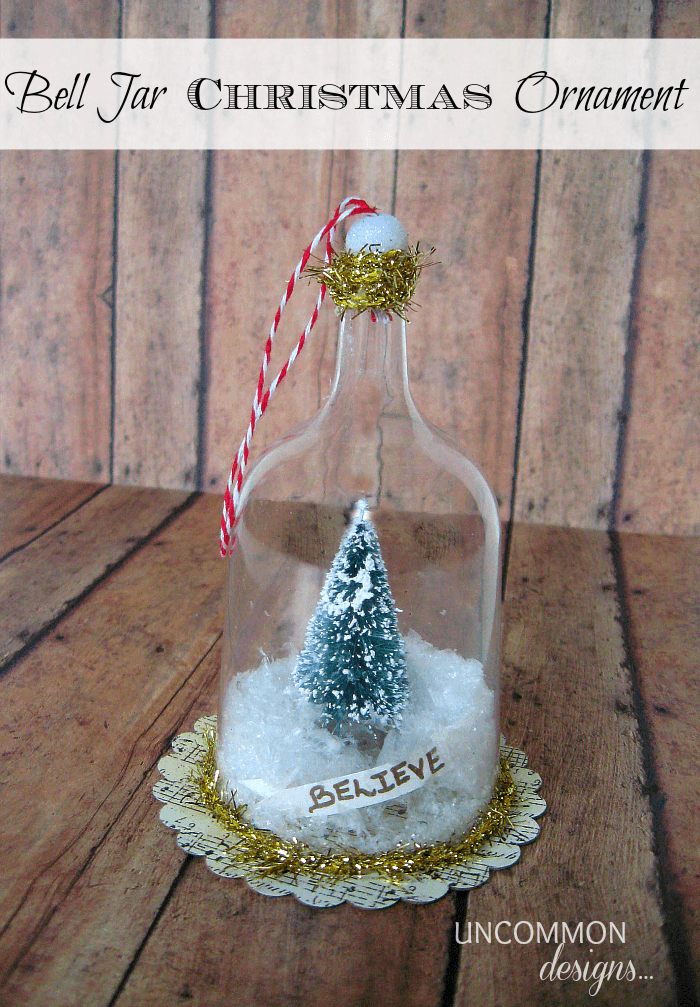 Today we are going to show you how to create these sweet Felt Plate Chargers that would be perfect for your kid's table or a little dessert table…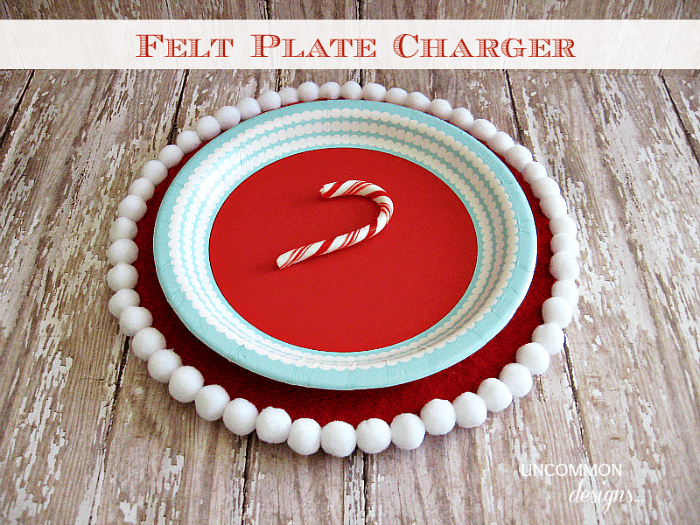 Don't you just love the pom poms and felt? They create such a cozy holiday feel. Let's get started making your own…
Supplies Needed for Felt Plate Chargers:
Wilton 8 inch Cake Circles
9 x 12 inch Red Felt Sheets
1/2 Inch White Pom Poms
Glue Gun and Gluesticks
Krylon Spray Adhesive
Place the 8 inch cake circle on the red felt
Trace 2 red felt circles for each charger you are making.
Cut out each red felt circle, making sure you cut to the inside of the line you drew, so that the line does not show.
Use your spray adhesive and spray one side of the cake circle and place the felt on the cake circle, and then spray the other side and place another red felt circle on it.
Now we will add the adorable white pom poms…
Simply use your glue gun and add a short length of hot glue to the edge of the cake circle and quickly add the pom poms. Continue all the way around  the cake circle.  Press the pom poms against the cake circle to make sure they adhere well.
 We really love the look of the Felt Plate Charger after all the pom poms are added. A perfect accent for your holiday table.
These are the perfect size for a festive dessert plate and really dresses up a simple paper plate!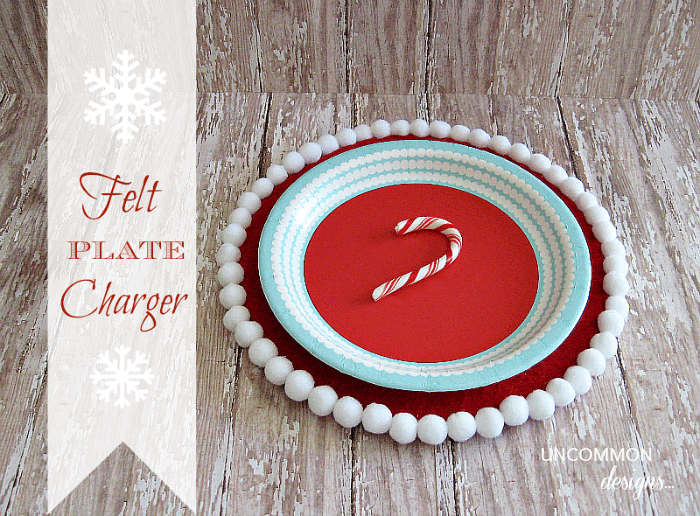 These Felt Plate Chargers are quick and easy! A fabulous accent to complete your holiday decor….and then save them for Valentine's Day! Love a double duty craft!
 Trish and I just love the holidays, so why not craft all year! We have lots of Christmas Ideas for you including some really cute Christmas Ornaments! We would love for you to check them all out and follow along with Uncommon Designs so that you don't miss a thing!
Bonnie
The following two tabs change content below.
Hey y'all! I am Trish and the creative voice behind Uncommon Designs. I adore party planning, holiday celebrations, and all things crafty! I am so excited to share my creative adventures with you!
Latest posts by Trish Flake (see all)