Hello readers of Uncommon Designs!! It's Krista from The Happy Housie back again and I am so excited to be here sharing this fun, easy DIY Chalkboard Pillow project that will add a whimsical touch to your home for the upcoming holiday season.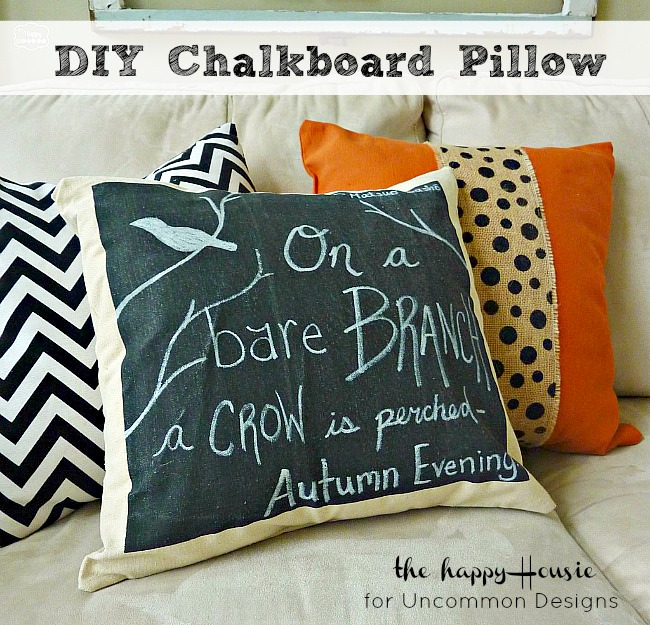 To make this DIY Chalkboard Pillow you will need:
a pillow cover and form (I made my cover out of drop cloth material)
Chalkboard paint (the recipe for my DIY Chalkboard paint is below)
Chalk Paint Pen
Painters Tape and a foam brush
I started out with a simple envelope cover that I had made out of a drop cloth. If you aren't sure how to sew a simple envelope pillow cover, I have a really simple tutorial for it over on my blog.
Once I had sewn my pillow cover, I whipped up some DIY Chalkboard paint using Plaster of Paris, black craft paint, and water….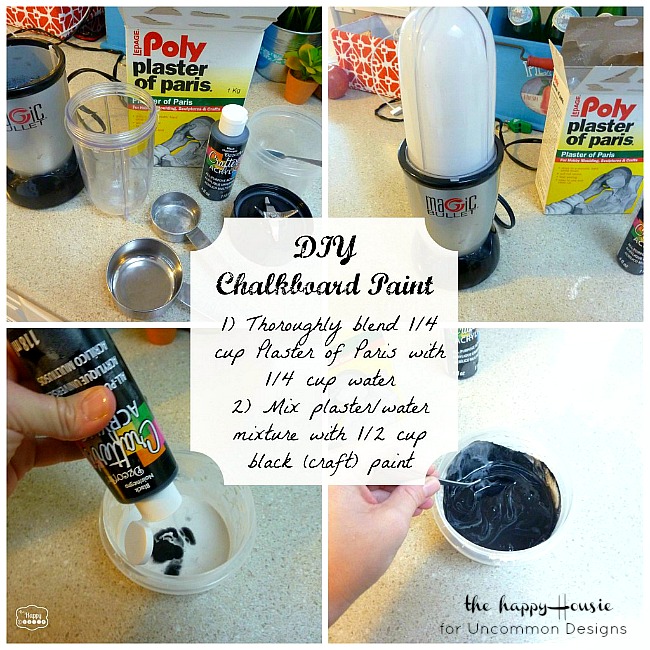 I taped off a border on the pillow and used a foam brush to apply my chalkboard paint. If your pillow cover is not made of drop cloth material I would also advise you to put some plastic or cardboard between the layers of your pillow so that the paint doesn't go straight through onto the back of the pillow as well.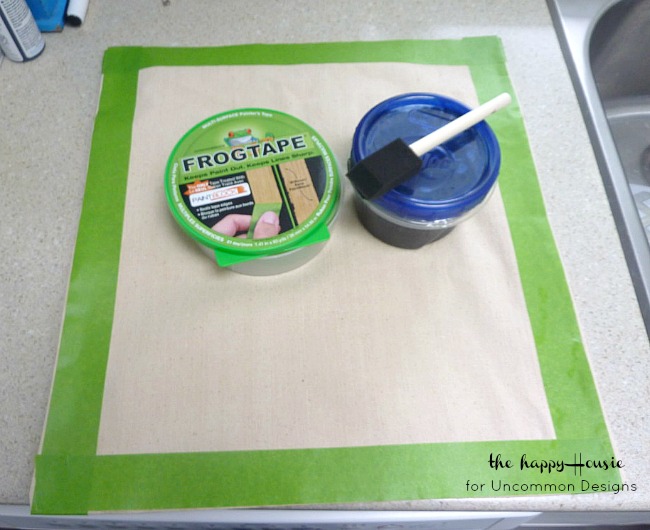 Once it was dry I gave it a light sanding…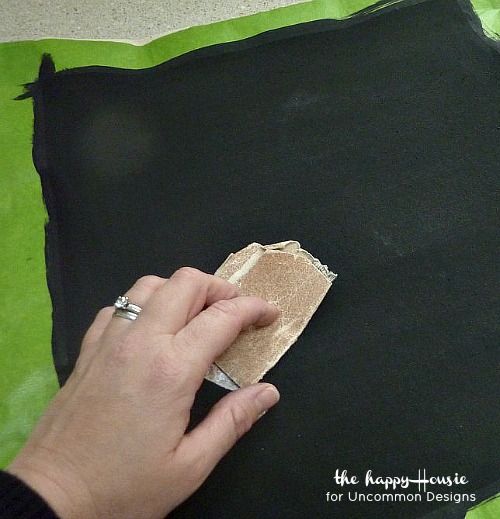 For writing on your pillow you will want to use a chalk paint pen. If you don't mind your image being permanent you could also likely use a white paint pen though I didn't try this.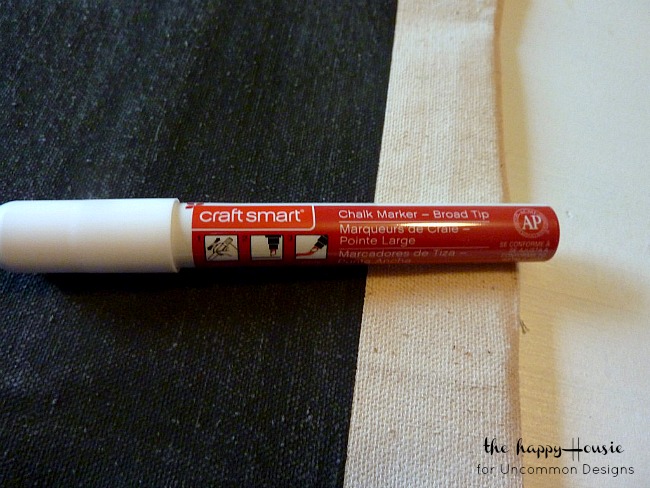 Lastly, I designed the "chalkboard art" for my pillow by researching quotes and images online. I settled on this cute, little autumn haiku poem and copied the simple bird silhouette from my burlap ribbon to create the design…
If you are nervous, I would suggest sketching the whole design out on paper first. Then you could even use some regular chalk to "chalk it out" first on the pillow before tracing over it with your chalk paint pen. The chalk paint pen gives a much more permanent finish and requires a good deal of wiping with a damp cloth to remove the chalk paint – I tested it out on a scrap piece of drop cloth that I painted with the chalkboard paint.
I'm really happy with how it turned out…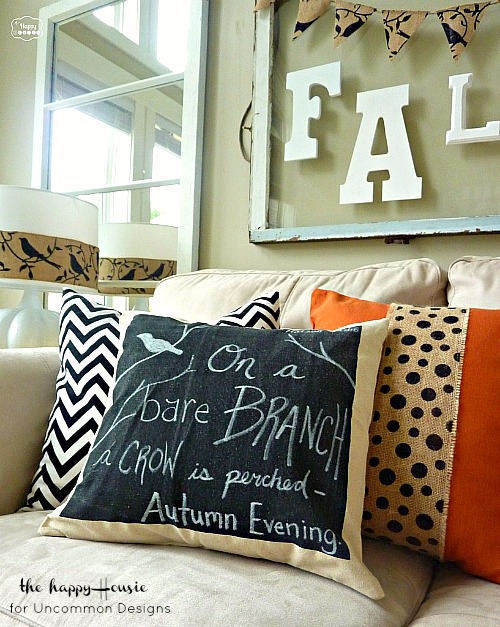 I plan to integrate this pillow into my Christmas decorating as well by changing out the "chalkboard art" to a more Christmas related poem or quote (much like this pillow, below, found at Pottery Barn).
If after a few weeks the chalk paint pen doesn't wipe off as neatly as I would like with a damp cloth, then I will just throw another quick coat of my homemade chalkboard paint over top before decorating it with my more Christmas-y design.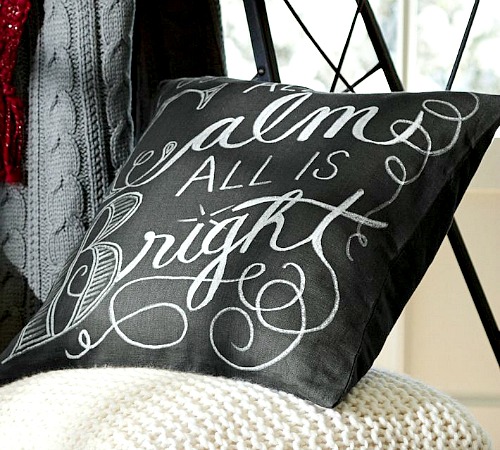 Thanks again for having me over at Uncommon Designs today, Bonnie and Trish! I can't wait to come back!
Thanks for reading. And remember my housie friends, HOME isn't built in a day. Enjoy the journey.
The Happy Housie is a home décor and lifestyle blog that was named this because I must admit to you that I am a bit of a "housie"… (think foodie but for houses). I love all things related to houses: decorating, DIY, organizing, crafting, gardening, and more. I love sharing projects and ideas, and especially love finding old pieces and fixing them up to make them vibrant and beautiful again.
The following two tabs change content below.
Hey y'all! I am Trish and the creative voice behind Uncommon Designs. I adore party planning, holiday celebrations, and all things crafty! I am so excited to share my creative adventures with you!
Latest posts by Trish Flake (see all)