Folks, it is a Halloween miracle!  I finally finished a project that has been on my to-make list since 2009. You heard that right, when my 2nd grader was just learning how to walk, I saw these beautiful pumpkins in a magazine and I was smitten.  Fast forward through the terrible two's, three's, and all the way to elementary school.  My dream of putting battery operated candles in pumpkins and now been realized.
I'm in love with these candlestick pumpkins!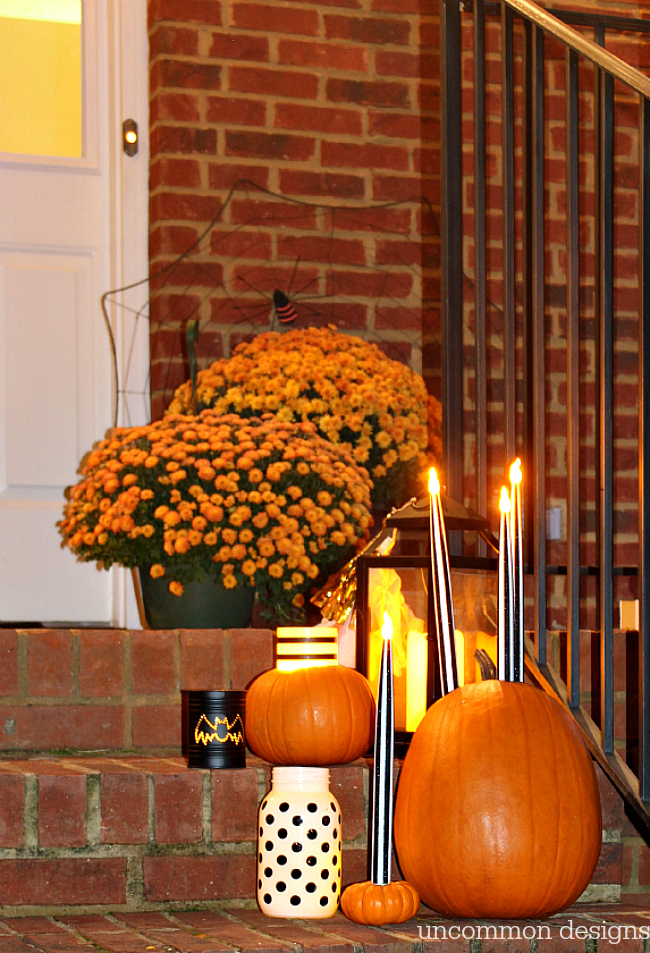 My aha moment came when I was strolling through Michaels and I saw those fabulous striped battery operated candlesticks.  There were no more excuses… this was the year!  Since I needed decorations for our photo booth area at the school's Fall Festival, I decided to tackle it and make it happen.
The good and crazy crafter that I am, I packed up my candlesticks and took them to the pumpkin patch.  I know that those men running the farm stand thought I was looney tunes, but picking out pumpkins can take a great deal of time when you have to fit them for their plastic candles.  You have to look at all aspects of them and how they fit with the grand plan for my fabulous Halloween porch.  Thank goodness I decided to go it alone, because it was almost impossible to choose!
The basics of creating the pumpkins was simple, they needed holes.  I knew I would need to just drill holes for the long taper candles.  I marked where they would go and drilled right through.  The pillars ended up being just a little more difficult.  I thought I would use a knife to carve out a large hole, but the small pumpkins were hard as a rock.  My husband came to my rescue and used the drill to carve out the hole.  Thank goodness… I probably would have pulled my hair out!
All that was left to do was to get them arrange and do a little fluffing.  I added some lanterns on one side and across the steps I also put a lantern, bat votive and that oh-so-cute polka dot mason jar.  (You guys knew I couldn't resist the dollar spot at Target, didn't you).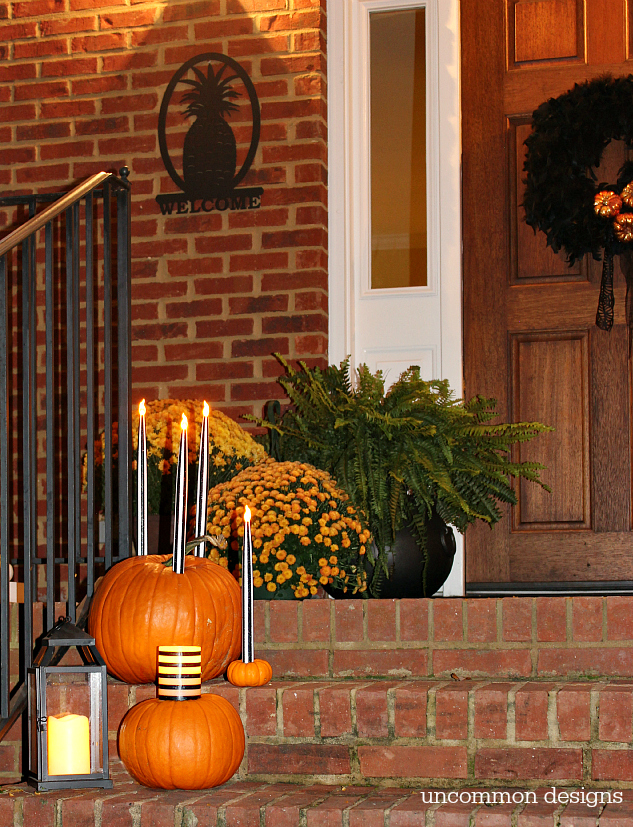 I'm in love… seriously worth the wait.  Now on to the next 100 things I have been ready to make!
The following two tabs change content below.
Hey y'all! I am Trish and the creative voice behind Uncommon Designs. I adore party planning, holiday celebrations, and all things crafty! I am so excited to share my creative adventures with you!
Latest posts by Trish Flake (see all)