I don't know about you guys, but Easter is not complete without Peeps in our house! This year I made these adorable DIY Bunny Peep Straws…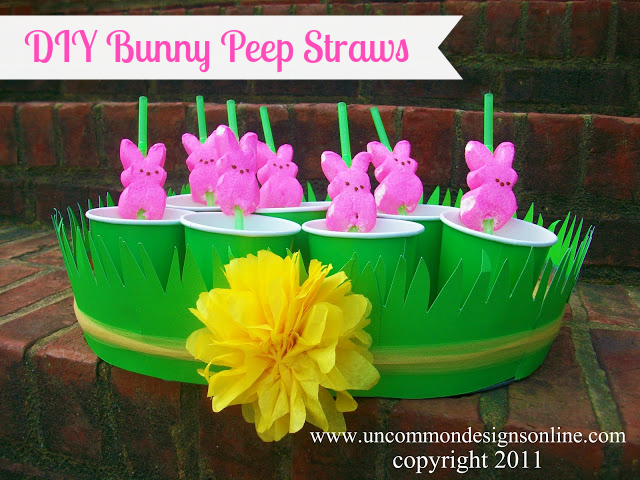 I saw the cutest picture of Peeps threaded on a straw somewhere in blogland last month and wanted to incorporate that idea for Easter. I can't find the post right now for the life of me, but I am snatching it from someone somewhere so thank you whoever you are!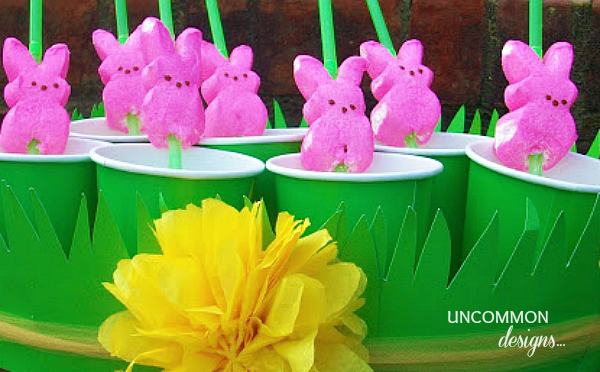 This looked like a fabulous idea and so simple, too! Those sweet sugary bits of animal wonder are sticky little suckers, so I threaded each bunny with a skewer first to make a hole.
Then, I took the straw and covered the top with cling wrap and pushed the bunnies back down and pulled the saran wrap off. This helped to keep the straws clean and free of goo.
That's all folks! I placed the cups with the bunny straws on a tray that I decorated with scrapbook paper for grass, a little tulle, and a bright cheery tissue paper flower.
My kiddos are going to love these for our Easter picnic! They will be perfect with my little Carrot Napkins.
The following two tabs change content below.
Hey y'all! I am Trish and the creative voice behind Uncommon Designs. I adore party planning, holiday celebrations, and all things crafty! I am so excited to share my creative adventures with you!
Latest posts by Trish Flake (see all)