Are you like me and love a party? Can I let you in on a secret? I absolutely adore planning them as much as going to them. All the little details involved…decorations, the venue, food…it is all part of making the party a special day for someone special. Today, I am going to share my 3 awesome tips for Budget Party Planning Ideas For Kids!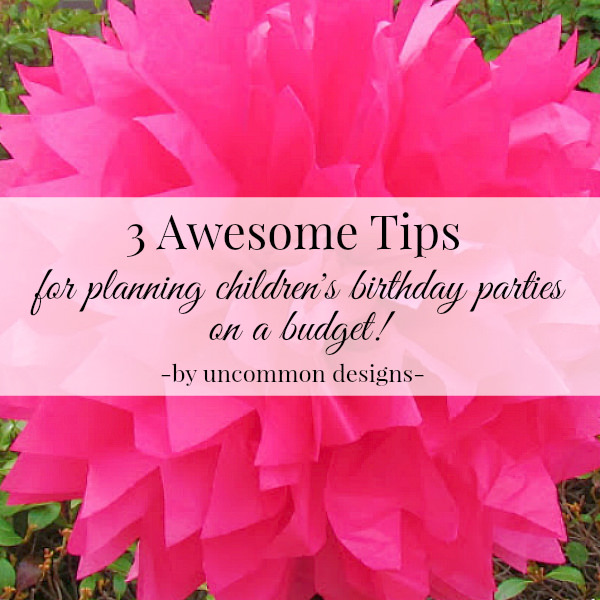 Now, let me tell you…I have planned and thrown a LOT of kid's parties  and there are a few things that remain constant.
1. Picking a Location for the Kid's Party
2. Decorations for the Kid's Party
3. Food for the Kid's Party
No matter what the time of year or theme of the party, these 3 things remain constant. So let me share my tips on throwing that kid's party on a budget and keeping your stress level a bit more manageable. All the while enjoying the special event with a smile!
3 Awesome Tips for Planning Children's Birthday Parties on a Budget
TIP 1: LOCATION
Minnie Mouse Birthday Party all done at a church playground!
 I know that these days most people do not have their child's birthday party at home, but hosting the birthday party at home is hands down, the best way to save money on a party.
In our area, most birthday party places start at over $250 per dozen children and that does not include food, cake, or party favors.  If the idea of having your kiddos and all of their buddies inside your home gives you the chills, do it in your backyard, garage, or at your local playground like I did with my daughter's Minnie Mouse Birthday Party. Cute right?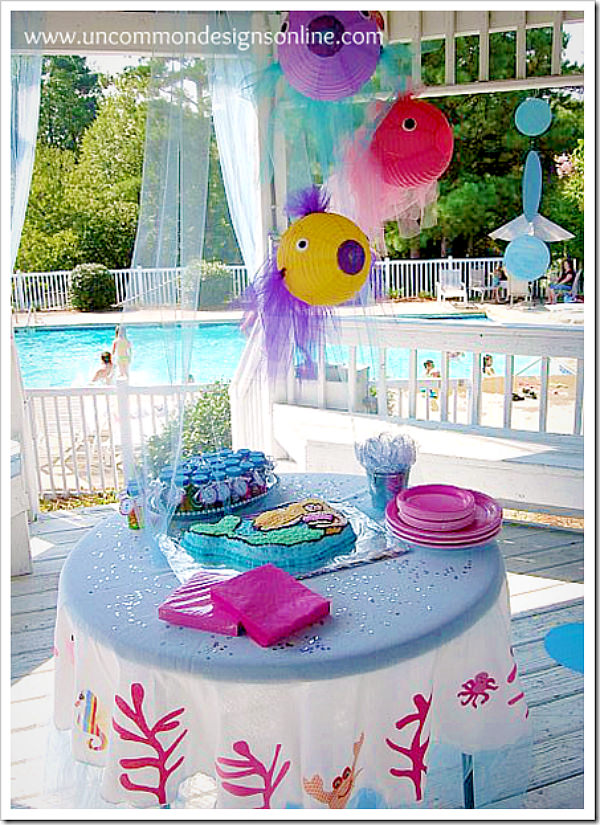 Don't forget neighborhood pools if you have a summer birthday. This Mermaid Birthday Party was held in our neighborhood at the pool.
If you decide to use a park or playground, scope it out first to see about picnic tables, trees, where to set up, parking, etc.
TIP 2: DECORATIONS
This is my favorite part!  Making your own decorations can save you some money and bring out your creativity. It may mean a little more time spent on party prep but you can get a huge impact , like these Tissue Paper Luau Flowers, for a small budget. So I don't get overwhelmed and stay on budget, I usually break decorating for the party into three spaces: the entrance, a main table, and the children's table for seating.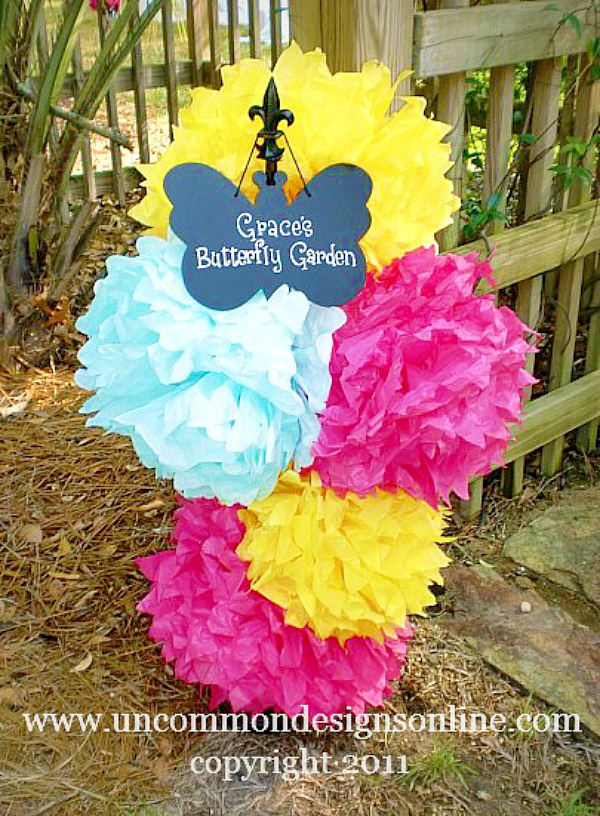 Butterfly Breakfast Party welcome sign for party held in backyard.
Having a welcoming entrance gets your guests in the mood to party!  You could make a sign for the front door, hang balloons on the mailbox, or a customized display like the one you see above. Tissue Paper Poms are a great choice for a lot of different themes.  The children's parents will know they are in the right place and the kids will be so excited about the party!
A perfect tween party…Girls Rock! held at the pool.
The main table is where I spend the most of my decorating dollars and attention.  It really is simple… put a tablecloth over the table, set up a cute display with your cake and goodies, hang something over the table, or use something that has height to anchor the space.  For my daughter's 7th birthday, I simply wrapped boxes in black wrapping paper for a super cheap display!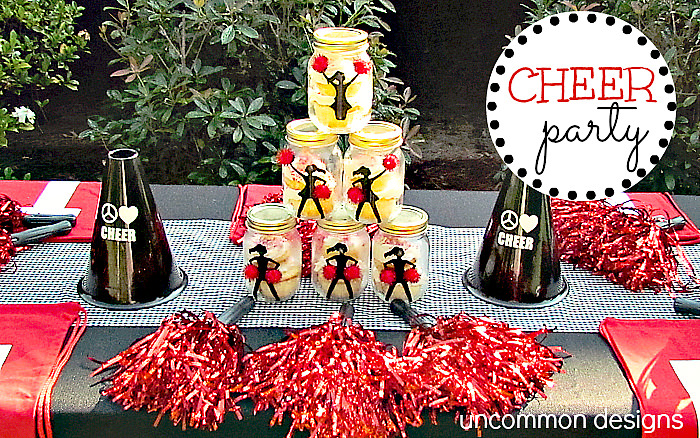 Kid's Table from this fun Cheer Party held in the backyard!
The children's table is the final part of the decor equation.  To save some money here, I will usually incorporate either the craft or activity at each little one's place.They just love having something special and fun that is all their own at their seat. Be sure to visit the dollar store for some ideas and inspiration to stay on budget.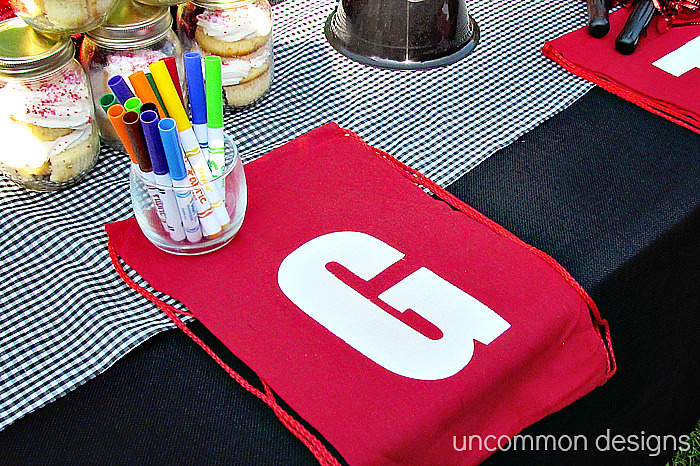 The activity at the table adds a decoration that is also the treat from the party. Bonus!
TIP 3: FOOD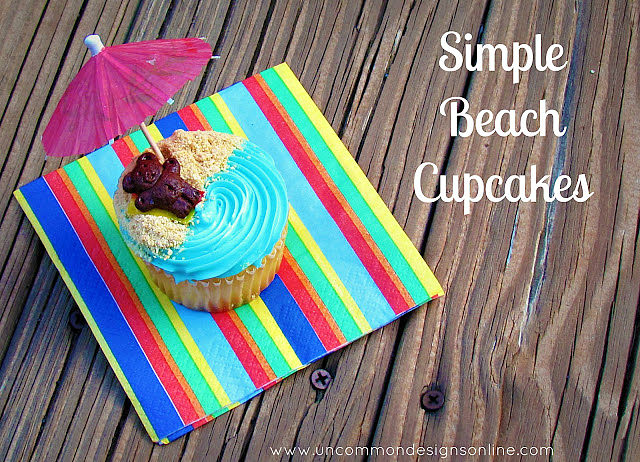 Adorable Beach Cupcakes right? Perfect for a party and so budget friendly. Why? They are ready made cupcakes from a grocery store that I embellished to fit the party. Custom ones would have cost me a fortune. Keep in mind that cupcakes rather than an entire cake can be very budget friendly and fun!
When it comes to kids and party food….go simple….every time! They really are there to be with friends and to have fun. So take simple, inexpensive snacks and get creative with them.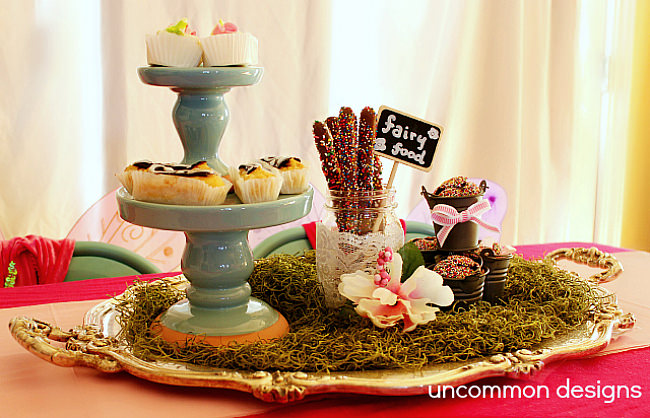 Ready made mini cookies and adding sprinkles to pretzels and you have instant fairy food from this precious Fairy Tea Party. Look around your house for unique and whimsical ways to display the food.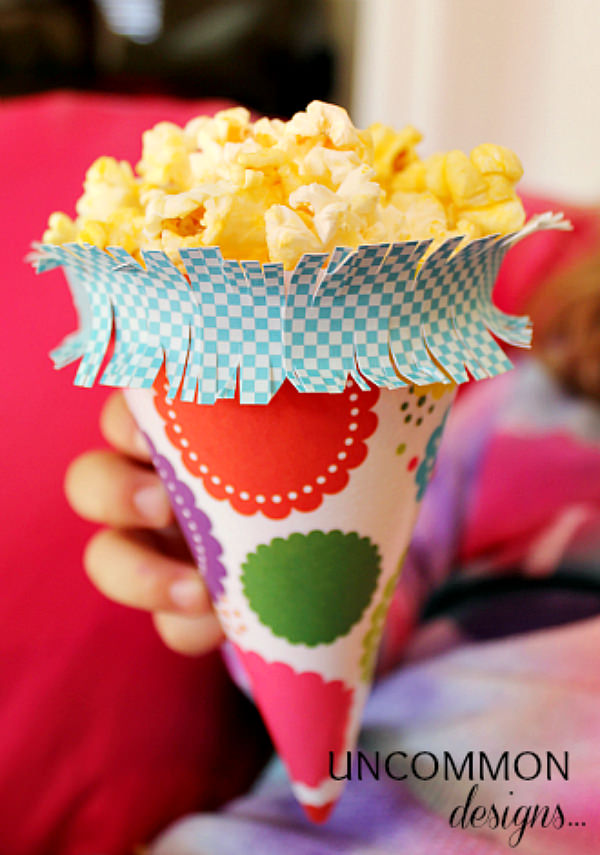 Simple and inexpensive popcorn becomes the star of the party when served up in  DIY Paper Treat Cones like these from a fun Slumber Party.
So, there you go! My 3 awesome tips for Budget Party Planning Ideas For Kids.
Location – Decorations – Food
Think outside the box, step away from the norm, and be creative!
The following two tabs change content below.
Hey y'all! I am Trish and the creative voice behind Uncommon Designs. I adore party planning, holiday celebrations, and all things crafty! I am so excited to share my creative adventures with you!
Latest posts by Trish Flake (see all)