This tutorial, A Vintage Kitchen,  was submitted by Living Vintage
I think that the kitchen is the true heart of the home.  At our house, the kitchen is my favorite spot and certainly the most used.  It tells the story of who we are and what our lives are all about. Just this week, I took all of the children's artwork down, cleaned off the hooks in the hallway and got ready for the beginning of a brand new school year.  The kids could not figure out why I  put all of their masterpieces away, but after I explained that it was a new year and a time to explore and have new adventures, they were filled with excitement.  Do you feel this same way at the beginning of the school year?  It  is one of my favorite times of the year, because it is filled with hope and renewal… we could all use a little of that in our lives!
 When Kim from Living Vintage submitted her vintage kitchen reveal, I knew you guys would love it!  She managed to design a beautiful vintage kitchen that was so classic and so timeless!  You just won't believe all of the beautiful details she has included.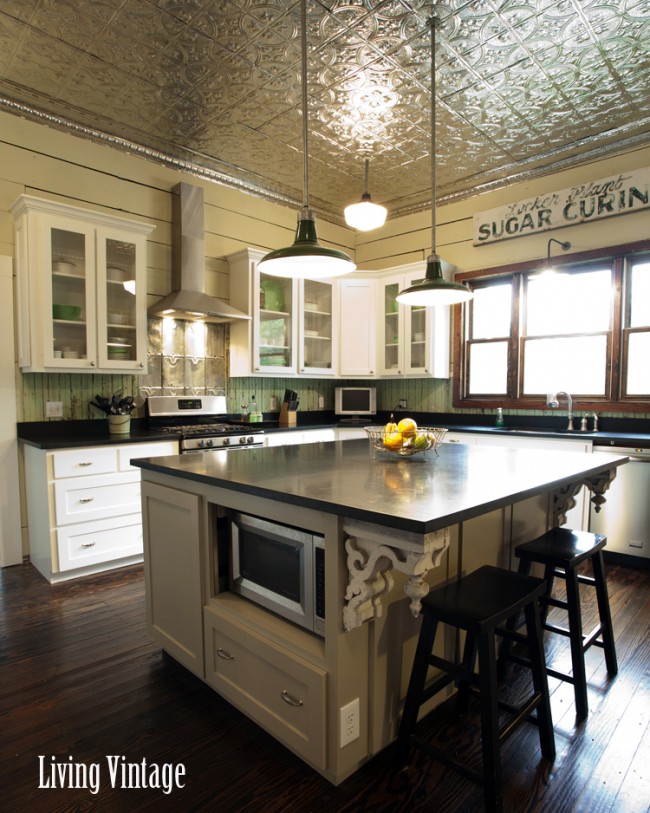 Yep, you are going to have a hard time picking your favorite detail… there are so many to choose from!
This is one of my favorite elements.  It is a mix of modern cabinetry and vintage walls and decorative touches.  I love the authentic coffee cans and the cookbooks remind me so much of our kitchen when I was a child!  I hope you"ll visit Kim and see the rest of her gorgeous kitchen.  These two photos are jus the tip of the iceberg!
Visit Living Vintage to see the rest of her Kitchen
The following two tabs change content below.
Hey y'all! I am Trish and the creative voice behind Uncommon Designs. I adore party planning, holiday celebrations, and all things crafty! I am so excited to share my creative adventures with you!
Latest posts by Trish Flake (see all)