Today we have the pleasure of being a part of the 12 Days of Christmas Ornament  Series at My Sister's Suitcase.  They are two of our favorite bloggers and you will love all of the days' ornaments that have been shared so far!
The ornament that we made was inspired by the ninth day of Christmas in the song, the 12 days of Christmas. We made a…
nine ladies dancing ornament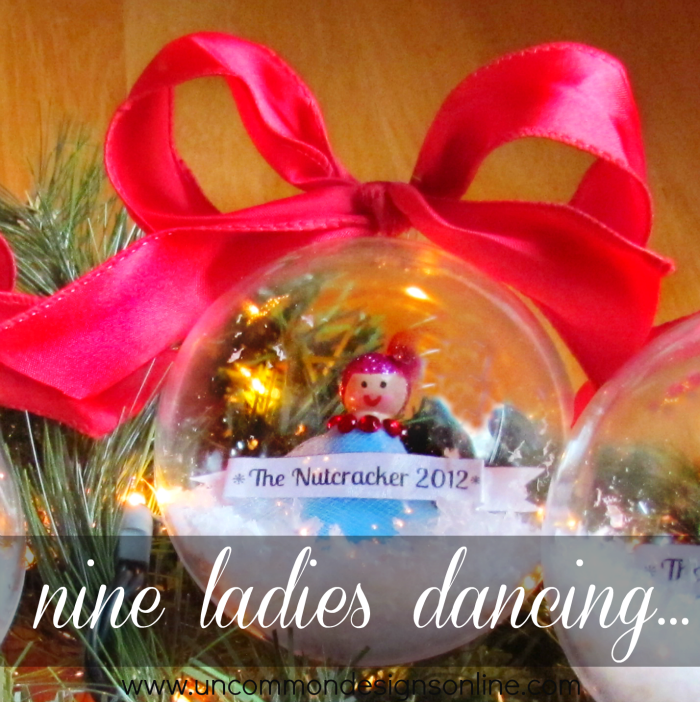 When we were asked to be part of this series, we knew exactly what we were going to post about.  We were recently asked to make ornaments for a group of young girls who were participating in the Nutcracker ballet as sugar plums, so we knew this would work perfectly.  We had already decided that we would be making peg doll snow globe ornaments.  Here is how we made them…
Peg Doll Snow Globe Ornaments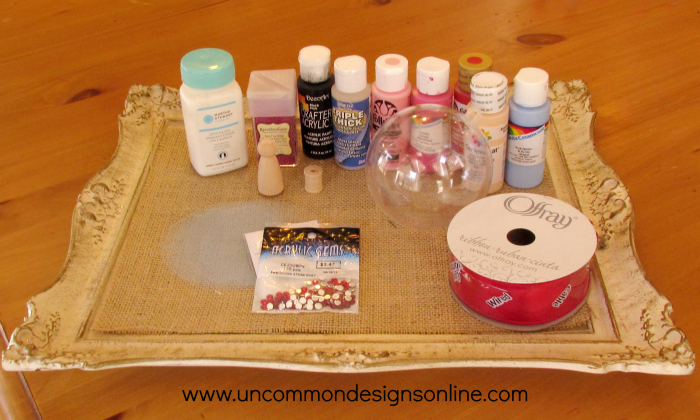 Supplies:  plastic ornament, snow, wired ribbon, tulle circles, peg doll, red acrylic gems, wooden spool, assorted paints, glitter, E6000 adhesive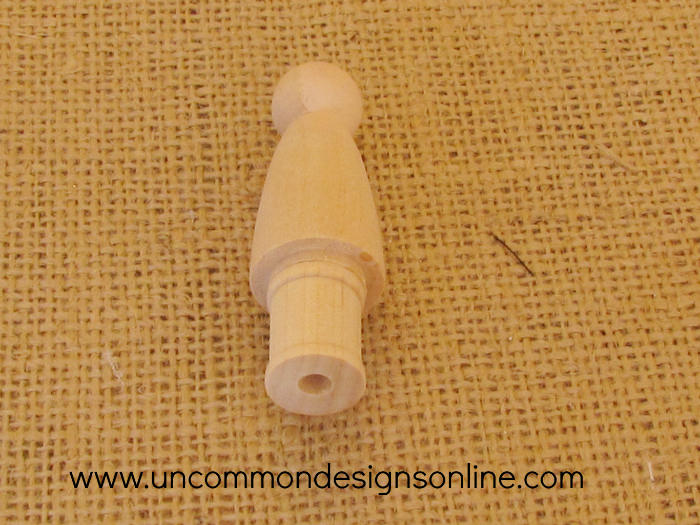 Step One.  Glue the wooden spool to the bottom  of the peg doll using the E6000 adhesive.  Allow to dry.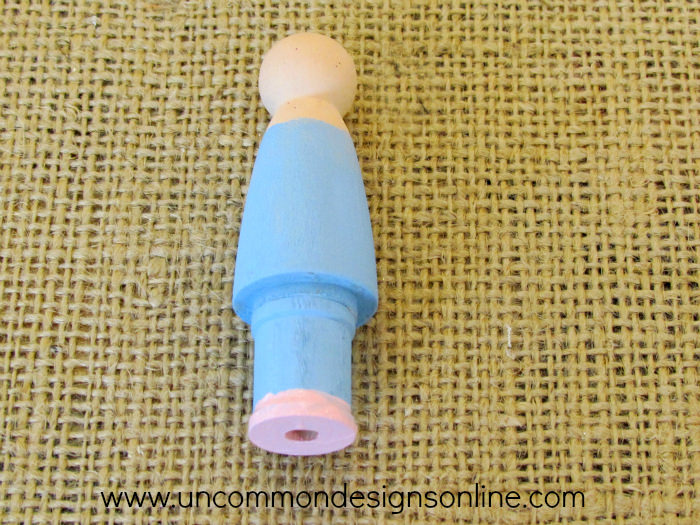 Step Two.  Paint the entire ornament the skin color and then paint the dress in blue.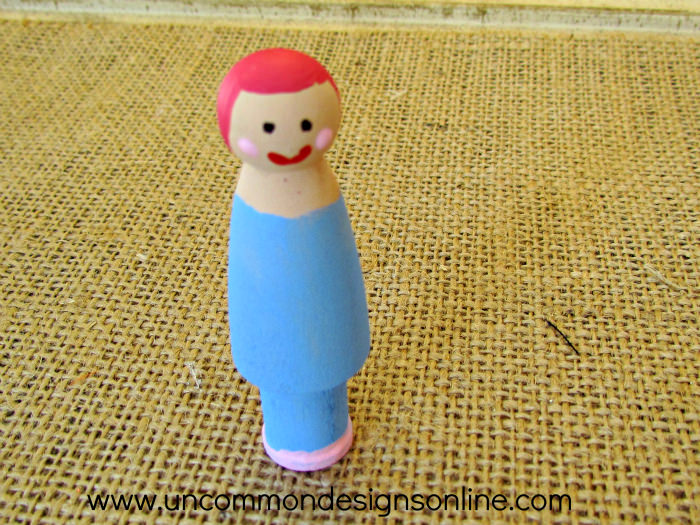 Step Three.  Paint pink ballet shoes on the bottom of the wooden spool.  You will then paint pink hair on the top and begin the process of painting the face.  I used a toothpick to dot on the two eyes and to swipe a pretty red smile.  To finish up, I used the back of the paint brush to dot on some sweet pink cheeks.
Step Four.  Now it is time to add a little sparkle to our doll!  I simply glittered where I had painted the hair with a beautiful strawberry pink fine glitter.  Once it dried, I painted the entire peg doll with the triple thick sealer.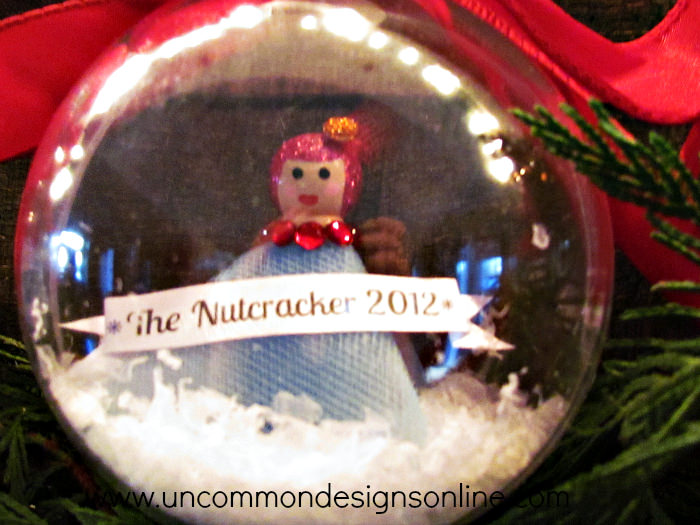 Step Five.  I then added a little tulle dress with red rhinestones at the top and glued a small banner to the front of the dress.  I also put a little tuft of tulle and a gold gem for her hat.  To finish up the ornament, I simply glued the doll to the bottom of one side of the ornament and added the snow and closed the ornament. It was finished off with a beautiful red bow.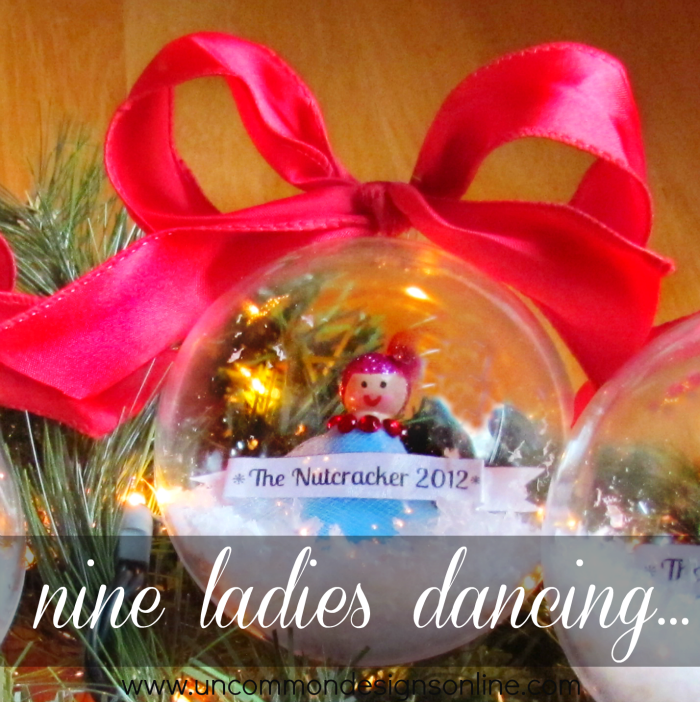 I just love how she turned out!  I hope that the little ballerina's like her, too!
A special thanks to the girls over at
My Sister's Suitcase
for asking us to join in on the 12 days of Christmas fun!  Below, you will find the links to the other ornaments in the series.  We'd love for you to check them out!
The following two tabs change content below.
Hey y'all! I am Trish and the creative voice behind Uncommon Designs. I adore party planning, holiday celebrations, and all things crafty! I am so excited to share my creative adventures with you!
Latest posts by Trish Flake (see all)