After polling the girls, they have decided that their favorite Valentine treat to date are these Gumball Flowers. Apparently they were quite a hit for both of their classes and they loved them, too! I thought I'd share this fun idea again so you could grab the supplies and make them this year!
Gumball Flowers Tutorial
Hey y'all!  I hope that you are warming up a bit!  I am really excited to share a fun Valentine's treat idea with you today… Gumball Flowers!   The girls are planning on giving these out to their friends at school for Valentine's Day this year and they are Adorable!  Did you notice the capital A-dorable?   Yep… that cute!
Let's learn how to make them…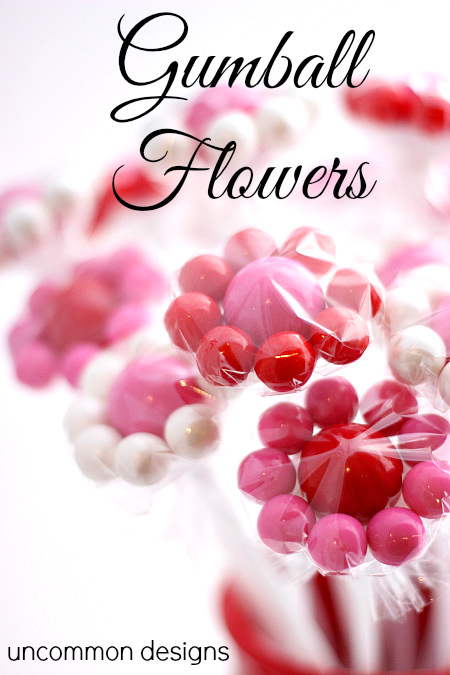 Gumball Flowers Tutorial 
Supplies Needed:
cellophane wrap, I use the roll from the dollar store
glue gun/ glue sticks
mason jar lid
assorted ribbon
(affiliate links)
Instructions:
Step One.   Cut a square of cellophane a little larger than the mason jar lid and lay it on top of the lid.  Add a large gumball to the middle.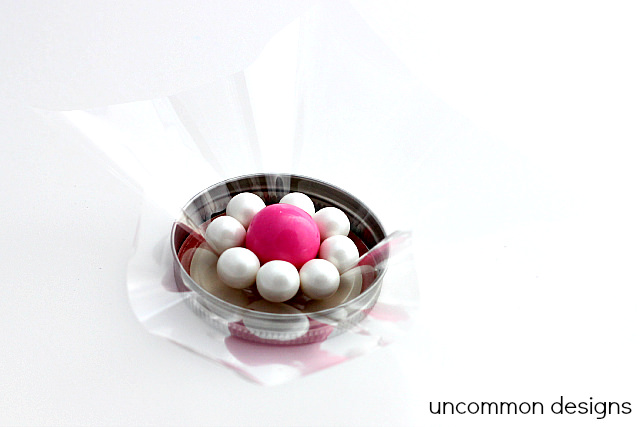 Step Two.  Add small gumballs around the larger gumball in the center.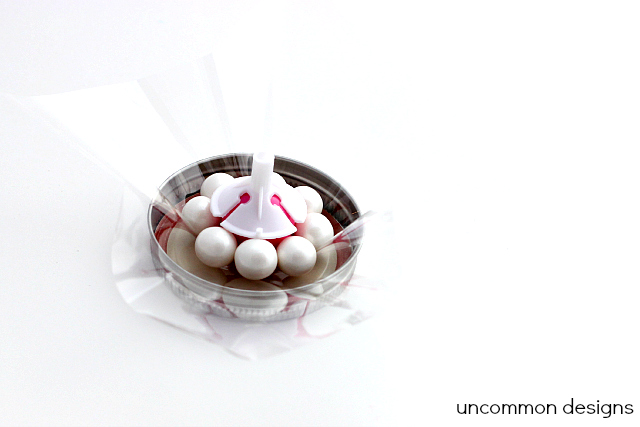 Step Three. Place the funnel end of the plastic balloon stick right on top of the large gumball in the middle of the mason jar lid.
Step Four.  Now you will gather up the cellophane around the gumballs and attach with the small rubberband to the plastic balloon funnel.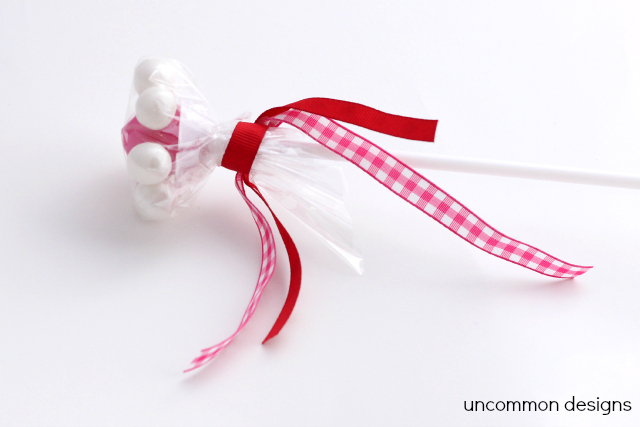 Step Five.  Finally, you will attach the stick to the top of the flower.  I trimmed the stick just about in half to make  the flower more to scale.  You may also want to add a dab of hot glue to the stick at the top to attach it to the funnel end.  Otherwise, it could separate easily.  To finish it off, add ribbon to fancy things up a bit!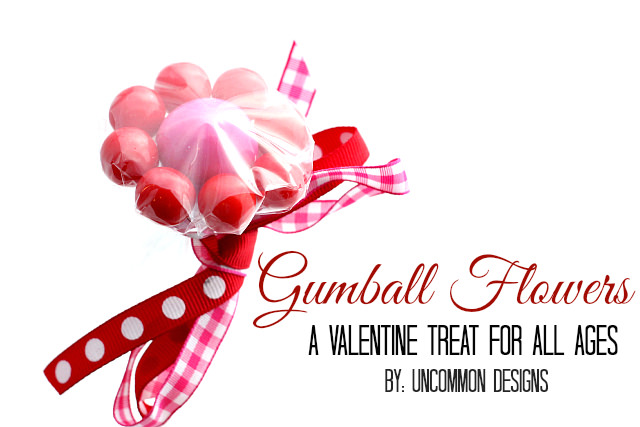 I am really excited for the girls to hand these sweet flowers out to their classmates.  They are just so cute and are perfect for all ages to give to their friends!
What are your children handing out this year to their buddies?
If you need a few ideas, check out our Valentine's Day Pinterest Board…
The following two tabs change content below.
Hey y'all! I am Trish and the creative voice behind Uncommon Designs. I adore party planning, holiday celebrations, and all things crafty! I am so excited to share my creative adventures with you!
Latest posts by Trish Flake (see all)