Woo hoo!  The holidays are well underway at this point and we have just been crafting away! I don't know about you guys, but we have some little friends in our life that we like to give a little something special to each year.  Friends from church, school, and around our neighborhood.  Today, I am sharing one of the quickest and easiest candy filled ornaments  that is perfect for those occassions!  Who doesn't love an cute ornament and candy?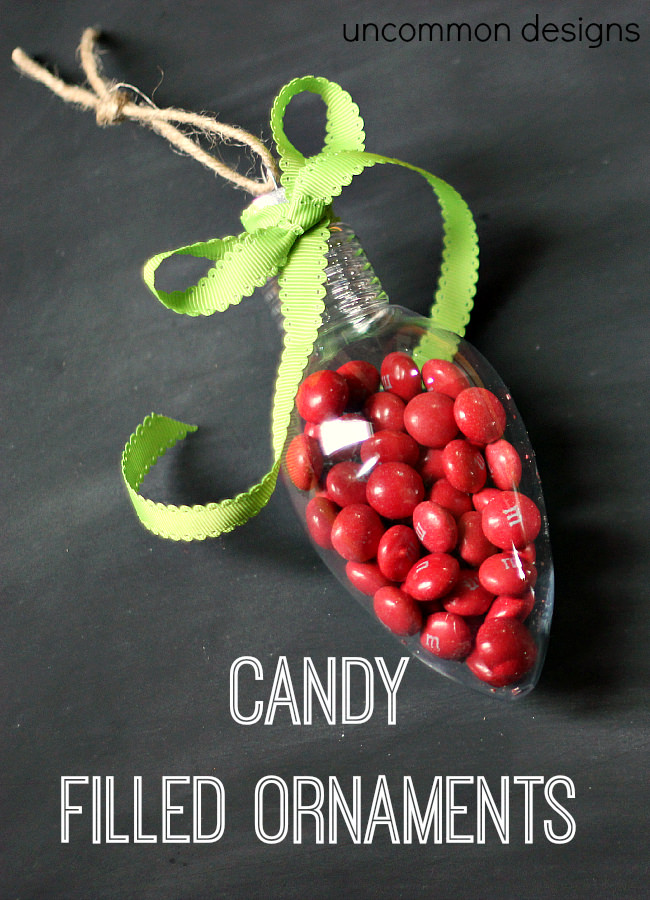 Wal-Mart has an amazing selection of plastic ornaments this year and they are dirt cheap.  They have two different size balls, discs, but I really adored these light bulbs.  They are fillable and fun… which equals a cute a nd inexpensive gift.
I picked up a few and brought them home and washed them out with warm soapy water.  Once they dried, we filled them up with our favorite Mint M& M's.   You can use your choice of candy, but make sure it is small enough to fit.  There were a few stray M &M's that didn't fit in our ornaments, but they found their place in our  bellies as we worked.  😉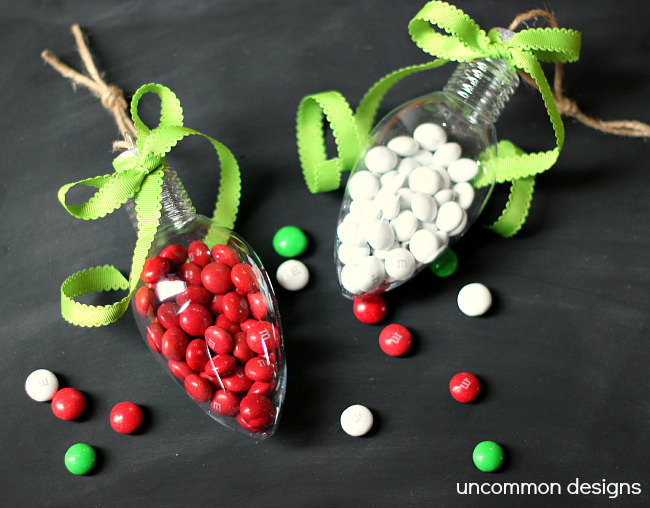 After you finish filling up the ornament, replace the top and tie it off with a cute bow. We also added a little twine for hanging on the tree.  So incredibly easy!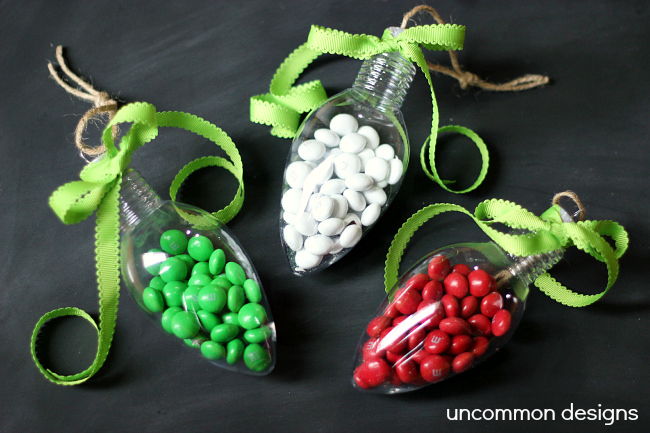 I just love that I could go five minutes down the road and pick up all of the supplies for the girls and I to make these fun treats.  The fact that they were inexpensive didn't hurt either!  The best part… fun with my two favorite rascals and sharing the spirit of the season… giving!
Need some more ideas for filling clear ornaments? Make sure and click over to our Clear Christmas Ball Ornaments roundup. Still looking for some handmade ornaments inspiration? Our Wooden Snowflake Ornaments are adorable!
*Trish
The following two tabs change content below.
Hey y'all! I am Trish and the creative voice behind Uncommon Designs. I adore party planning, holiday celebrations, and all things crafty! I am so excited to share my creative adventures with you!
Latest posts by Trish Flake (see all)