Hello friends! I'm Liz from
Love Grows Wild
, and I am so excited to be back with another delicious recipe to share with you! This
Warm Crab Dip with Caramelized Onions
is an incredible appetizer that is sure to impress your guests! It is full of flavor, easy to make, and a real crowd-pleaser. Say goodbye to the same old boring appetizers and hello to this warm, creamy, and delicious dip!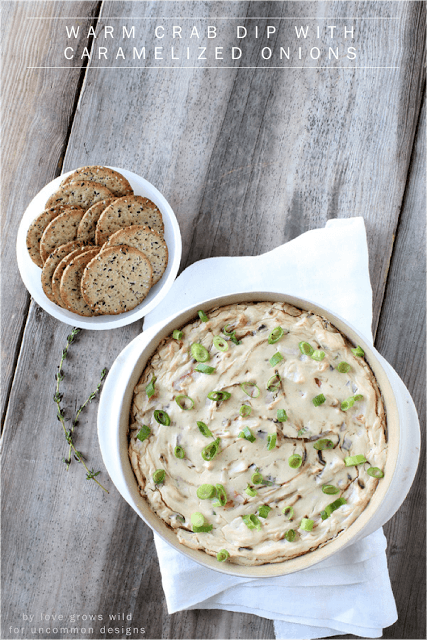 Appetizers are so fun, aren't they? I love going to a party and getting to sample all kinds of delicious little bites that people bring! Simple appetizers like shrimp cocktail and cheese platters are great, but sometimes you find a deliciously decadent appetizer that really knocks it out of the park! And this Warm Crab Dip is one of them!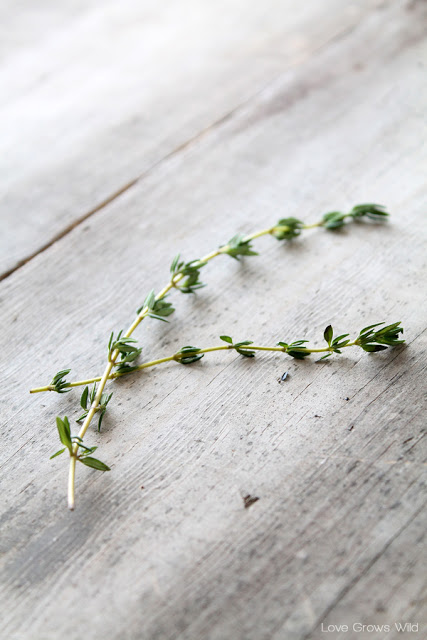 One of the things that makes this recipe truly spectacular are the caramelized onions swirling throughout the dip. Have you ever made caramelized onions before? If not, then you definitely need to try it! All you do is cook the onions in butter low and slow until they get really brown and develop a wonderful sweet flavor. If you're not a big fan of strong onion flavor, than you will love this recipe! The caramelized onions are mild and sweet and are the perfect addition to this creamy dip. To really bump up the flavor, I toss two sprigs of fresh, lemony thyme into the pan while the onions caramelize. The smell that will fill your kitchen at this point is amazing!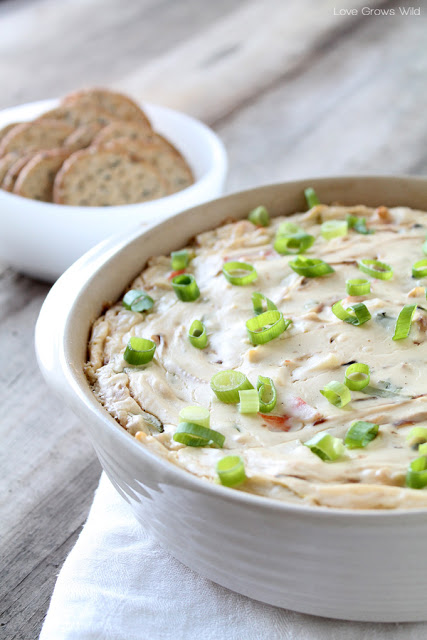 The rest of the ingredients come together very quickly. Sour cream and cream cheese are the base for this creamy dip, which in my opinion is a great start to any recipe! After a little bit of seasoning, I add the good stuff: the thyme-infused caramelized onions, chopped scallions, and yummy crab meat! The dip goes into the oven for 30 minutes and comes out warm, rich, and ready to be devoured! All you need are some crackers or celery for dipping, and you have a great appetizer that your guests will never forget!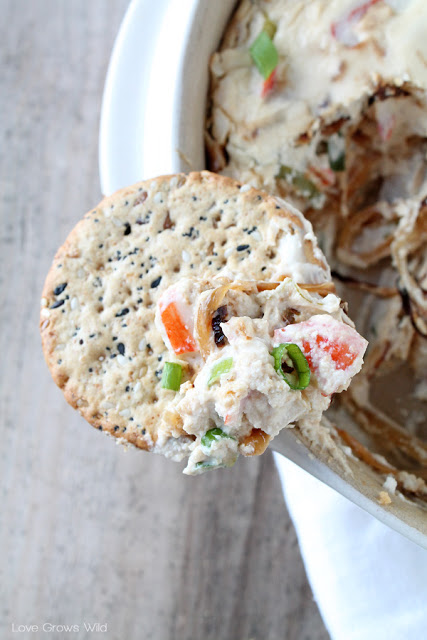 Warm Crab Dip with Caramelized Onions
2 tablespoons butter
1 large onion, thinly sliced
2 sprigs fresh thyme
2 – 8 ounce packages reduced-fat cream cheese, room temperature
1 – 8 ounce container sour cream
1/4 cup milk
2 teaspoons Worcestershire sauce
1/2 teaspoon salt
1/4 teaspoon garlic powder
3 scallions, chopped
8 ounces crab meat
crackers and celery sticks for dipping
Heat oven to 350 degrees. Melt butter in a skillet over medium heat. Add onion and thyme sprigs and cook 15-20 minutes, stirring frequently until browned. Discard thyme sprigs. In a large bowl, combine cream cheese, sour cream, milk, Worcestershire, garlic powder, and salt. Stir in onions and all but 3 tablespoons of the scallions. Gently fold in crab and transfer the mixture to a 11×7″ baking dish. Bake at 350 degrees for 30 minutes until bubbly around edges. Garnish with reserved scallions and serve with crackers and celery.
Adapted from a Family Circle recipe. 
I hope you enjoy this yummy dip as much as we do, and I'll see you back here next month!
xoxo Liz
The following two tabs change content below.
Hey y'all! I am Trish and the creative voice behind Uncommon Designs. I adore party planning, holiday celebrations, and all things crafty! I am so excited to share my creative adventures with you!
Latest posts by Trish Flake (see all)