This post was written on behalf of Pop Secret.  All opinions and craftiness are our own! 
We did it!  We survived our youngest daughter's first sleepover over the weekend!  The girls were so sweet and like little miniature teenagers.  Since La La's birthday is so close to the holiday, we had a Valentine's Day theme for her slumber party.  We did crafts, played games, danced, built forts, and had some yummy treats.  One of those yummy treats was this Valentine Party Popcorn.
Be sure to visit Pop Secret's Facebook page for a $1 off coupon!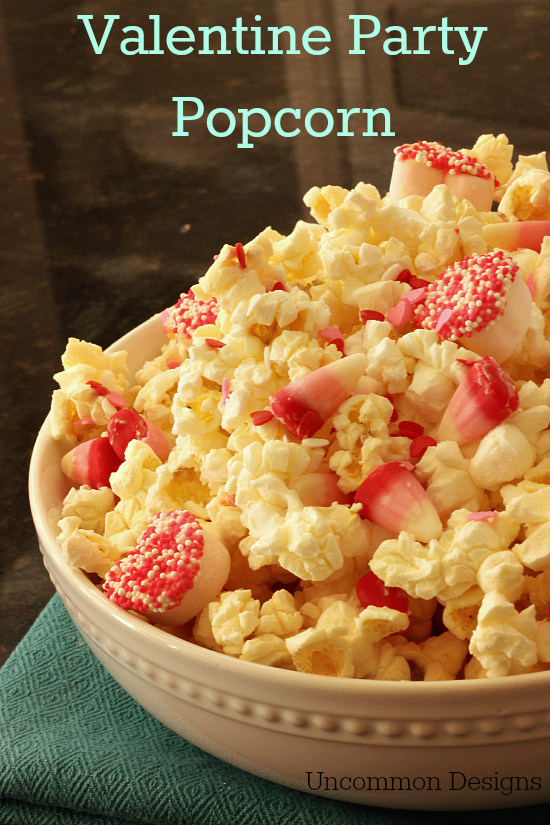 My little one has the biggest sweet tooth and has a big love for popcorn.  We decided to mix those two loves together and make the perfect Valentine Party Popcorn! It was a huge hit and they gobbled it up after they made a fort together.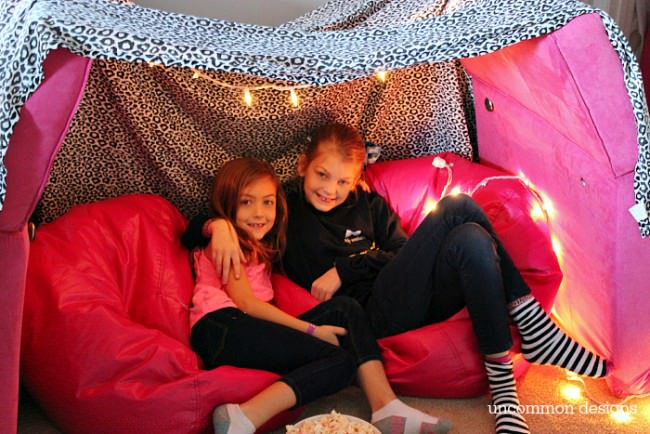 They had a blast putting together their fort… it is the best slumber party activity. I seriously think that all I had to do for the party was let them build forts and pop up some yummy popcorn. They thought it was fabulous!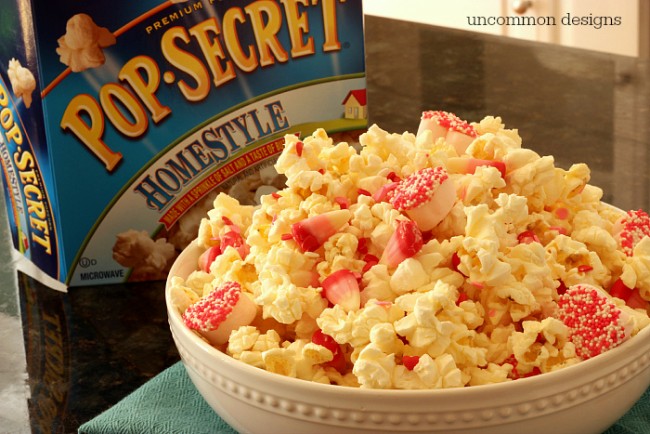 Want to learn how to make our Valentine Party Popcorn?  It is simple!  Gather up your supplies.  You will need Pop Secret's Homestyle Popcorn (Click here to save $1 on Pop Secret's Facebook Page), white chocolate, Valentine sprinkles, candy corn, and heart shaped marshmallows.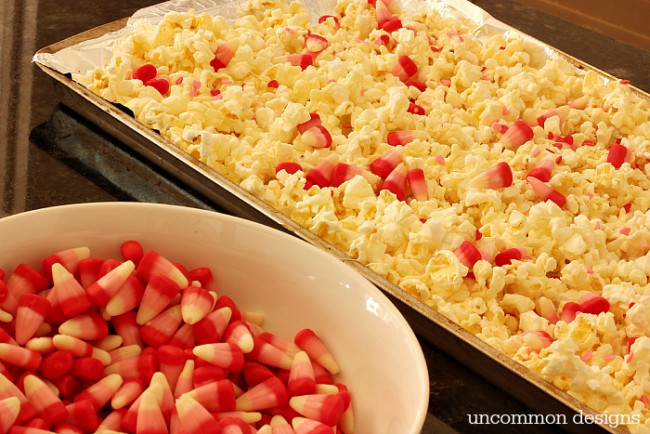 First you want to pop the microwave popcorn and spread it out on a cookie sheet.  We drizzled melted white chocolate over the popcorn and then sprinkled some heart shaped sprinkles.  We then mixed in some Valentine candy corn.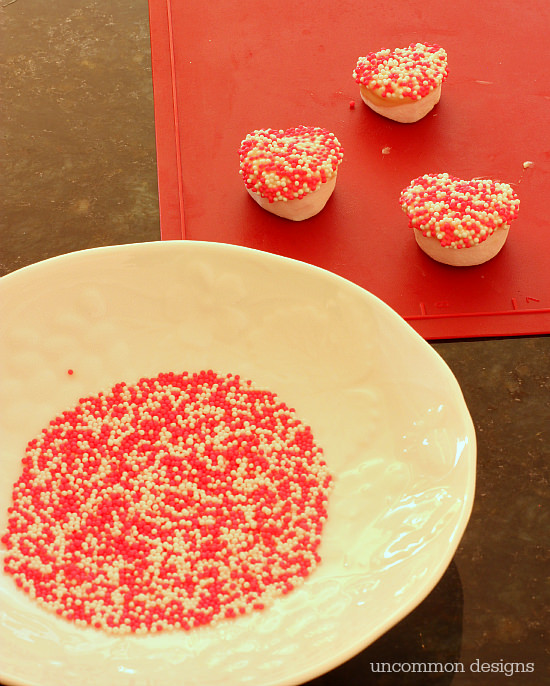 Next you'll want to prepare the chocolate dipped marshmallows.  We picked up a bag of heart shaped marshmallows and dipped the tops into white chocolate and then dipped them into tiny sprinkles.  They were really a good enough treat on their own, but we threw them into the popcorn mix.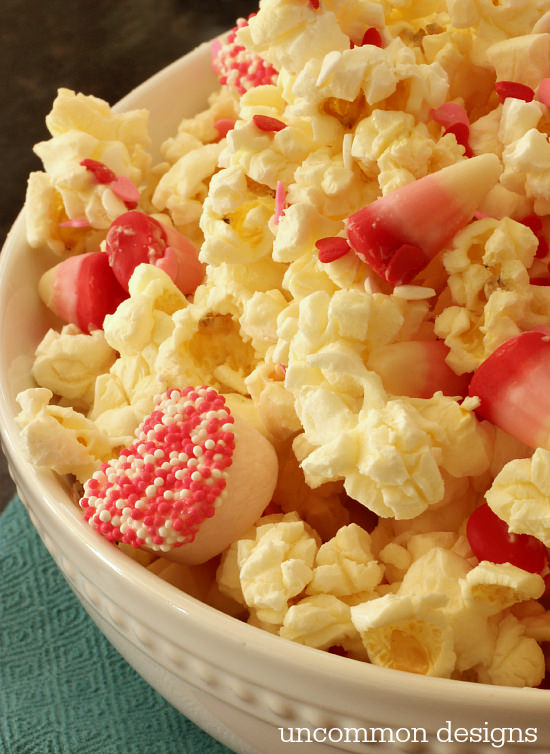 How cute did that turn out?  My little mini-teenagers thought it was just perfect and they polished off every bite.
Don't forget to visit Pop Secret's Facebook Page to get your $1 off coupon!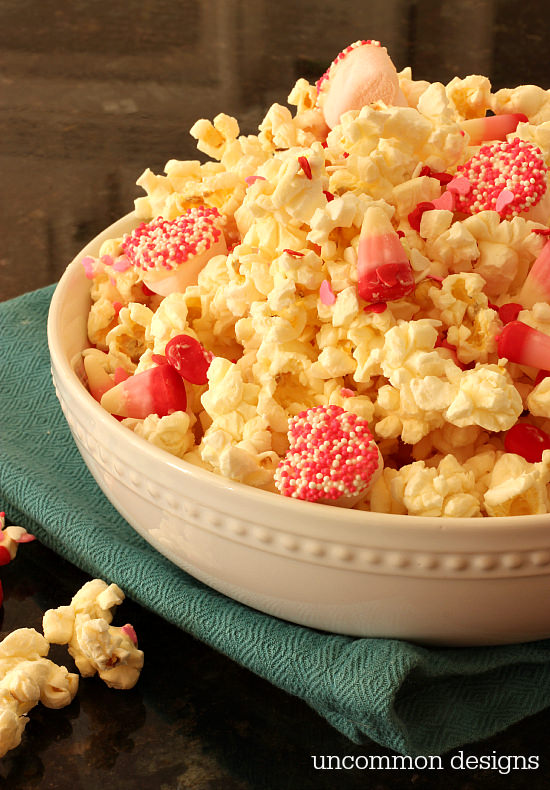 Building forts and whipping up Valentine Party Popcorn doesn't only have to be done at a slumber party.  Celebrate with your family for a movie night, play date, or just because!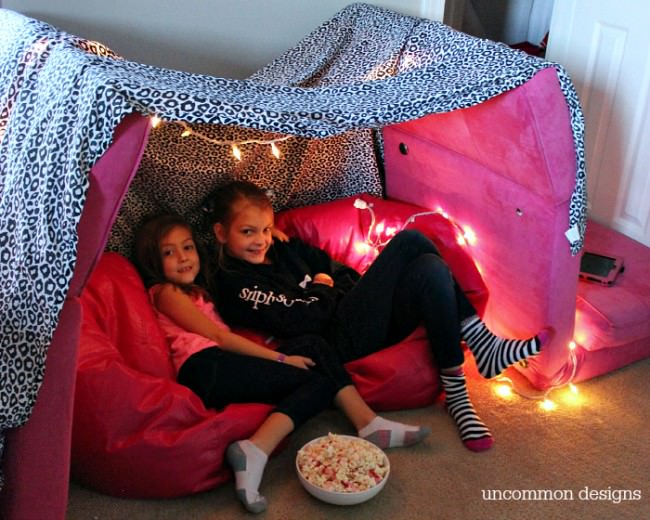 About Pop Secret…
Pop Secret is your perfect snack companion on trips into the uncharted reaches of your imagination.
Pop Secret knows that fun, like popcorn, is better when it's shared. Send Pop Secret your pillow fort stories and pictures on Facebook. You can upload them right to the Pop Secret timeline and tag them #PopSecretForts. They might just share a little something back!
The following two tabs change content below.
Hey y'all! I am Trish and the creative voice behind Uncommon Designs. I adore party planning, holiday celebrations, and all things crafty! I am so excited to share my creative adventures with you!
Latest posts by Trish Flake (see all)