It's Thursday and time for another Uncommon Event…a  Beach Inspired Baby Shower! 
This week's feature is of a couple's baby shower that I planned a while back for one of my dearest friends.  Holly loves the beach more than anyone I know, so this was the perfect theme for her greatly anticipated baby boy!
The focus of the baby shower was this adorable Beach Themed Diaper Cake I created for the party…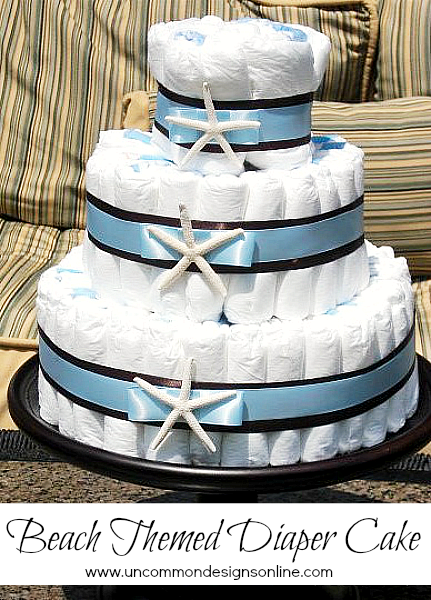 The colors we used for the Beach Inspired Baby Shower were blue, brown, and white with accents of burlap. 
On the diaper cake, we paired stacked ribbon with dried starfish.  I have to say that this was my favorite piece that was created for the party.  It was just like the mama-to-be… elegant and classy.
The onesie clothesline was personalized with three of the couples greatest loves.  One was a tiger paw for our much-adored Clemson Tigers.  The second was and appliqued doggie. 
And finally a monogrammed onesie for their baby boy.  It was accented in the middle with shells to keep with the beach theme.  It was such a great backdrop and really grounded the party in the large outdoor space.
The food table was all decked out in it's coastal attire, as well.  The table was covered in burlap w/ blue table runners.  All of the serving dishes were silver and starfish and shells were scattered about.
It is difficult to express how much the baby boy who would sleep in this bassinet was prayed for.
 I can remember vividly being on the verge of tears during most of the shower.  His parents traveled a long bumpy road to get to this celebration and there was so much joy in the air. 
Holly has always been a close, wonderful friend of mine, but it was not until her quest to become a mother  that I saw what a patient, faithful, and amazing woman she is.  She made me realize that children were true gifts of God and that motherhood is a privilege.
  Thank you my sweet friend, I admire you more than you will ever know!
The following two tabs change content below.
Hey y'all! I am Trish and the creative voice behind Uncommon Designs. I adore party planning, holiday celebrations, and all things crafty! I am so excited to share my creative adventures with you!
Latest posts by Trish Flake (see all)