Hi Uncommon Design readers, it is Audra again from Cherished Bliss. Today I am excited to share a wonderful, new recipe for a Tomato, Spinach, & Bacon Pearl Couscous Salad w/ a Creamy Cucumber Dressing. I don't know about you, but I am ready to start my garden and taste all the wonderful, fresh vegetables I plant each year. And this salad reminds me that it won't be much longer and the promise of spring is right around the corner. A must have in my garden each year is tomatoes and cucumbers, so when creating this salad I knew those veggies were a must. This salad has been in mind for quite some time and I think you will be happy with the results. I know you are ready for the recipe, so let's get cooking!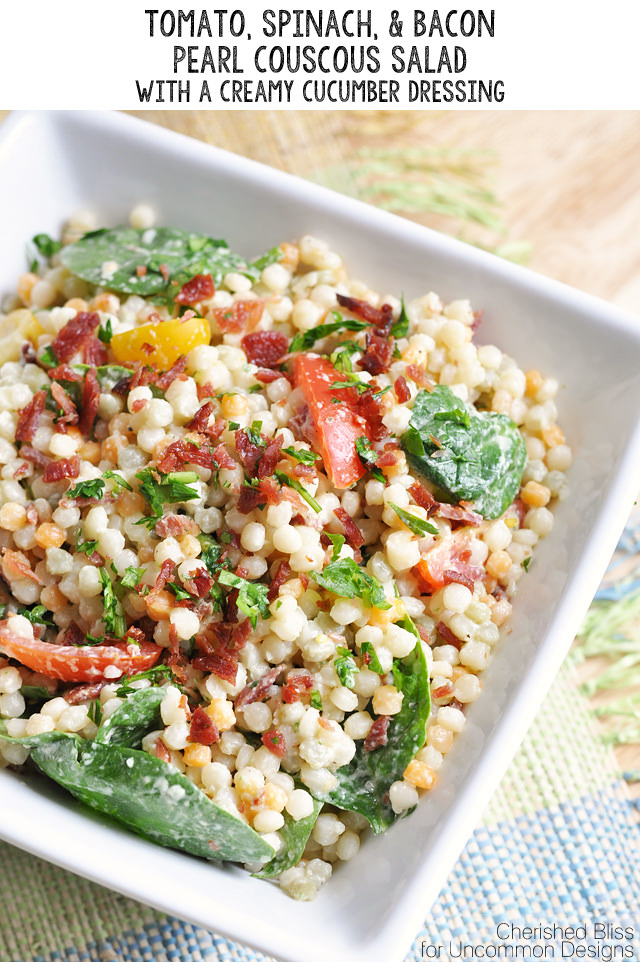 Let's start with the dressing. You will need 1 cup of diced cucumbers (with the skin left on), 1 TBPS of extra virgin olive oil, 1/4 tsp ground pepper, 1/2 tsp kosher salt, 2 TBSP golden balsamic vinegar, and 2 oz cream cheese. I will be honest, after making this dressing I could not stop dipping the extra cucumber slices I had! I will definitely be making this dressing again and not only for this salad!
Now we are moving forward to the salad. I used Rice Select's tri-color pearl couscous. If you have never tried pearl couscous they are little, delicate pasta balls and they are quite delicious. Together with the pearl couscous I added red cherry tomatoes, golden sun burst tomatoes, and fresh baby spinach. I chose not to chop my spinach, but if you want to please do! I think I will be chopping mine next time I make this salad.
Once you have prepared all your ingredients it is time to put everything together. Notice the secret ingredient (crispy turkey bacon) ? The turkey bacon really puts this salad in perspective. Of course you don't have to use turkey, I am just trying to keep it healthy. Although, I don't really know how healthy it was to almost eat the entire bowl…oops!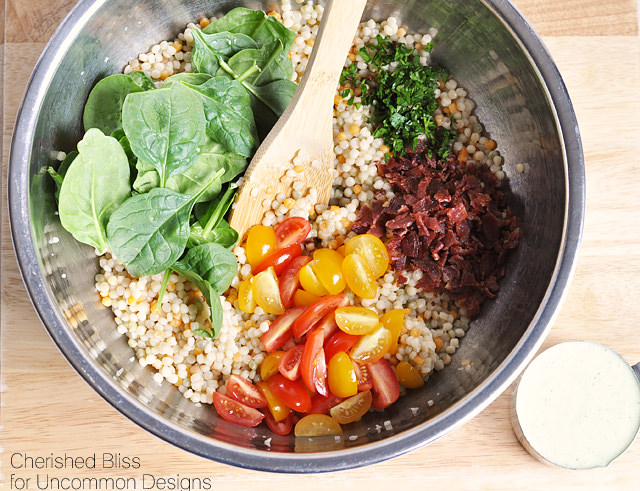 When all the beauty is combined, transfer to a nice serving dish and garnish with additional chopped parsley and bacon. I recommend stirring in the dressing just before serving. This salad is best served at room temperature.
Tomato, Spinach, & Bacon Pearl Couscous Salad
w/ a Creamy Cucumber Dressing
Ingredients

For the dressing:
1 cup diced cucumbers
1 TBSP extra virgin olive oil
1/4 tsp ground pepper
1/2 tsp kosher salt
2 TBSP golden balsamic vinegar
2 oz cream cheese
For the salad :
2 cups tri-color pearl couscous
3 cups of vegetable broth
1/4 tsp kosher salt
1 TBS butter
1 handful baby spinach
1/2 cup red and yellow tomatoes, quartered
3 slices crispy turkey bacon (I use Applegate), chopped in fine pieces
1 TBSP fresh parsley, finely chopped
Instructions-
For the dressing:
Place all ingredients into a blender and blend until all ingredients are combined well.
For the Salad:
Cook the couscous according to the package. I cooked mine in:
3 cups of vegetable broth, 1/2 tsp kosher salt, and 1 TBS butter.
Once the the couscous is done, pour in a fine mesh strainer, and give it a good rinse to remove all the starch.
Note: if you do not rinse the couscous it will be sticky
Shake all the excess water and place couscous in a large mixing bowl.
Now add baby spinach, tomatoes, bacon, and parsley.
Stir dressing in just before serving.
Garnish with additional turkey bacon bits and fresh chopped parsley.
Enjoy!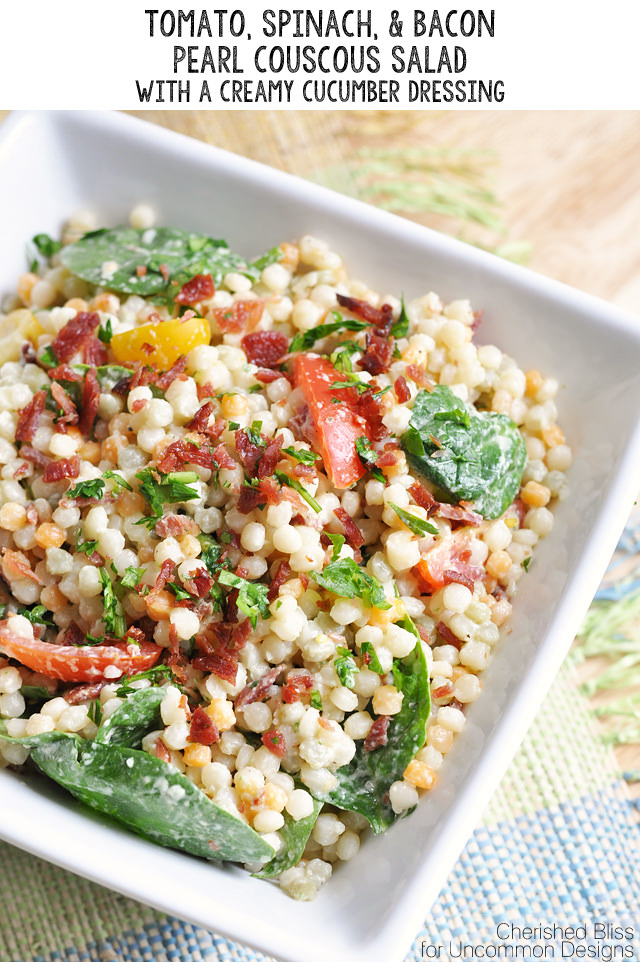 If you were pleased with this recipe, you might be interested in these!
Strawberry Balsamic Vinaigrette
Roasted Red Pepper, Tomatillo and Cilantro Hummus Recipe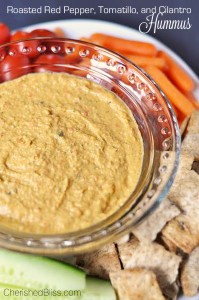 Keep in touch with Cherished Bliss!
Audra: Facebook // Twitter // Pinterest // Google +
Ashley: Facebook // Twitter // Pinterest // Google +
The following two tabs change content below.
Hey y'all! I am Trish and the creative voice behind Uncommon Designs. I adore party planning, holiday celebrations, and all things crafty! I am so excited to share my creative adventures with you!
Latest posts by Trish Flake (see all)