This week on the Tuesday Trade-Off, we are delighted to have Karen  from A Pocket Full of Pink
!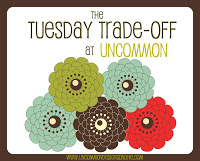 Hi Uncommon Designs readers!  My name is Karen and I am visiting from my blog Pocket Full of Pink, where I like to post about crafts I am working on, recipes, and a little bit of everything else!
These recipes for Creamy Tomato Soup and Ultimate Grilled Cheese Sandwiches are some of my family's favorite meals!  I found these recipe's years ago in the Taste of Home Magazine.  If you haven't been on their website, you should go visit.  Lots of yummy recipes!  I tweaked this one just a bit, and I think it tastes fabulous. 
Here it goes: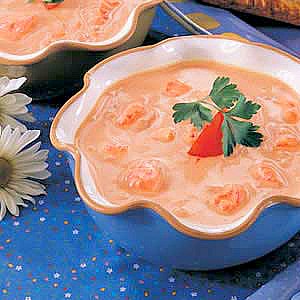 Personally I don't care for the chunks of diced tomato's in the soup…. soooooo I put the diced tomatoes in the blender first.
Creamy Tomato Soup
1 medium onion, chopped (today I didn't have an onion, so I used dehydrated onions.  Tasted fine!)

2 TBSP Butter

2 cans (14-1/2 ounces each) diced tomatoes undrained.  (if you don't like chunks, blend it first!)

2 cans (10-3/4 ounces each) condensed tomato soup, undiluted

1-1/2 cups milk (evaporated milk works great)

1 tsp sugar

1/2-1 tsp dried basil

1/2-1 tsp paprika

1/8-1/4 tsp garlic powder

1 pkg. (8 oz.) cream cheese, cubed
In a saucepan, saute onion in butter until tender.  Stir in tomatoes, soup, milk, sugar, basil, paprika and garlic powder. Bring to a boil.  Reduce  heat; cover and simmer for 10 minutes.  Stir in cream cheese until melted. I used a wire whip and stirred quickly to get any lumps out.  Serve immediately. 8 servings.
This is the best tomato soup I have EVER had! 
 [amd-zlrecipe-recipe:47]
The Ultimate Grilled Cheese
1 package (3 ounces) cream cheese, softened (you can use the low fat kind!)

3/4 cup mayonnaise (I use the kind with olive oil)

1 cup (4 ounces) shredded cheddar cheese

1 cup mozzarella cheese

1/2 tsp. garlic powder

1/8 tsp. seasoned salt

10 slices Italian bread (1/2 inch thick)

2 TBSP butter or margarine, softened
In a mixing bowl, beat cream cheese and mayonnaise until smooth.  Stir in cheeses, garlic powder, and seasoned salt.  Spread five slices of bread with the cheese mixture, about 1/3 cup on each.  Top with remaining bread.  Butter the outsides of sandwiches; cook in a large skillet over medium heat until golden brown on both sides.  5 or more servings.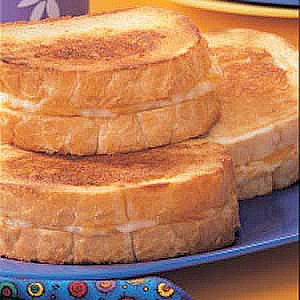 These sandwiches are YUMMY!  My family can't get enough of them.  Just try to forget how much fat is in each one.  Remember…..moderation:)
Thanks for letting me hang out with you all today!  Stop by my blog anytime!  I would love a visit:)
Thanks so much for joining us Karen!
The following two tabs change content below.
Hey y'all! I am Trish and the creative voice behind Uncommon Designs. I adore party planning, holiday celebrations, and all things crafty! I am so excited to share my creative adventures with you!
Latest posts by Trish Flake (see all)