This week on the Tuesday Trade-Off, we are so thrilled to have Amy from Nap Time Crafters!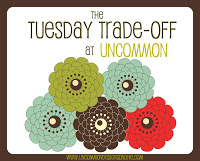 Nap Time Crafters is one of our absolute favorite blogs and she is going to show us something I have been dying to create… DIY Family Rules Subway Art! 
Take it away Amy…
Hi I'm Amy from Nap Time Crafters!
 I LOVE every kind of craft, but if I had to pick a fav it would definitely be sewing for my little girl. I also love decorating my apartment with very budget friendly projects.
Stop on by and have a look around- I love meeting new friends!
Today I have a super fun tutorial for DIY Family Rules Subway Art to share with you!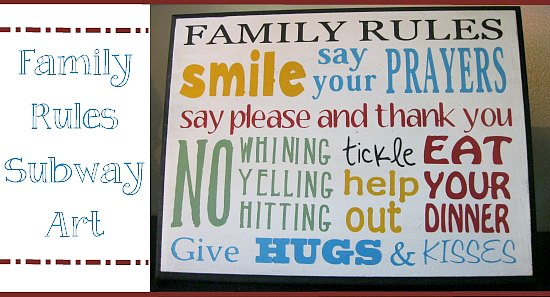 I've been seeing a lot of subway art lately, so I decided to make one just for us. I had little miss in mind when coming up with some of these:)
Want to know the secret to making a gorgeous hand painted subway art???
VINYL!!
Materials:
Vinyl and transfer paper
Wood Plaque
Paint
Design: come up with your own rules or borrow ours. You can snag my SCAL file here
1. Cut out your design using an electronic cutter or a razor (if you're really really patient). Now peel out all of the letters, but leave the rest of the vinyl behind. Use your transfer paper to move it onto your plaque.
2. Decide on your colors and go to town with the paint. Let it dry for at least an hour- I'd recommend overnight to be safe.
3. Peel off the vinyl and enjoy! I had a few spots that didn't turn out perfect but I decided it just added to the look and left it as is. You could just use lots of different vinyl colors if you want, but I think the paint really makes it unique.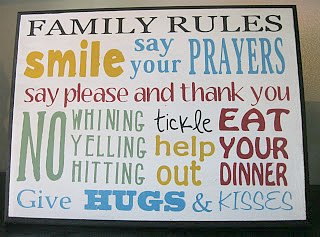 Now we just need to get everyone to follow them:)
we're doing great on tickling!
Thanks for having me!
Thanks Amy! You can find Amy and more of her great finds and projects on her blog, Nap Time Crafters! 
The following two tabs change content below.
Hey y'all! I am Trish and the creative voice behind Uncommon Designs. I adore party planning, holiday celebrations, and all things crafty! I am so excited to share my creative adventures with you!
Latest posts by Trish Flake (see all)