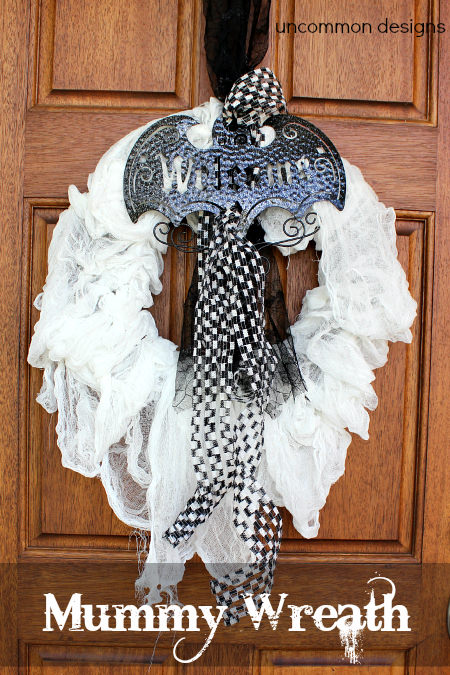 Since it officially October, I am so glad that I can can start to get our outside spaces all decked out for Halloween without worrying the neighbors that we have gone goth.  Let me tell you… it is so fun!  We are working with Jo Ann for a few holiday projects and our first mission was to create a spooky space.  Well, look no further than this spine tingling Mummy Wreath.  Okay, so you may not be screaming in horror, but it has just enough spook and just enough elegance for this crafty mama.
I know you are dying to learn how to make one for yourself…
Mummy Wreath Tutorial
Supplies Needed: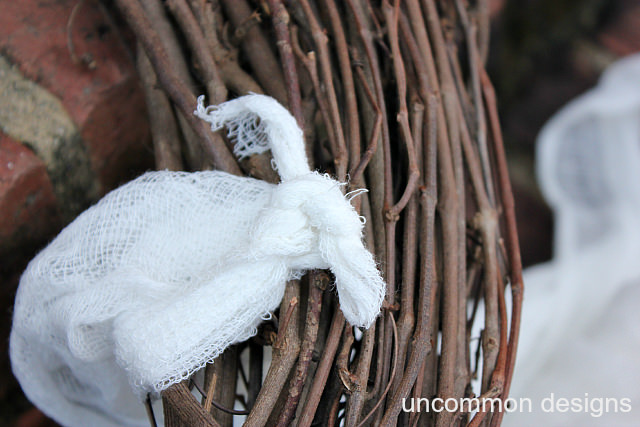 Step One.  The most interesting thing about the basic mummy wreath is that it requires no glue or floral wire!  To get started you will take one corner of the fabric and tie it to the back of one of the sticks of the grapevine wreath.  Nothing fancy, we are just helping it to stay put.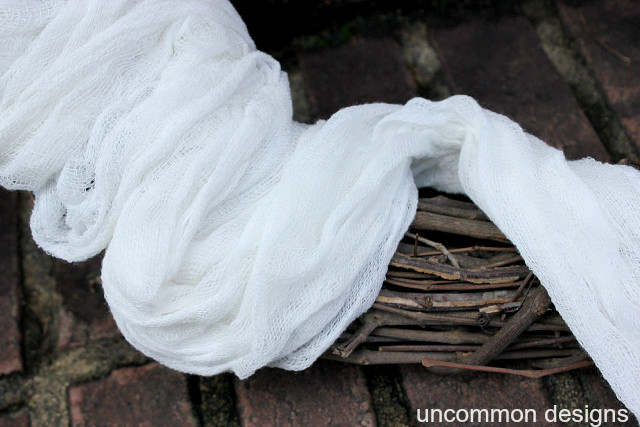 Step Two.  Lay the fabric on the top of the grapevine wreath in a zig zag fashion.  Go completely around to cover the front of the wreath.  You will want to push the fabric in between some of the sticks along the way to anchor them.
Step Three.  For the next phase, I decided to go ahead and hang the wreath on my door.  If there are any spots where the fabric falls, go ahead and tuck them in.  You ready for the fun part?  Stretch and pull and rip… yep… get all those frustrations out!  Get it hanging off like mummy gauze.  Just pull and tug and rip till it looks the way you want it.  The fabric will stick to the grapevine sticks and stay in place.  If you can't resist, you can glue it down where you want or feel like it needs it.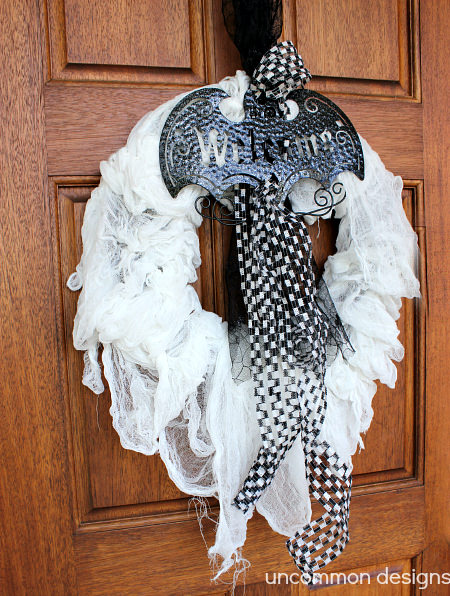 Step Four.  The final step in the process is to personalize and embellish your wreath.  This is the time to let your creativity shine!  I decided to add some black and white ribbon, Halloween spider web fabric, and a fun Bat Welcome Sign. This was actually a lawn stake that I cut off… even if we are spooky, we still need to use our manners and welcome our guests, right?!  This is such a fun wreath to make and you can totally make this your own!
 Go get your Halloween mojo on and create a Spooky Space for yourself!
*Trish
The following two tabs change content below.
Hey y'all! I am Trish and the creative voice behind Uncommon Designs. I adore party planning, holiday celebrations, and all things crafty! I am so excited to share my creative adventures with you!
Latest posts by Trish Flake (see all)