Happy Saturday everyone!  Today we would love for you to meet Kelley from the Grant Life, one of our sweet new sponsors!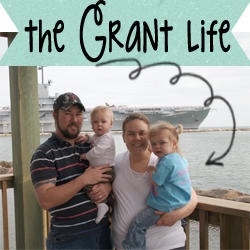 Kelley is  a stay at home momma to a 2 year old toddler girl and a one year old baby boy.  She recently opened a small online shop calledLoveables where she sells pretties for moms and daughters. She loves being knee deep in crafts and has made a resolution to try at least one new recipe a week! Kelley also just started to offer  online services as a virtual assistant!  
Here is a taste of what you will find on the Grant Life  …
Also these fabulous Series features…
From Kelley's Shop, Loveables
The Grant Life is such a fun blog to read and Kelley is so funny and such a great mom!  We would love for you to stop by and say hello!  You can also find her on
twitter
or
facebook
!
Thanks Kelley for being such a wonderful sponsor! 
*Bonnie and Trish
We hope that you will click on over to see the rest of this post!
The following two tabs change content below.
Hey y'all! I am Trish and the creative voice behind Uncommon Designs. I adore party planning, holiday celebrations, and all things crafty! I am so excited to share my creative adventures with you!
Latest posts by Trish Flake (see all)