Have you ever had one of those marathon days… the ones that are so jammed packed you hardly have a moment to breathe?  Yep, today was one of those days for me.  After school activities, meetings, blogging, snuggle time with the kiddos… and four dozen Sausage and Cheese Cups!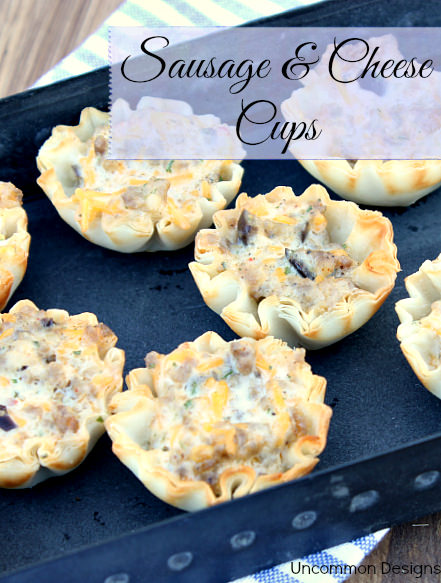 I baked four dozen of these delicious sausage and cheese cups before 7:30am this morning for a PTA event at my little one's school.  Before you go giving me the mother-of-the-year award, I have to confess something.  All four dozen of these adorable miniature delights took me about 45 minutes to make and that includes the baking time! Nothing like a yummy and quick and easy appetizer.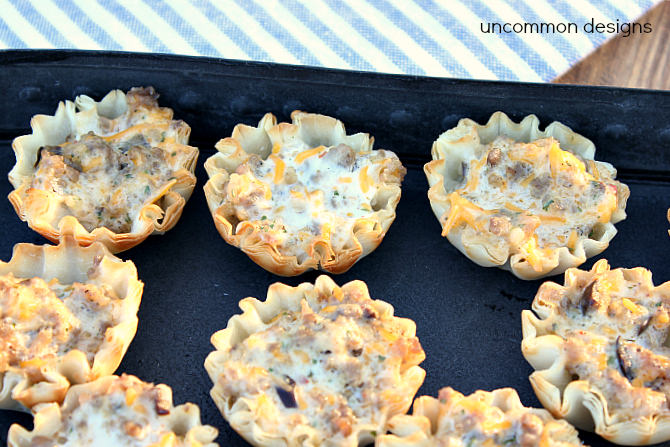 They are so good, too.  A perfect combination of filling sausage, cheese, sour cream, ranch dressing, and a hint of olive.  All fit into these tiny phyllo cups that are so flaky and cute!  Yes… even grown up food can be cute!  They are perfect for your next party, covered dish, brunch, or for the everyday.  My children loved them, too… and they hate olives (so they think!)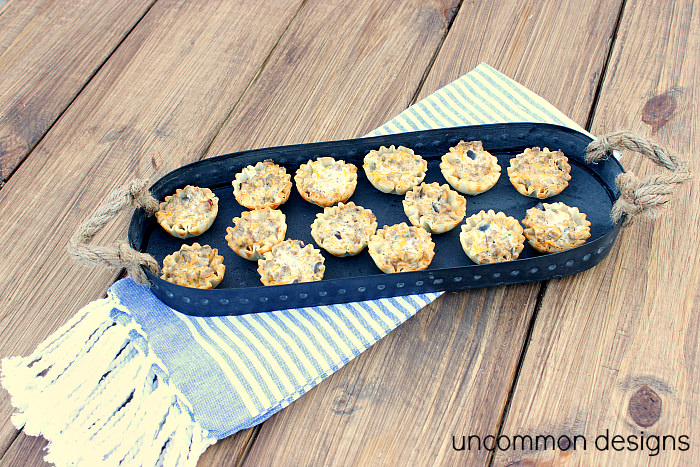 Sausage and Cheese Cups
yields approximately four dozen
Ingredients
1 lb sausage, I used hot
8 oz cheddar cheese, shredded
16 oz sour cream
1 pkg ranch dressing mix
1 oz chopped olives (half of a small can)
4 pkgs frozen phyllo shells
Step One.  Preheat your oven to 350 degrees.  Brown your sausage.  I used hot, but you can use maple, medium… really whatever your favorite flavor might be.  I think it would taste good with any of these.  Drain  off any grease.
Step Two. Now you will mix all the toppings together… cheddar cheese, browned sausage, sour cream, ranch dressing, and the olives.  Make sure you have combined it well.
Step Three.  Time to fill the phyllo shells!  I took a melon ball scoop and filled each individual shell with a scoop of the mixture.  So easy and it was the perfect size.
Step Four.  Place the cups on an ungreased baking sheet and bake at 350 degrees for 15-20 minutes.   You want the cups to be a golden brown.  That is it… so easy, but so delicious!
Have you guys had any of those marathon days lately?  How about a great recipe that is super easy?  We'd love to hear about it!
*Trish
The following two tabs change content below.
Hey y'all! I am Trish and the creative voice behind Uncommon Designs. I adore party planning, holiday celebrations, and all things crafty! I am so excited to share my creative adventures with you!
Latest posts by Trish Flake (see all)