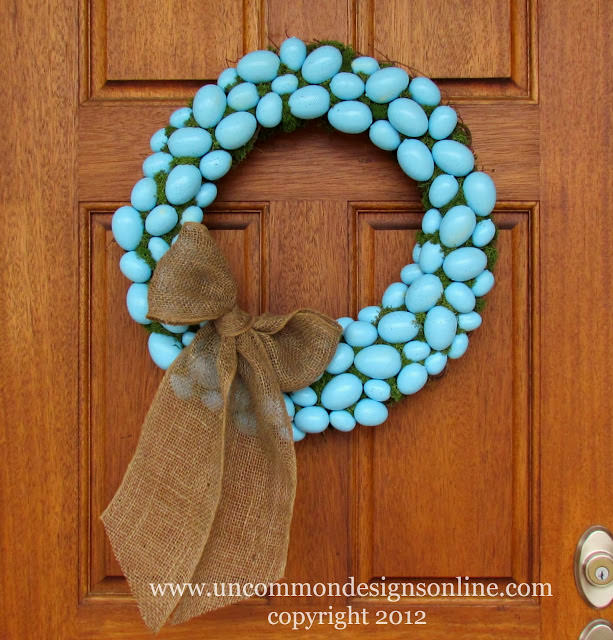 Easter Decorating Idea
I am just over the moon excited that Spring has made its appearance!  With the birds chirping and the blue skies shining… it was time to make an Easter wreath… a Robin's Egg Blue Easter Wreath to be exact!
Here is how to make one for yourself…
Supplies:
Grapevine wreath form (mine was 18″)

Multi-sized eggs (I used five bags like the ones above from Hobby Lobby)

Spray Paint in your choice of color

Acrylic paint in brown for a little speckling

Glue Gun and LOADS of glue sticks

Ribbon or burlap for  the bow
The first thing you will do is spray paint your eggs.  I chose this pretty blue from Rustoleum.  Let that coat dry and then turn them over and spray the other side. 
Super easy! 
Now it is time to adhere the moss to the grapevine wreath.  I used a preserved bright green sheet moss.  First, I took a small area of the moss and get as much dirt off as I could.  Then,  I laid it on the wreath and literally wired it on.  It doesn't have to be perfect,  just cover the front of the wreath!
This is the most time consuming part of the process.  You will hot glue the eggs onto the wreath form.  Again, we are not going for perfection here, just coverage!  About nine million glue sticks later… I speckled the eggs with brown acrylic craft paint.  You can spatter paint them or you can flick the bristles of a toothbrush to get a light spritz. 
Now if you are not crazy OCD over the teeny tiny details you can skip this part!  I took a little bit of reindeer moss and would glue little tufts where there were spaces between the eggs. 
OCD? …maybe
Polished and Pretty? … absolutely! 
Add your pretty bow and you are done! 
The following two tabs change content below.
Hey y'all! I am Trish and the creative voice behind Uncommon Designs. I adore party planning, holiday celebrations, and all things crafty! I am so excited to share my creative adventures with you!
Latest posts by Trish Flake (see all)