We are proud to be a part of the DecoArt Core Blogging Team. We were given product and compensation but all craftiness and opinions are 100% our own.
Sometimes a craft project is inspired by a memory from your childhood. For me, my grandparent's house held a lot of incredible memories. The big band music that was always playing on a turntable, her in the kitchen baking, and books….lots of books! They had a little round bookshelf that held all these Reader's Digest Collection books.
They were mesmerizing in all the bright colors and patterns. 4 books in 1…what is better than that? So I decided to display a few in my own home and created these vintage inspired Painted Wooden Corbel Bookends to hold them in place.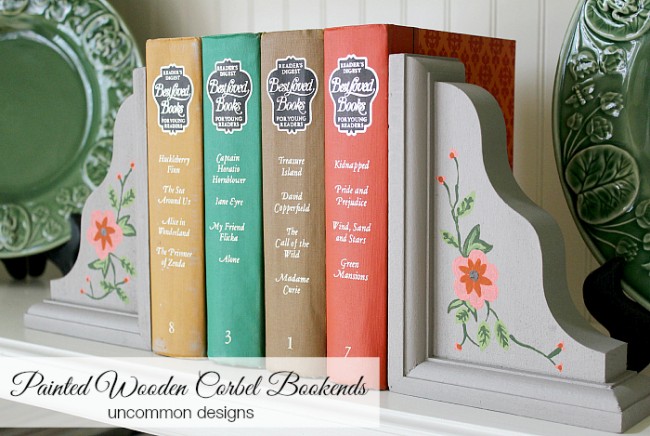 The subtle colors and sweet floral pattern painted on these simple wooden corbels turned out fabulous. I love it when you can turn something that has a completely different use into the perfect home decor accent.
The worn edges of these books contrast perfectly with the freshly painted wooden corbels. Secretly, Jane Eyre was always a favorite of mine. Don't you just love the colors of the simple flower I painted?
Let me share with you what you need to create your own bookends…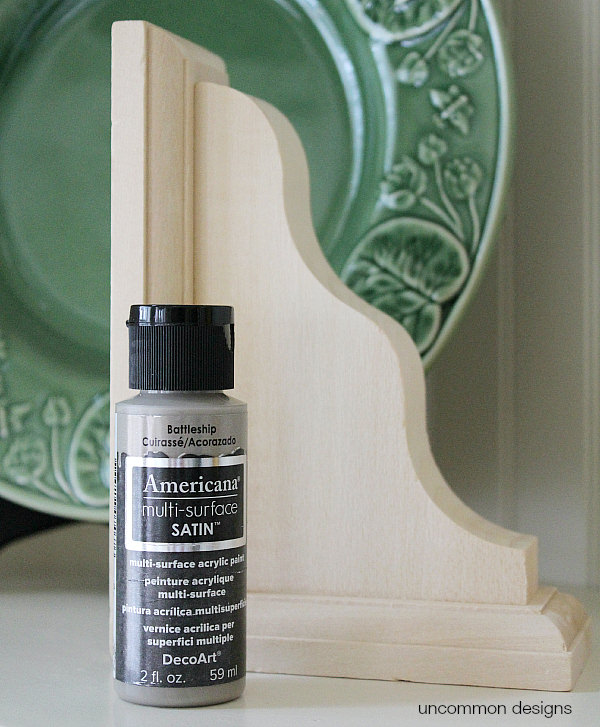 Start with an unfinished wooden corbel. I picked this one up at a local home improvement center. I chose this beautiful and very vintage feeling Battleship Americana Multi-Surface Satin Paint to use for the main color. I used a simple foam paint brush and painted on 2 coats of the multi-surface satin paint, allowing the first coat to dry fully before applying the second coat.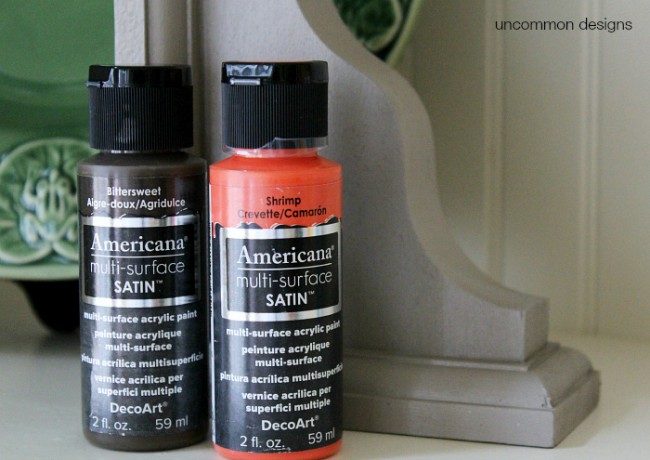 The main color of the flower is this beautiful Shrimp Americana Multi-Surface Satin Paint. It is just the right bit of orange and red. I also used this rich Bittersweet Americana Multi-Surface Satin Paint to paint the center of the flower.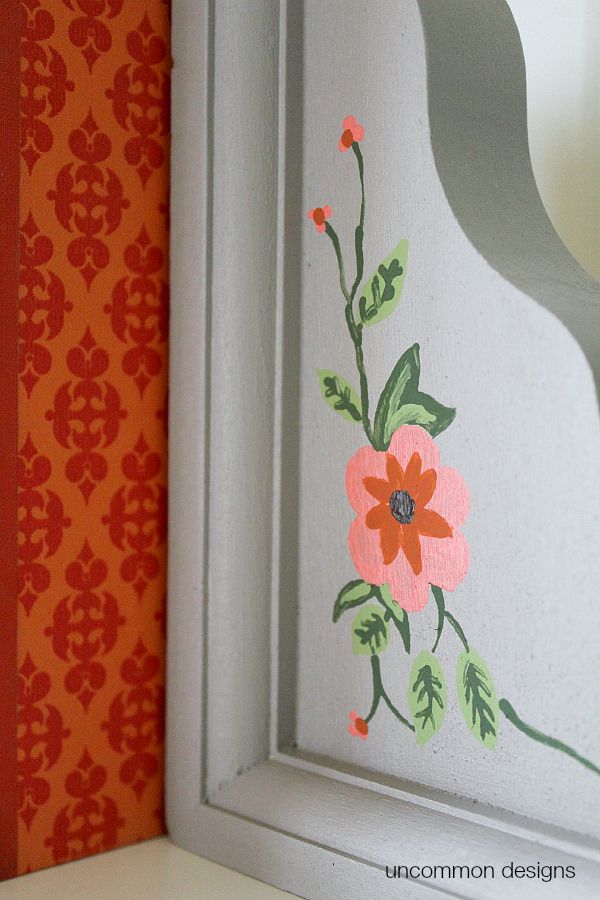 Once I painted the little flower, I chose some DecoArt Americana Acrylic Paints to add the leaves and stems. I am by no means an artist, but I simply painted a flower and then added stems and leaves.
I have learned through trial and error that if you go slow and allow parts to dry before moving to the next section, the overall painting turns out so much better.
And…best part…if I ever want these bookends to be plain, well I can just turn the around. So I guess I can actually say that they are …reversible!
And, I know this may sound completely like a mom statement, but maybe having books out with pretty bookends will encourage a bit more reading in our house? A mom can hope, right?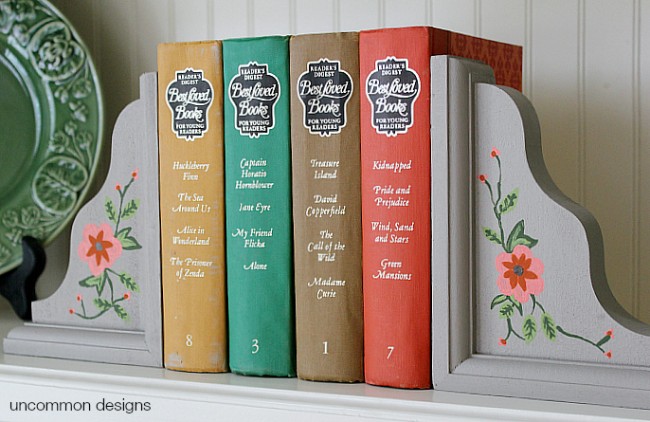 I love the color choices of the DecoArt Americana Paints. They are vibrant and cover so well. Break out those paintbrushes and create a fun project for your own home. Crafting can be such a stress reliever and a completed project will make you smile!
We would love for you to check out more of our DecoArt Projects and be inspired to create your own projects. What will you paint first?
The following two tabs change content below.
Hey y'all! I am Trish and the creative voice behind Uncommon Designs. I adore party planning, holiday celebrations, and all things crafty! I am so excited to share my creative adventures with you!
Latest posts by Trish Flake (see all)