Operation Closet Organization is part of a social shopper marketing insight campaign with Pollinate Media Group® and Newell Rubbermaid, but all my opinions are my own. #pmedia #HomeFreeLowes http://my-disclosur.es/OBsstV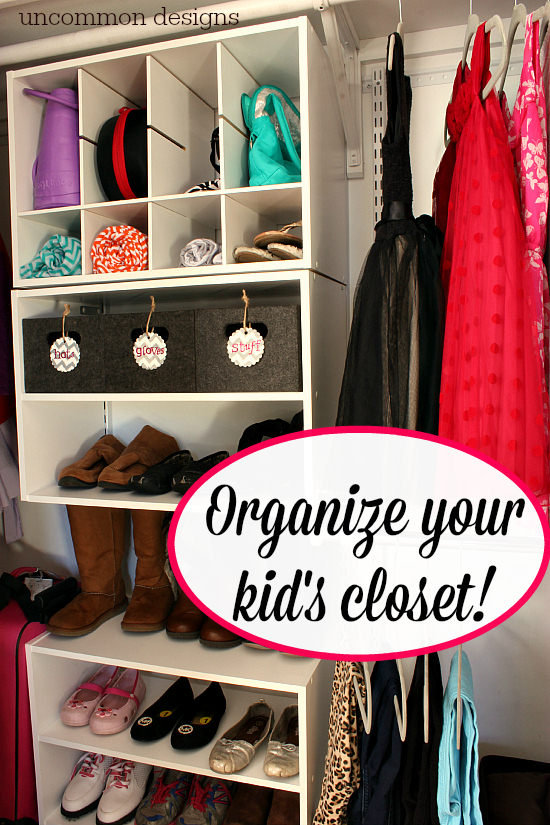 My tween daughter's closet was a disaster area.  No joke… so bad that we often struggled to find a complete pair of shoes to wear to school.  Please tell me we aren't the only ones.  One of the things I hope to accomplish in the New Year is to create a more peaceful home.  Giving this closet an overhaul sure would help.
This is almost what it looked like before we got started.  Notice I said almost?  We had cleaned the floor before I took this picture, because I was too mortified to show you guys.  It was filled with clothes and shoes and all the things little parts and pieces of things.  Holy cow it was a mess!  That was our first trouble spot.  We needed a way to keep things off the floor to save this mama's sanity.  We also needed to have some lower hanging rods so clothes might actually get hung back up. We tried adding a little organization before with the hanging shelves, but they weren't being used at all or they were just stuffed with…. stuff!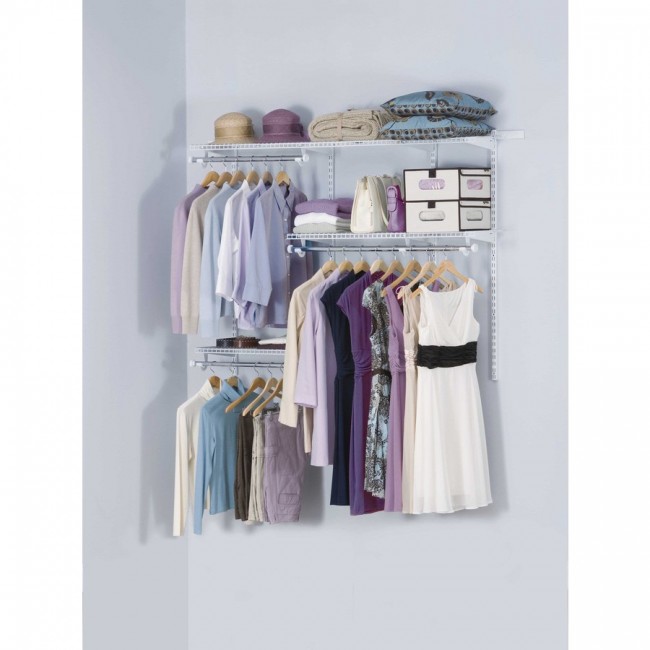 Our solution for this messy closet?  Rubbermaid's HomeFree Closet System.  It was a perfect project for my daughter and I to tackle together.  The system is super simple, and would not have to cut a thing.  We headed to Lowes and chose the 6 foot closet kit, a wood shoe cubby, and two white shelving units. We have a reach in closet, but you can also use this system in a walk-in closet, as well.
The actual installation of the system was pretty simple.  You hang a top rail to begin and then you hang vertical rails from the top rail. that will be used to install all of the components.  The only half-way difficult part was finding the studs in the walls, but I used our stud finder. Once the "skeleton" of the system was in place, we added all of the shelves and cubbies and that required no measuring, screws or nails!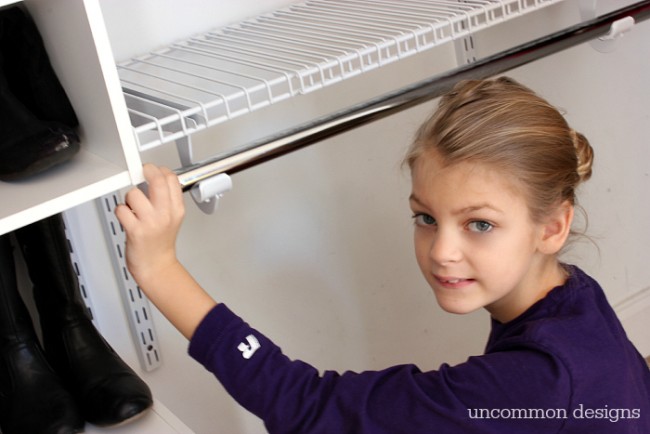 The system is so versatile that you can add a rod wherever you installed shelving.  You simply click them into place with a converter and add your bar.  The rods are telescoping, so finding the perfect length was a cinch. I also love that as she grows and her needs change, we can easily reconfigure the shelving situation.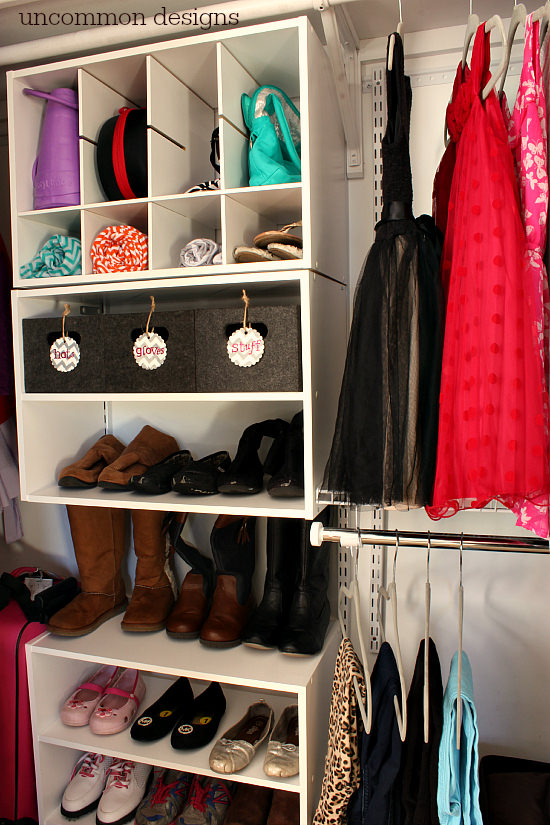 The add-ons really made the closet have a custom look.  We installed two shelving units for the shoes and  a shoe cubby on the top for purses, scarves, and flip flops.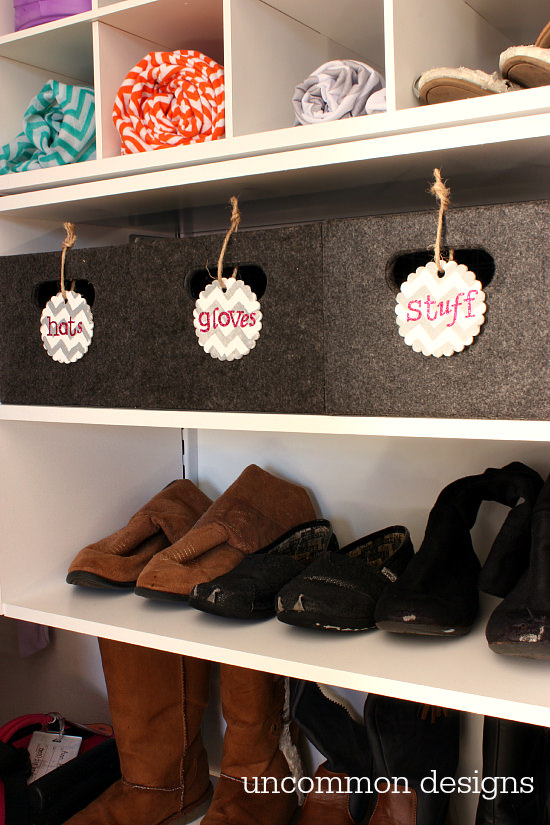 I also loved that the gray storage bins fit perfectly on the shelves to store hats, gloves, and all the stuff that girls might need!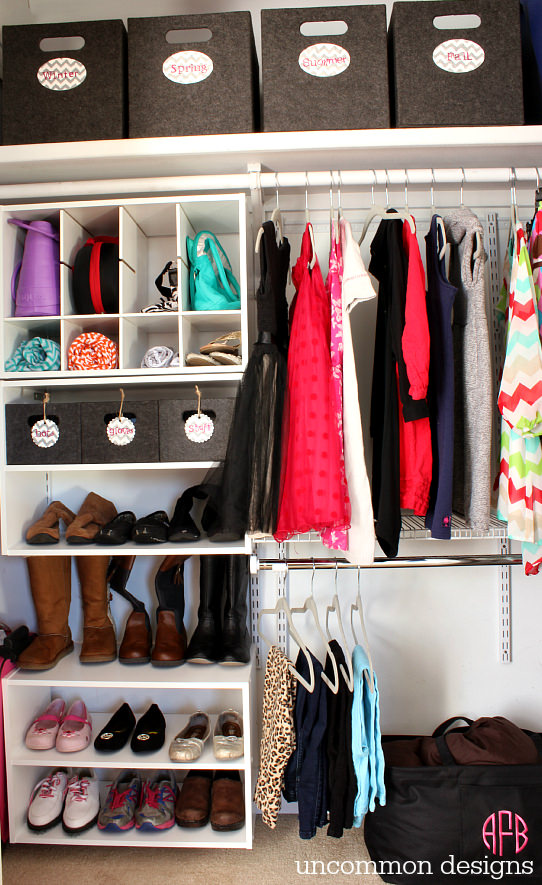 Closet organization done. Now… what to tackle next!
For more information and inspiration on Rubbermaid's HomeFree Closet System you can find them on Facebook, Twitter, and Pinterest. 
The following two tabs change content below.
Hey y'all! I am Trish and the creative voice behind Uncommon Designs. I adore party planning, holiday celebrations, and all things crafty! I am so excited to share my creative adventures with you!
Latest posts by Trish Flake (see all)