Ombre Thread Wrapped Easter Eggs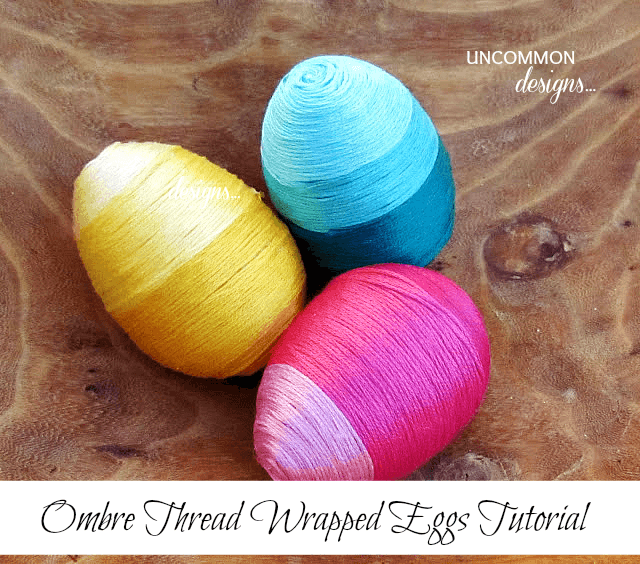 I love Easter and all of the beautiful colors that make their appearance this time of year.  Everything starts to take on new life and a vibrance that just lifts the spirit.  I always feel like I have more energy and am more awake to the beauty that surrounds us.  For me that means inspiration for creative projects that involve rich colors and actually making them instead of just thinking about it!  Strange, I know! 🙂
I decided to hop on the ombré bandwagon and wrap some Easter eggs with embroidery floss!   In my usual order… I whipped up the eggs and then looked up the actual meaning of ombré.  Luckily, ombré is an adjective that means having a design in which the color is graduated from light to dark.  Check!  I was afraid there for a minute that this would be a striped thread Easter egg tutorial, but it was all good! 
Here is how to make some fancy schmancy ombré eggs for yourself!
 Step One.  Gather your supplies:  Styrofoam egg, three shades of embroidery floss and a hot glue gun. 
Step Two.  Tie the end of the floss in a knot and trim off the excess. You will then want to roll a flat circle a little smaller than a dime. 
Step Two.  Add a dot of  glue to the center of the egg's top and push down the circle.  Continue going around with the thread and just dabbing a little hot glue along the way.  Once you finish with one color I would suggest flipping the egg over and doing the darkest color next in the same fashion.  Finally, add the middle color.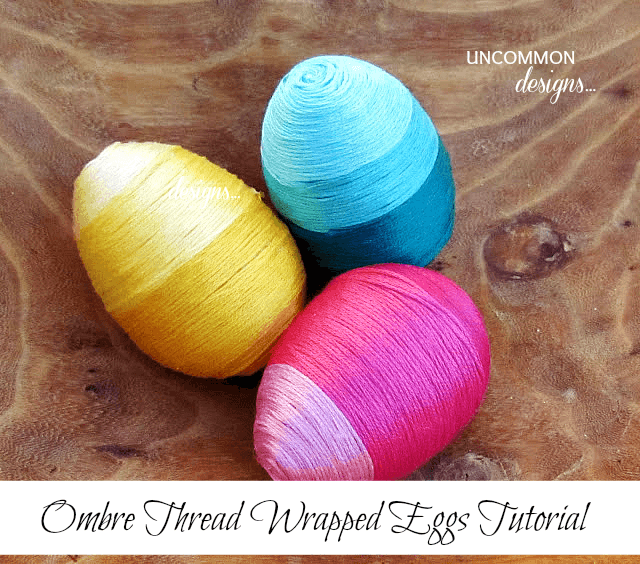 Have fun making a few for yourself! 
The following two tabs change content below.
Hey y'all! I am Trish and the creative voice behind Uncommon Designs. I adore party planning, holiday celebrations, and all things crafty! I am so excited to share my creative adventures with you!
Latest posts by Trish Flake (see all)