Hello Uncommon Designs readers, my name is Rachel!  I blog at R & R Workshop and I'm so excited to be contributing on Uncommon Designs. I am a wife and mother to two cute kiddos ages 2 and 5.  Kids crafts are some of my favorite projects! Especially when its for my kids 🙂
Today I am going to share how you can make No Sew Heart Mittens for your little ones.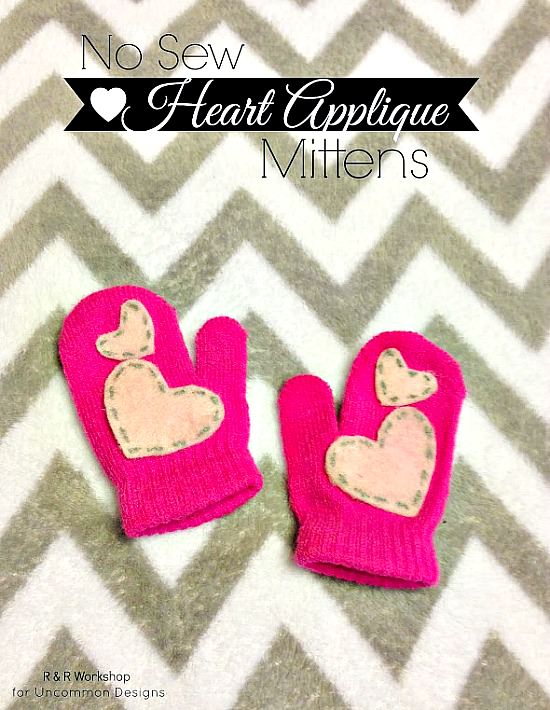 I love adding or changing things to make them more personal. These gloves were really cute on their own, but I just HAD to add something to them! 😉 Hearts are fun because Valentine's Day will be here soon but I personally think hearts can be worn all year round. Here in Idaho we still have snow, so these gloves will still be worn for a few months (sometimes as long as April! Yikes!)
Here's what you need to make your own heart applique mittens:
No Sew Heart Mittens Supplies:
1. Pair of mittens
2. Felt- I went with pink
3. glue gun
4. scissors
5. sharpie-I chose gray
Step One:
Cut a small piece felt into a square. Decide how big or small you want your hearts to be. You can either draw a heart onto the felt and cut it out or fold your square piece in half and cut half a heart. Cut as many hearts out as you would like..big or small. It's all up to you.
Step Two:
Decide on the placement of your hearts and glue with your glue gun.
Draw stitch marks around the heart with your sharpie.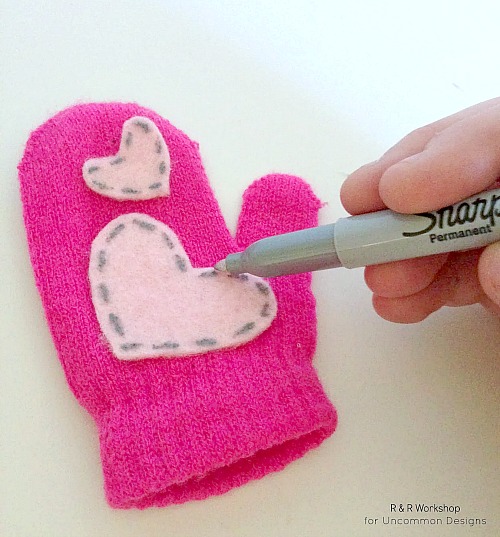 Step Three:
 Make sure to glue the edges down well. I doubled checked that the heart was glued on well so it wouldn't fall off.
So sweet!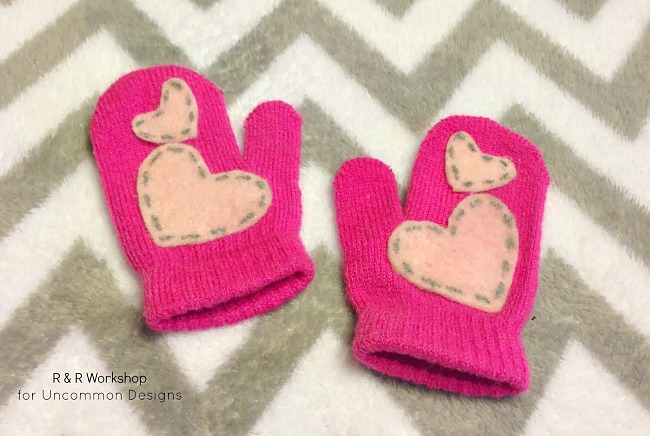 Simple, but so cute!! My daughter loved wearing her mittens around the house and had to play peek-a-boo while I was taking pictures 🙂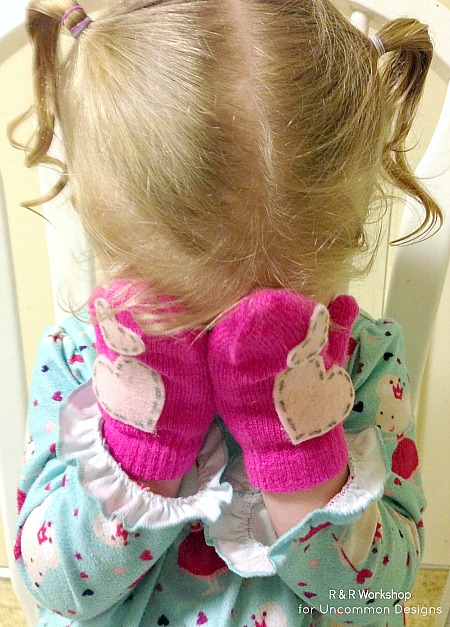 I think she likes them! 😉
Simple, no-sew crafts are some of my favorite projects, and here are some more ideas: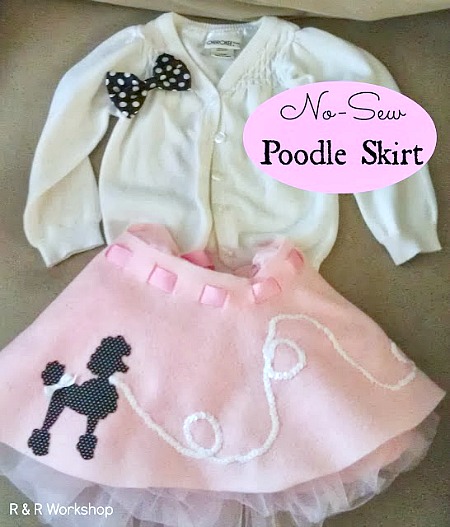 Aren't those the cutest little accessory! I even think  my big girl would like them. Rachel has the best ideas for littles. Heart appliques make me smile, and if you wan to see another adorable idea for them, head on over and check out the way Kimberly used her heart patches!
The following two tabs change content below.
Hey y'all! I am Trish and the creative voice behind Uncommon Designs. I adore party planning, holiday celebrations, and all things crafty! I am so excited to share my creative adventures with you!
Latest posts by Trish Flake (see all)