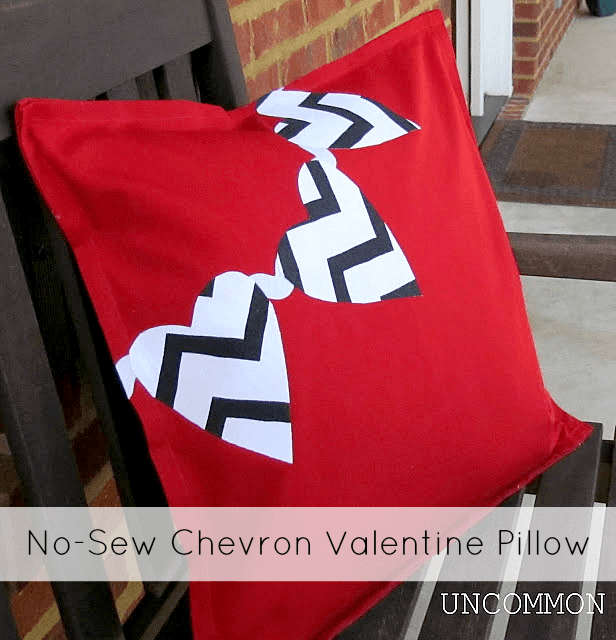 Hey Y'all!  This is a little something for all of you who have not entered into the land of the sewing machine!
  Remember my chevron door plaque?  Well, I thought she needed a little company! Using two red napkins from Target and the leftover chevron fabric from my plaque project, I was able to make a pretty little No Sew Chevron Valentine Pillow.  Now my porch is complete!
Here are the details…
No-Sew Chevron Valentine Pillow
Supplies:
2 napkins that are the same size
scraps of fabric for the hearts
rick rack (mine was Target $ spot)
Step One:  The first thing you want to do is iron both napkins and your decorative fabric. 
 Once you have done this you want to iron the Heat ' n Bond to the decorative fabric (I recommend following the directions on the package). Then, you will trace your hearts onto the paper side of the Heat'n Bond and cut it out.
Step Two:  Your next step is to fold the rick rack over so that it will make a really wide V.  This will make it dip down further on the pillow, but still lay flat.  Now you can  glue the rick rack to the front of the pillow.  I used the Heat'n Bond for this part, but the glue would work fine. 
Step 3: After your rick rack has cooled, you want to peel the paper off of the back of your hearts and iron them in place.  Time to piece it all together! 
Step Four:  Match your two towels together and begin gluing  along the seam (the raised edge).  Go slow and pinch together and you go until you have three of the four sides glued and cooled.  Place your pillow form inside the two napkins through the opening.  Now, glue the final side and you are done! 
Crazy easy and crazy cute!  My favorite combo! 
* Trish
The following two tabs change content below.
Hey y'all! I am Trish and the creative voice behind Uncommon Designs. I adore party planning, holiday celebrations, and all things crafty! I am so excited to share my creative adventures with you!
Latest posts by Trish Flake (see all)