Tender, buttery Lemon Cooler Cookies are flavored with fresh lemon juice and generously coated with lemon zest-infused powdered sugar for sweet, citrus-y treats that are bursting with lemon in every bite!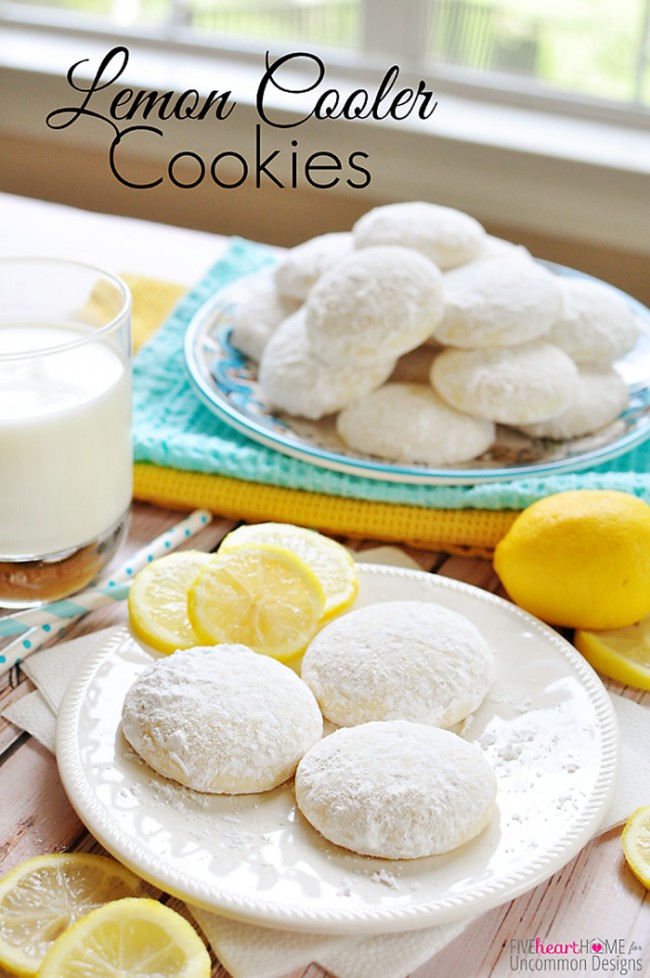 Hi there, fabulous Uncommon Designs readers! It's Samantha from Five Heart Home and I'm excited to be back with a summery little treat! Last month I brought over my Fresh Summer Corn Dip, so today I thought it would fun to share a recipe that's sweet rather than savory. Say hello to these lovely, mouth-watering Lemon Cooler Cookies!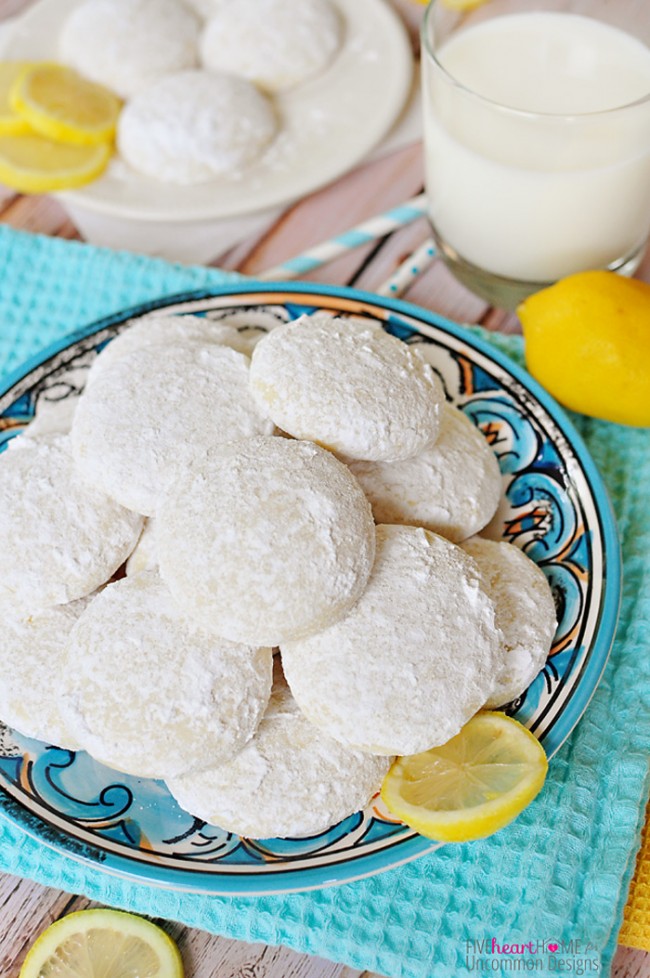 So, I know I'm going to be dating myself here, but if you were a child of the 70s, 80s, or early 90s, you might remember boxed Lemon Coolers as crunchy, tangy, lemony little cookies coated in powdered sugar. Growing up, my mom didn't often purchase store bought cookies — in fact, I can vividly remember bartering off various contents of my lunchbox for an oh-so-coveted Oreo — but occasionally we were able to talk her into splurging on a box of cookie aisle deliciousness. And one of my favorites, ranking even higher than Oreos, were Lemon Coolers. Seriously, I could eat a whole box in one sitting (hmmm…yet I wonder why my mom rarely bought these for us). They were that good. Alas, the company that made them was eventually bought out by another, and Lemon Coolers were no more.
Now I'm going to be honest…I initially set out to recreate those beloved cookies of yore. But since I prefer using real ingredients these days (as opposed to shortening and artificial flavors), these did not turn out to be exact copycats. And you know what? I actually think they're even better!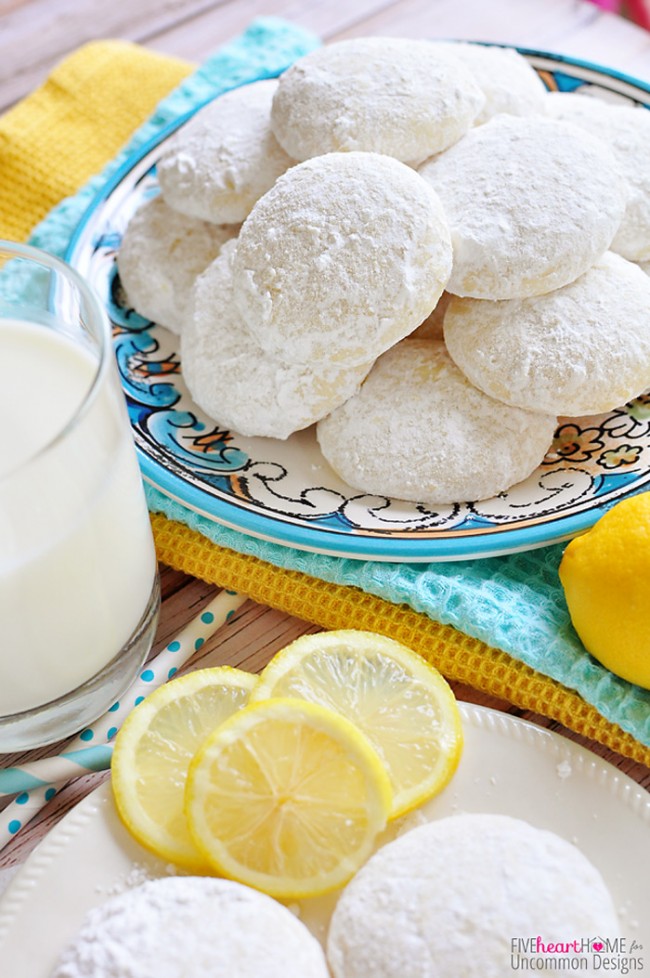 Packed with real butter, lemon zest, and fresh squeezed lemon juice, these cookies are softer and thicker than the Lemon Coolers I remember, with an almost shortbread-like texture. They're coated in lemony powdered sugar and bursting with delicate lemon flavor from the inside out. Sorry, Sunshine brand…childhood nostalgia aside, you just can't beat fresh ingredients and homemade goodness.
This made for a fun baking project with my kiddos one afternoon. The dough is easy-peasy to throw together. (Incidentally, I feel like these cookies achieve the best texture using cake flour, but if you don't have that ingredient on hand, no worries…there's an easy method for copycatting your own cake flour using regular flour in the recipe below!) After the dough is prepped, simply roll it in little balls (I like to use a mini cookie scoop), flatten slightly, and bake. Once the cookies are out of the oven, allow them to cool for just a few minutes before gently shaking them in a bag of lemon zest-infused powdered sugar. And voilà! Lemony, powdered sugary, DELICIOUSNESS.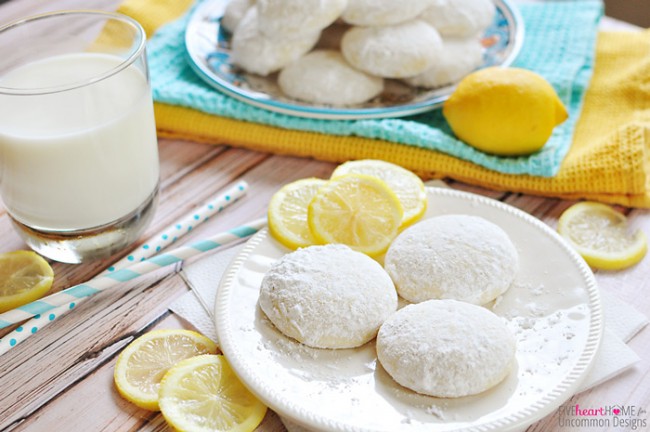 So there you have it…updated, improved Lemon Coolers for 2014! But if you must, shove them in a box, hide them under your bed, and scarf down a dozen of them in mere minutes so that it can feel just like 1986 again. 😉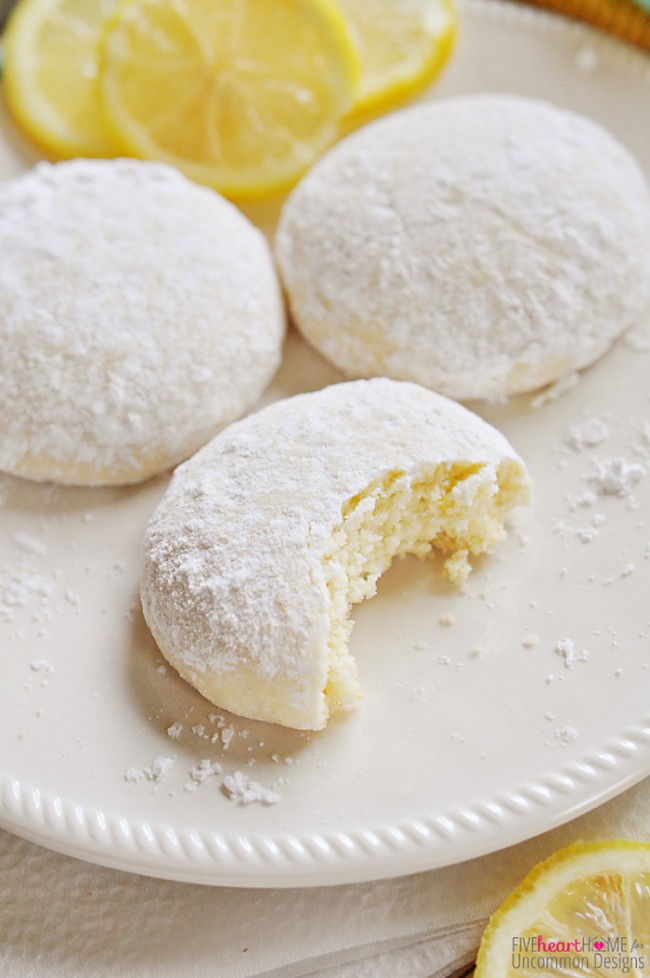 LEMON COOLER COOKIES
Yield: approximately 3 dozen cookies
2/3 cup butter, at room temperature
1 cup powdered sugar
2/3 cup sugar
2 eggs
1 teaspoon pure vanilla extract
1/2 teaspoon lemon extract
3 cups cake flour
1 tablespoon baking powder
1/4 teaspoon salt
2 tablespoons freshly-squeezed lemon juice
2 teaspoons finely grated lemon zest
To coat cookies:
1 cup powdered sugar
2 teaspoons finely grated lemon zest
Position racks in center of oven and preheat to 325°F. Line cookie sheets with parchment paper.
In a large bowl, beat together butter, powdered sugar, and sugar until light and fluffy. Blend in eggs, vanilla, and lemon extract until smooth. In a medium bowl, whisk together cake flour, baking powder, and salt. Stir dry ingredients into butter mixture, add lemon juice, and mix until everything is just combined (do not overmix).
If the dough is too sticky to work with, refrigerate for 20 minutes. Use a mini cookie scoop (or a tablespoon) to scoop the dough into approximately 1-inch balls. Space balls at least 1 inch apart on prepared cookie sheets and flatten slightly. Bake for 15 to 18 minutes or until centers are puffy and cookies are light golden brown on the bottom. Remove cookie sheet to a wire rack and allow to cool for 5 minutes.
While cookies are baking, combine remaining 1 cup powdered sugar and 2 teaspoons lemon zest in a large paper lunch sack or gallon-sized plastic baggie. After 5 minutes of cooling time, remove 4 to 5 warm cookies from the pan and carefully place in the powdered sugar. Gently roll the bag around until cookies are coated with powdered sugar. Remove cookies from bag, shaking off excess powdered sugar, and allow to finish cooling on a wire rack. Repeat until all cookies are coated with powdered sugar.
TIPS & TRICKS:
*If you don't have cake flour on hand, you can easily make your own. Measure 3 cups of regular flour into a bowl. Use a tablespoon to remove 6 tablespoons of flour from the bowl (put it back into your flour container). Add 6 tablespoons of corn starch to the bowl (to replace the flour you removed). Sift the flour and cornstarch mixture into another bowl by pouring it into a fine mesh strainer and tapping it with the palm of your hand. Repeat this process 4 to 5 more times until mixture is well combined and aerated. Proceed with recipe using your homemade cake flour.
*Bottled lemon juice works fine in this recipe, but since you'll already need several lemons for the zest, it's tastiest to go ahead and use freshly-squeezed lemon juice.
*Lemon extract provides an extra lemony punch, but you may leave it out if you don't have it.
*Finely grated lemon zest works best in this recipe, particularly in the powdered sugar coating. Either use a microplane for zesting, or if your zest is coarse, you can finely chop it with a knife before adding to the recipe.
Recipe adapted from Food.com.
* * * * * * * * * *
Thanks again for having me today, Trish, Bonnie, and Uncommon Designs friends…I'm already looking forward to my visit next month! In the meantime, I'd love to have y'all stop by Five Heart Home sometime to check out some of my recent summer recipes, or connect with me via the social media links below. 🙂
BLOG | FACEBOOK | PINTEREST | INSTAGRAM | GOOGLE+ | BLOGLOVIN' | TWITTER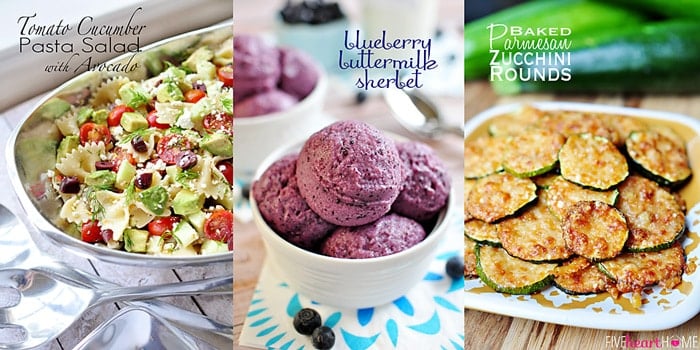 1. Tomato Cucumber Pasta Salad with Avocado, Olives, Feta, & Fresh Dill
2. Blueberry Buttermilk Sherbet
3. Baked Parmesan Zucchini Rounds
—
~Samantha at Five Heart Home~
http://fivehearthome.com
[amd-zlrecipe-recipe:9]
The following two tabs change content below.
Hey y'all! I am Trish and the creative voice behind Uncommon Designs. I adore party planning, holiday celebrations, and all things crafty! I am so excited to share my creative adventures with you!
Latest posts by Trish Flake (see all)