Hey party people!
 Thanks so much to Trish & Bonnie for letting me join the Uncommon Design's blog party. It's an honor to be a guest.
Now, let's talk about your own party…or more specifically, your Easter dinner party. If you've been too busy planning your menu, picking out Easter basket goodies, and figuring out your kid's Easter outfits, I've got four easy last-minute Easter placecard ideas for you! 
All of these ideas are simple and you probably already have the materials around your house! (I don't call my blog Parties for Pennies for nothin)
I'm actually throwing a watercolor-themed baby shower at my home this weekend (you can see all the pictures next week on my blog) so that's where my inspiration came for this one.
I am certainly no artist so anyone can do this. I used a cheap watercolor set from the craft store and went to town on some cardstock. Simple but colorful.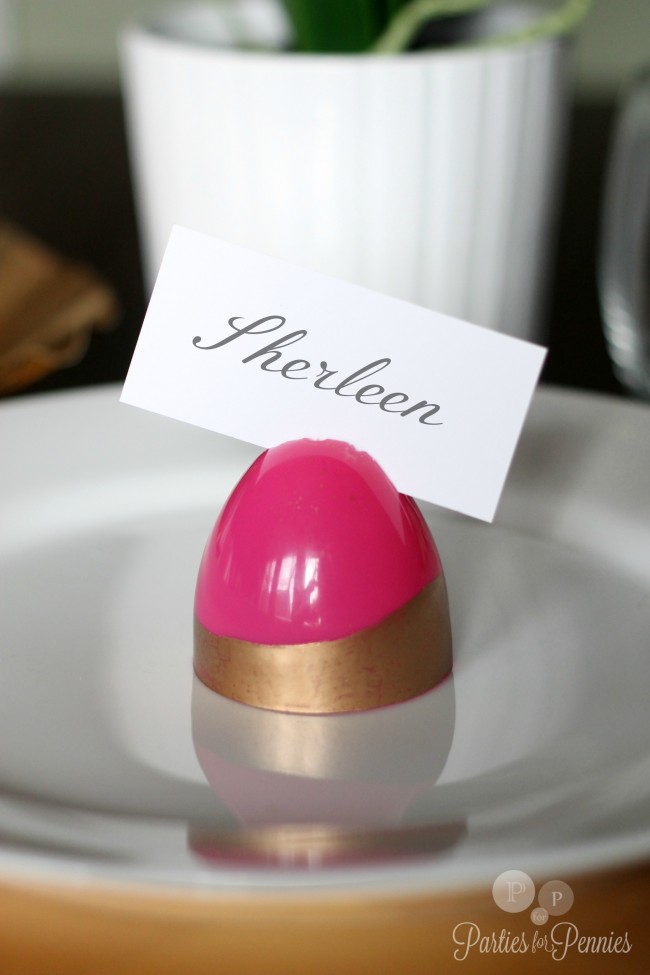 Around this time of year, you probably have quite the collection of these plastic Easter eggs. Take a half of a plastic egg, dip it in gold paint, and make a small slit on the top with an exacto-knife. Stick your place card in the slit and you're done! Be very careful with the exacto-knife. That part is the toughest part of the project. You are probably not as prone to slicing your fingers open every time you cook/craft, like me, but still be careful.
Our house has a lot of shade so dusty miller is my friend. Not much can grow at our house but thankfully dusty is loyal. This easy place card can be made by tying some twine around your napkins, sticking a few dusty miller leaves in, and finishing it up with a homemade tag. The tag doesn't even require scissors! I took one of my old Trader Joe bags, tore a piece off and punched a hole in a corner. See…I told you dusty miller is a keeper!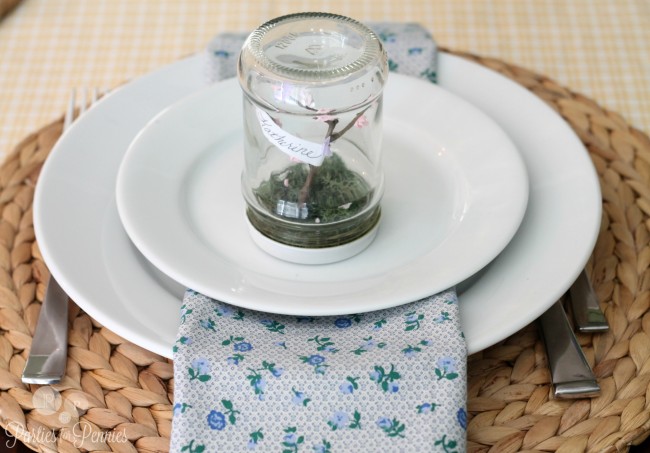 Are you a jar hoarder like me? My husband never throws away a jar now. He always asks me first, "babe, do you want to keep this?" Now, THAT's love!
This place card is made with an old jar. I hot-glued some moss and a small twig to the jar top. Then, I took tiny pieces of white & pink tissue paper and hot glued them to the twig to resemble flowers, specifically the dogwood. I live in Georgia and dogwood blooms are the sign spring is here!
It's hard to tell but I also added two purple butterflies I made from tissue paper. To finish it up, take a piece of white paper, write the person's name on it and hot glue it to your twig. It's a spring scene in a jar dome!
Hope these place cards gave you some inspiration for your Easter table this year!
Thanks again for letting me crash join the party!
You can visit Heidi for more of her amazing party and creative ideas at Parties for Pennies!

The following two tabs change content below.
Hey y'all! I am Trish and the creative voice behind Uncommon Designs. I adore party planning, holiday celebrations, and all things crafty! I am so excited to share my creative adventures with you!
Latest posts by Trish Flake (see all)