Today we are going to chat about how to organize your medicine cabinet!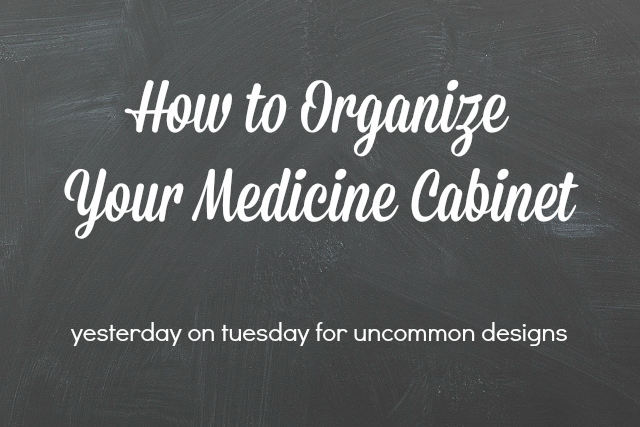 Hello, it's Malia from Yesterday on Tuesday, coming at you with a new post! Thanks to Bonnie and Trish from letting me hang out with you today. Let's talk organization shall we? OK this is embarrassing. But this was our family medicine cabinet.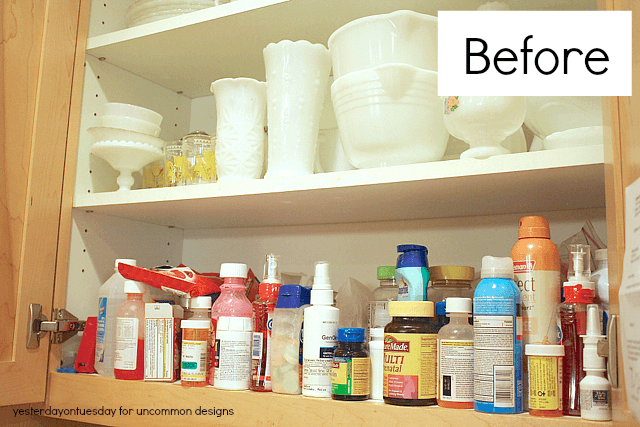 It's actually a shelf in the kitchen. I think we decided to put it up there when the kids were little. Anyway, over the years it became a horrifying mess of medicine, vitamins, and suntan lotion(!) Honestly, there were even a couple of bottles of dog meds in there. Yikes. Here's how I tackled this project and learned how to organize your medicine cabinet.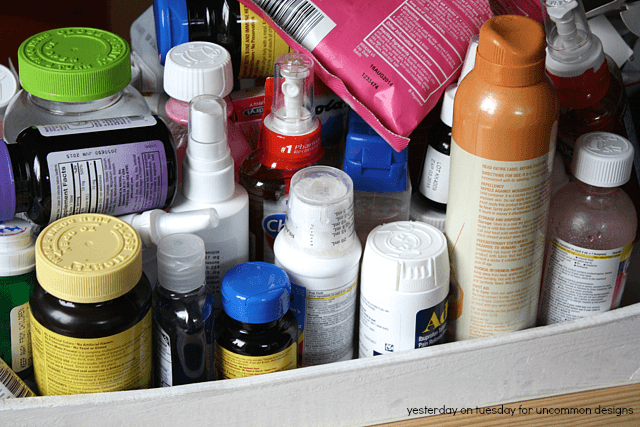 Tips for Organizing Your Medicine Cabinet
Step1: Remove EVERYTHING from the cupboard.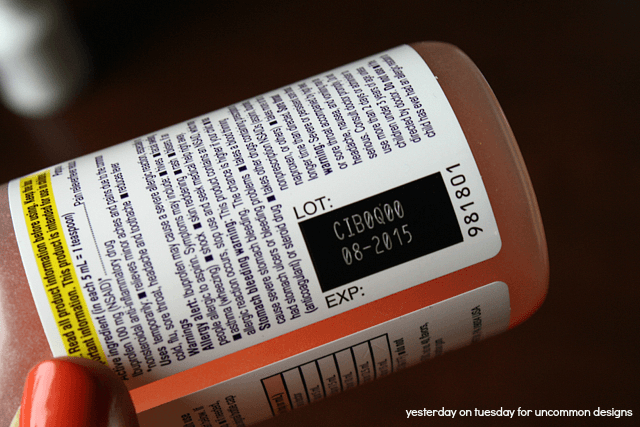 Step 2: Go through all the medicine labels to see if they are ok or expired.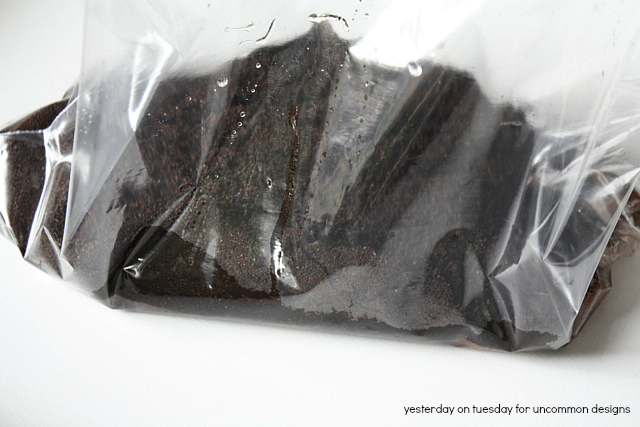 Step 3: If you do have some meds to dispose of, the safest way to is mix them with either coffee grounds or cat litter in a small sealed plastic bag. Then you can throw that sealed bag in the trash.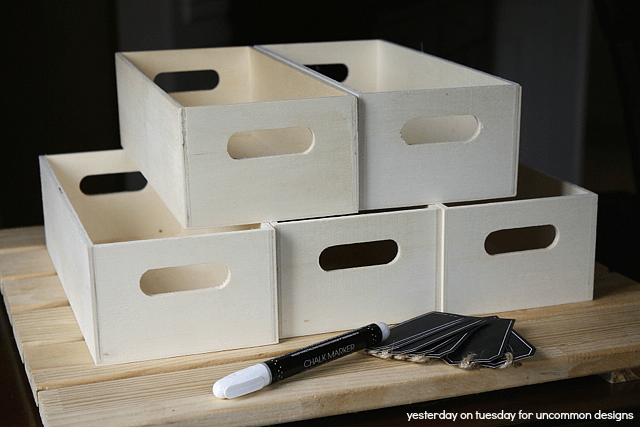 Step 4: Gather your organizational supplies. I picked up five inexpensive wooden boxes at the craft store and bought the chalk marker and chalkboard tags in the dollar bin at Target.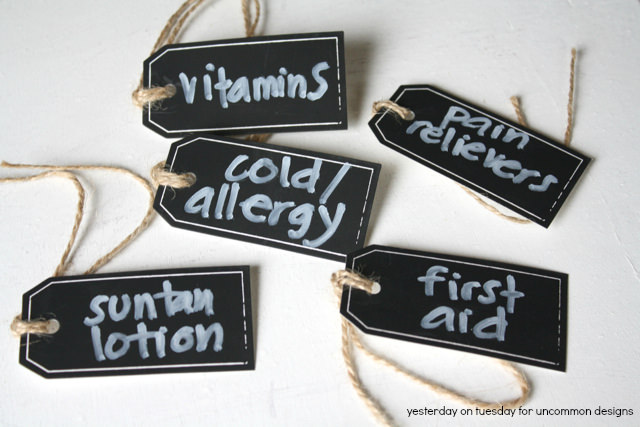 Step 5: Organize the medicine etc. by what you use most. For my family, that was cold and allergy medicine, first aid supplies, pain relievers, suntan lotion and vitamins. Label the tags accordingly.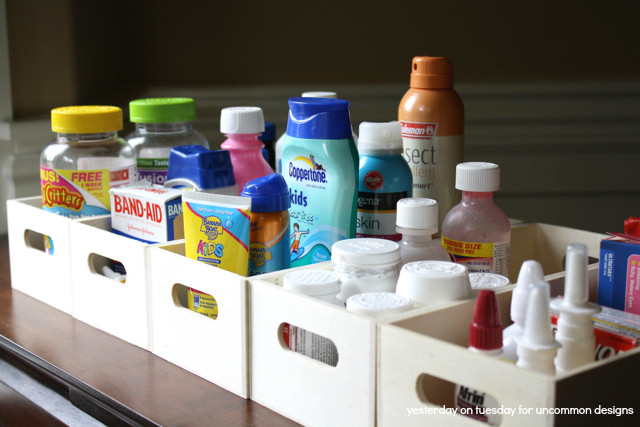 Step 6: Separate the medicine/bottles into the different groups.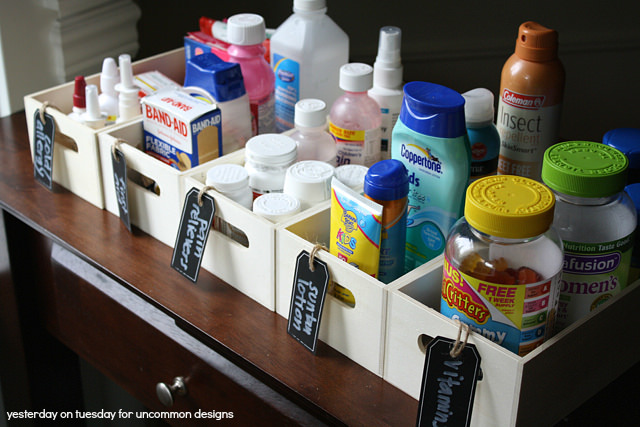 Step 7: Attach tags to the boxes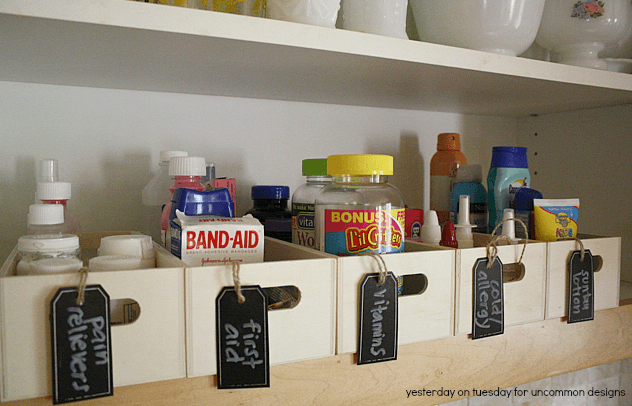 Step 8: Put the boxes back in the cabinet. Ta Da!
It felt so awesome to tackle this project. It only took about an hour and a half from start to finish. I hope you feel inspired to take on your medicine cabinet, drawer or in my case… shelf. Happy Organizing!
The following two tabs change content below.
Hey y'all! I am Trish and the creative voice behind Uncommon Designs. I adore party planning, holiday celebrations, and all things crafty! I am so excited to share my creative adventures with you!
Latest posts by Trish Flake (see all)