How to Organize Sprinkles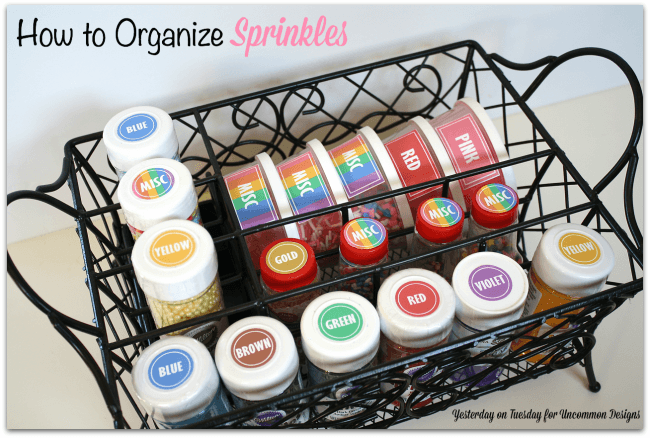 Hello, it's Malia from Yesterday on Tuesday. I'm so happy to be here at Uncommon Designs, sharing a fun tutorial. If you enjoy baking, you may have amassed a collection of sprinkles (like me). When I use the word "sprinkles," I mean anything that can be sprinkled on a confection. And I LOVE sprinkling things!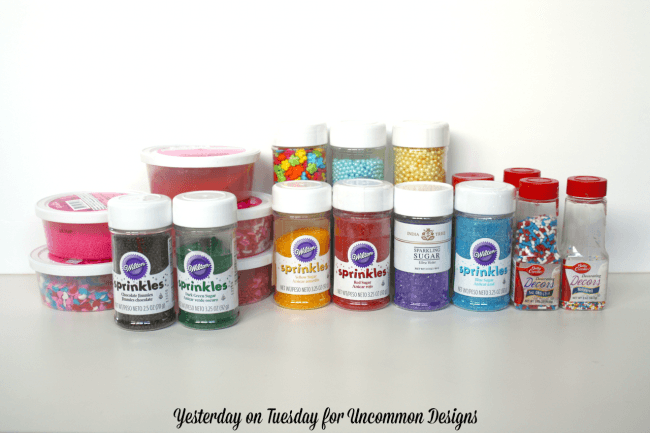 One day I peered in my pantry to see I had a slew different sized bottles and some tubs in no particular order, making it very hard to find anything. With bake sale season around the corner, I knew I needed to get things organized.
That's where this set of printable labels comes in. Whatever the size of your bottles or sprinkles, these small round 1 1/2 labels will fit their lids. And if you happen to have a few tubs, these rectangular labels will work for them! There are even some misc labels.
Organizing Sprinkles
Supplies: 1 1/2 inch circle punch, sheet of sticker paper or white card stock, Glue Dots (if using card stock) and scissors. You'll also need something to organize the sprinkles in. I used a utensil holder. You could also use a small wooden box or a shoe box.
Step 1: Save this Sprinkles Printable to your desk top and print on a sheet of sticker paper. You can also print it out on a sheet of white card stock and use Glue Dots to adhere the labels.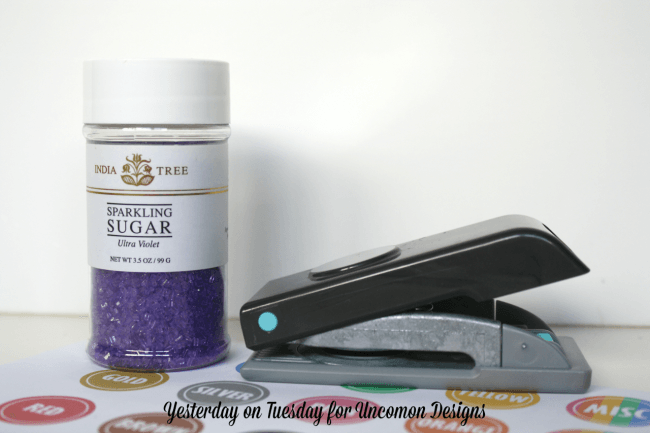 Step 2: Use a 1 1/2 inch circle punch and scissors for the labels you need.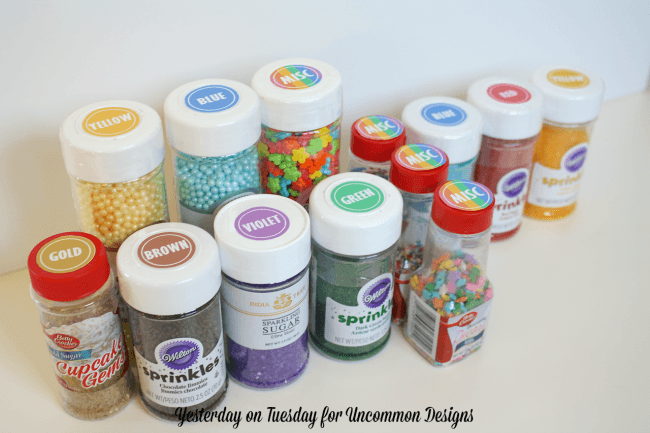 Step 3: Now for the fun part… place the labels on the bottles.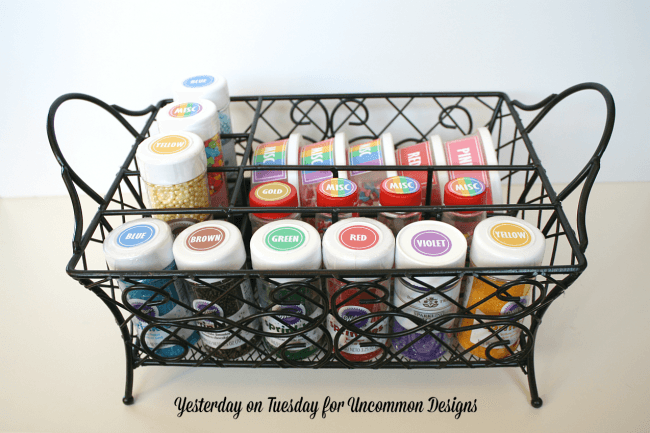 Step 4: And put them in the utensil holder/shoebox/wooden box.
Ta Da… Organization!
Thanks to Bonnie and Trish for letting me hang with you.
The following two tabs change content below.
Hey y'all! I am Trish and the creative voice behind Uncommon Designs. I adore party planning, holiday celebrations, and all things crafty! I am so excited to share my creative adventures with you!
Latest posts by Trish Flake (see all)