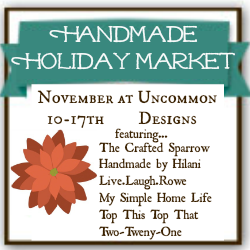 Bonnie and I sure hope you are enjoying our Handmade Holiday Market Series.
 Today we are proud to introduce… Top this Top that
What a thrill to be here with you all today. Bonnie and Trish have been favorites of mine for a long time, so I  was all the more excited when they asked me to share my Top This Top That shop with you today. 
My shop at Top This Top That opened in December, 2011 and has evolved as my blog has evolved. The only items you will see in my shop are items that you will see in my home. Things that have meaning, things that I love. I figured if I love them, you may love them to.
Here are a few things from my Christmas line.
And from my everyday line.
I also do custom orders for some of my projects that I share on my blog. I truly hope that I will see you over at Top This Top That and come by and visit me at my blog too!
The following two tabs change content below.
Hey y'all! I am Trish and the creative voice behind Uncommon Designs. I adore party planning, holiday celebrations, and all things crafty! I am so excited to share my creative adventures with you!
Latest posts by Trish Flake (see all)