It is Monday and Summer… you know what that means… time for another edition of One Crafty Summer!  Today we have the crazy-talented and oozing with creativity Club Chica Circle and she is sharing how to make glass stained frame suncatchers!  Let's craft!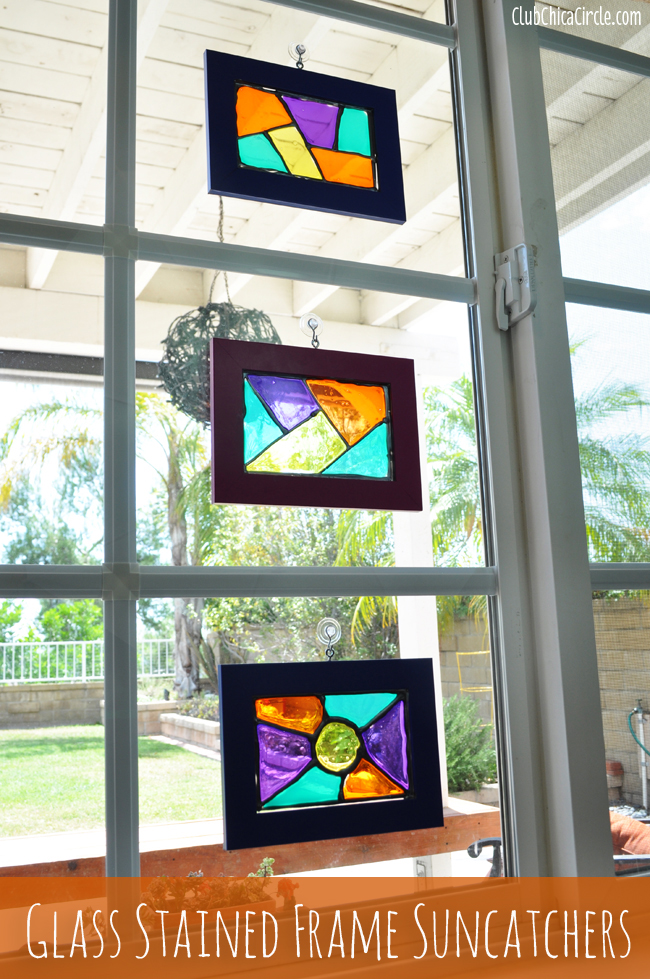 Hey ya'll! It's Pauline from Club Chica Circle, and I am so excited to be a part
of this super fun ONE CRAFTY SUMMER hosted by the lovely ladies at
Uncommon Designs!
I love color, and I love making art. This super easy craft idea combines
both of those loves and is a great summer craft project for any age.
These stained glass suncatchers require NO CUTTING. The secret is using
colored glass stains that give the illusion of stained glass. I used DecoArt transparent Glass Stain in orange, teal,
purple, and yellow.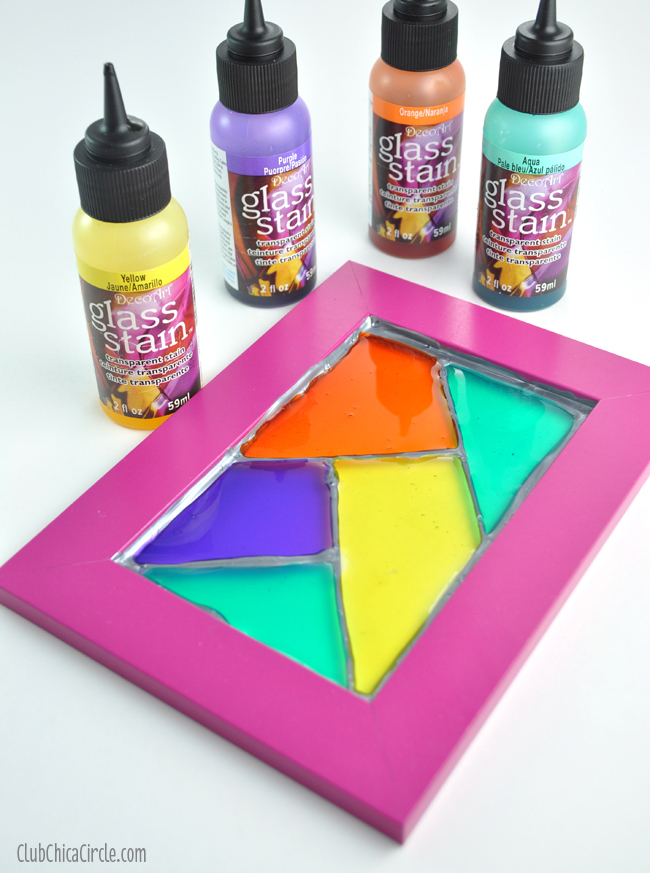 I also used Silver Leading from their Glass Stain line. This also gives
your piece a glass stained look, and it keeps the glass stain colors
from bleeding into each other.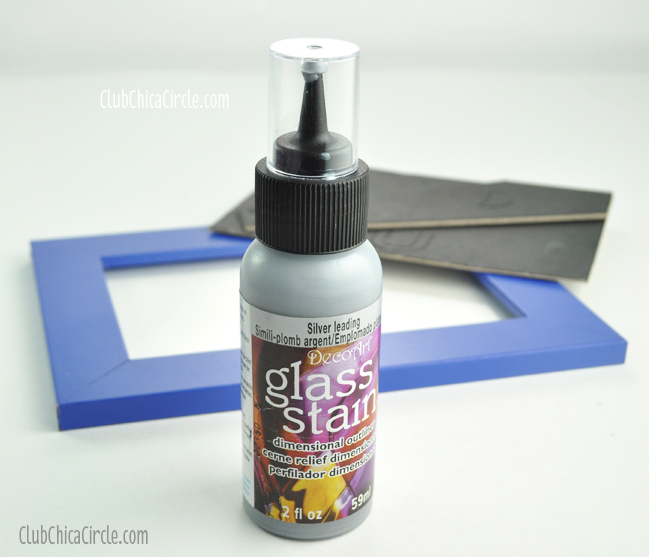 Here is what I used to create these pretty glass stained frame
suncatchers:
5″ x 7″ lightweight picture frames (I found these in two-packs
at IKEA.)
DecoArt Glass Stains and Silver Leading
Eyelet screw-on hooks
Mini suction cup hooks
You can make these pretty suncatchers in 3 easy steps:
First remove the back stand portion of your picture frames and
replace the glass back in each frame. Then line the outer edge of the
glass with the Leading and draw your design in the middle. I created a
random geometric pattern on each, making about 5-7 divided portions on
the front of your frame. Let dry.
Next, add color to each divided section with your glass stain
color of choice. Let dry. Make sure to watch for tiny air bubbles. You
can pop them with a toothpick within the first 10 minutes of drying
before the stain sets.
Finally, attach an eyelet hook at the top center of each
stained glass frame masterpiece and use a suction cup hook to attach to
windows.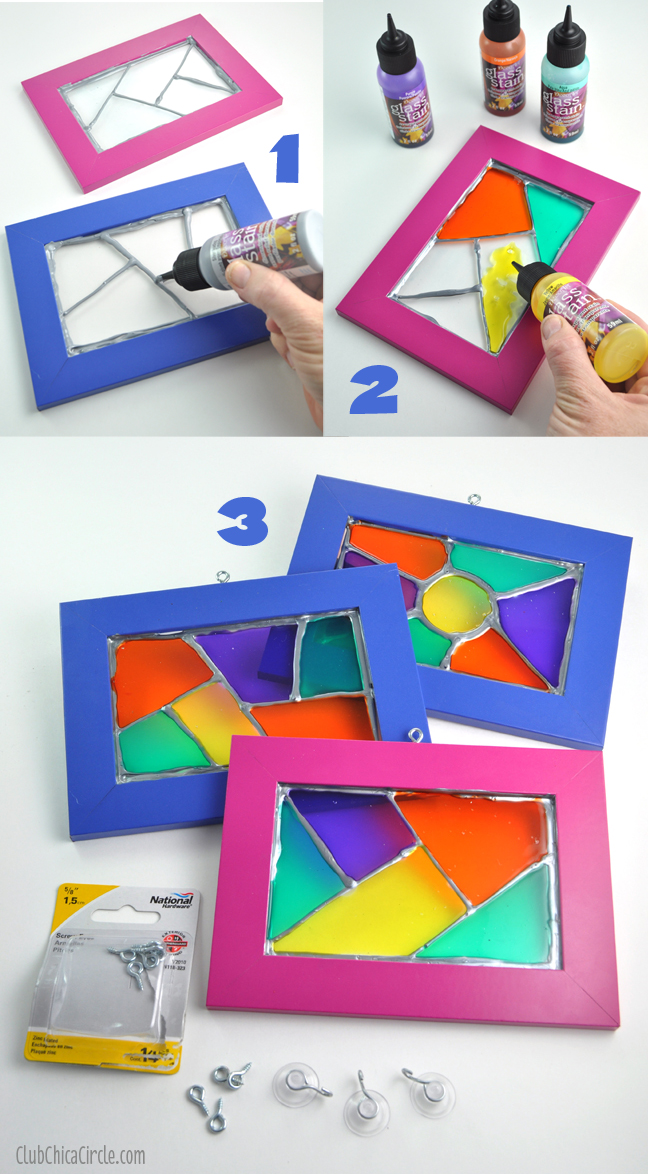 I absolutely love how they look on my windows! I love how the outside
reflects through the tinted glass…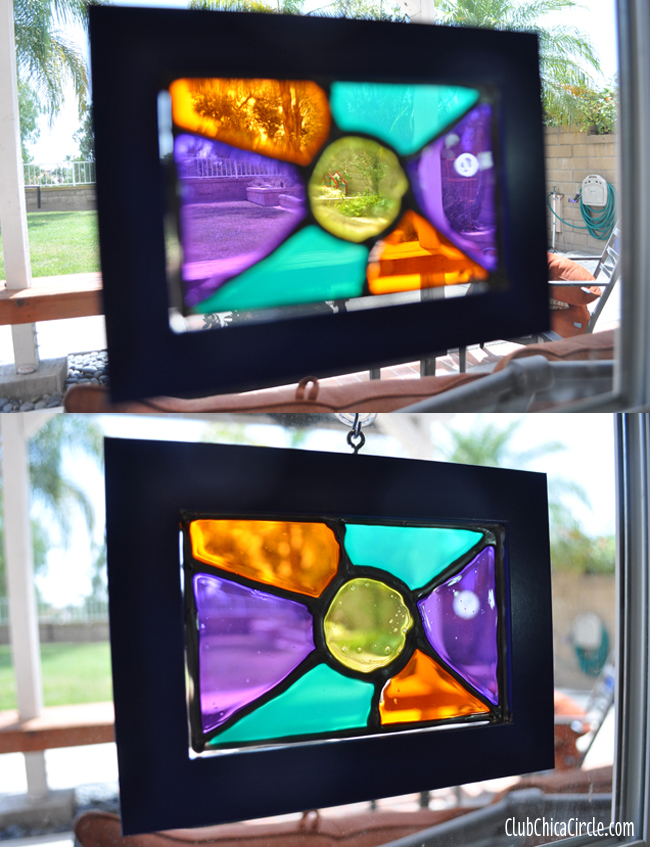 …and the sun catches the light and shows the brilliant color of each
suncatcher.
Perfect for a little bit of summer crafting!

The following two tabs change content below.
Hey y'all! I am Trish and the creative voice behind Uncommon Designs. I adore party planning, holiday celebrations, and all things crafty! I am so excited to share my creative adventures with you!
Latest posts by Trish Flake (see all)