Happy June! It's Jennifer from Delightfully Noted and I really, really hope everyone's summer is off to a great start. Warm weather, cook outs, beaches–this is always my favorite time of the year! Want to know what else I look forward to? Fourth of July! It will be here before we know it, so this month I decided to help you get into the spirit of all things red, white, and blue by sharing this Fourth of July Watercolor Printable.
 I admit, with Christmas being the exception, I'm kind of a slacker when it comes to decorating for the holidays? Mainly because by time I find the time to drag out my decorations it's usually too late.
How about you guys, what holidays do you decorate for? All of them or just a few favorites?
Now that I'm a mommy I am going to make more of a concerted effort to jazz things up around here during all of the holidays AND it starts with this printable!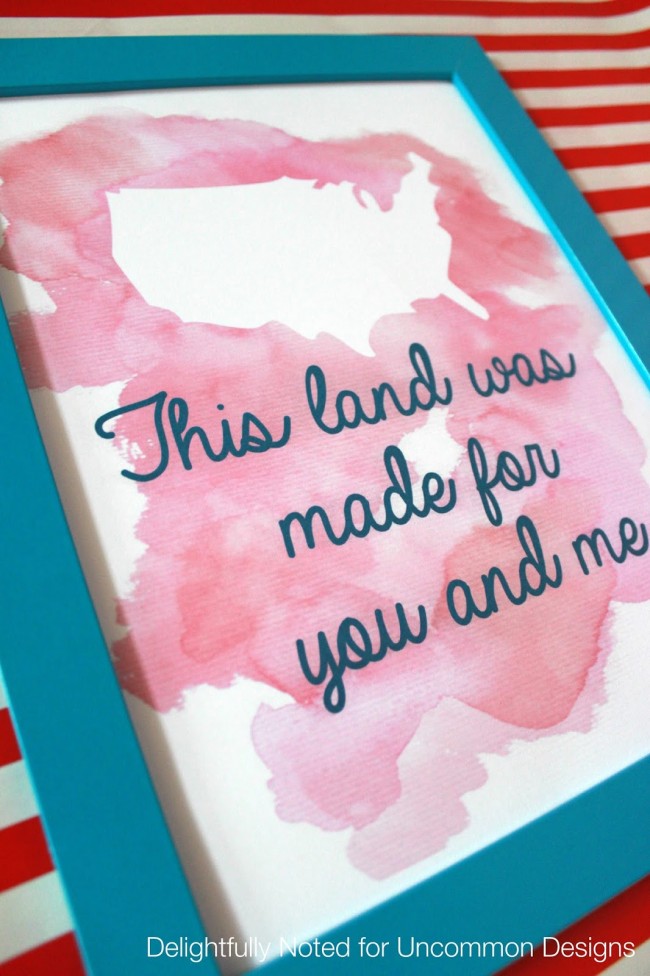 I discovered these watercolor textures from Carolina Garofani a while back and I have been dying to use them for some fun wall art (she's sweet enough to share them for people to use!) I'm really loving the whole water color trend lately and I thought it would be lovely to mix it in among 4th of July decor.
I then spent some time researching the lyrics of different songs that are usually associated with the patriotic holiday and really liked the lyrics from the classic "This Land is Your Land" song and decided to add some of them to the wall print. I'm really happy with how it turned out!
If you would like to get your hands on your own watercolor printable then click here for the free download.
I designed it as an 8 x 10 so you can frame, hang, and enjoy!
Wishing you and yours a safe and Happy 4th of July!
Hope you'll stop by Delightfully Noted or Instagram to say "hi"!
The following two tabs change content below.
Hey y'all! I am Trish and the creative voice behind Uncommon Designs. I adore party planning, holiday celebrations, and all things crafty! I am so excited to share my creative adventures with you!
Latest posts by Trish Flake (see all)