Hello everyone! I'm Kelly and I blog at Here Comes the Sun. I'm so excited to be participating in the One Crafty Summer Series here at Uncommon Designs.
For those of you who don't know me, I love to throw parties. I love everything from the planning to the decorating to the food. But like most people, I'm on a tight budget and can't afford extravagant celebrations. My parties are easy, affordable and stylish. Today I'm going to show you how to make a simple 4th of July Centerpiece for your holiday get-together.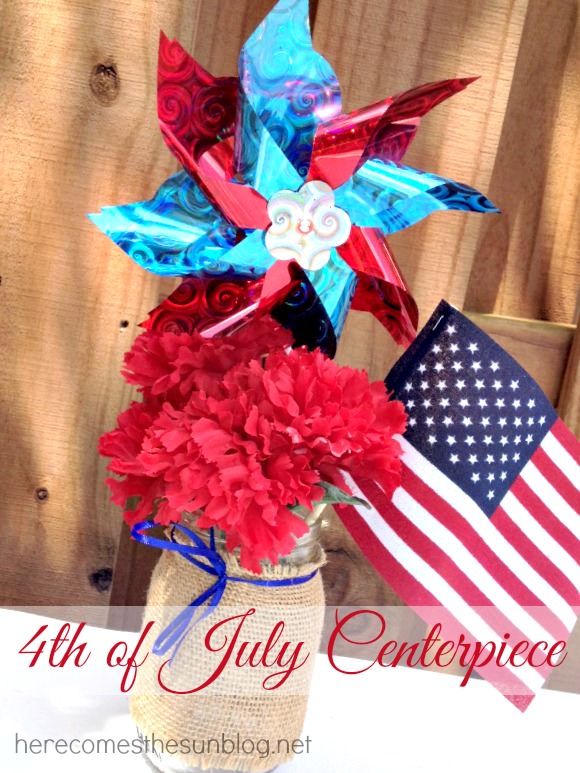 We used this centerpiece for our Memorial Day Shrimp Boil but it definitely does double duty as 4th of July decoration. I used a a mason jar, burlap, red flowers, ribbon,a flag and a pinwheel to create my centerpiece. You can most of these items at the dollar store. I bought the burlap at a local craft store.
First, Measure your burlap and cut it to fit around your mason jar. Place a line of hot glue around the neck and down the back of the jar and attach your burlap. Next, tie a blue ribbon around the top of the jar. Slide the pinwheel through the ribbon and secure it to the burlap with hot glue.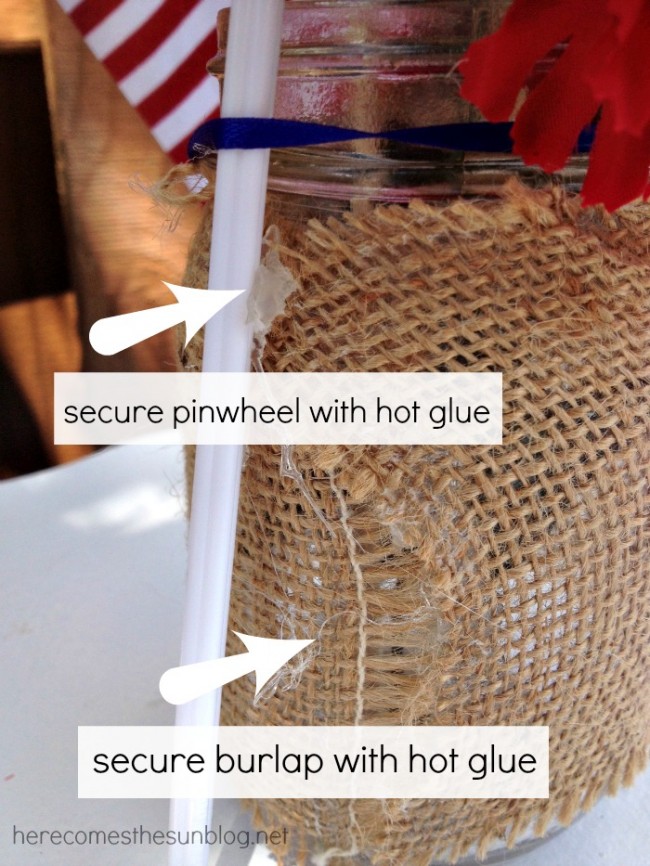 Place a few flowers and a flag into your jar and you have a festive July 4th decoration. I used fake flowers but it would look really pretty with big red geraniums if you have them. Also, if it is really windy the day of your party, place water or rocks in the jar so it doesn't blow over.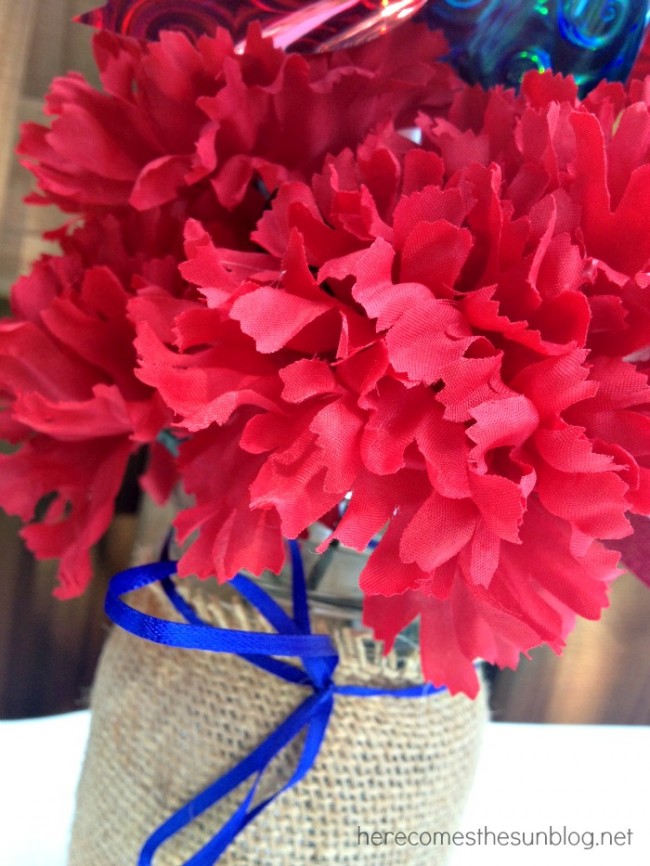 These 4th of July centerpieces are so affordable to make and you can send them home with your guests as a gift.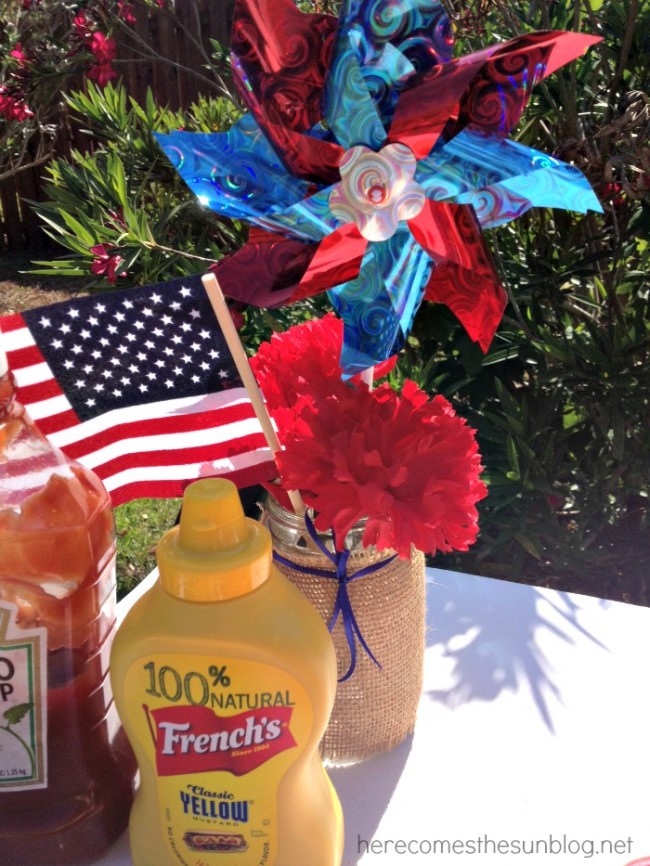 I used mine on the food table at our Memorial Day party. You can also use them on a gift table at a birthday party or anywhere else that needs a bit of decoration.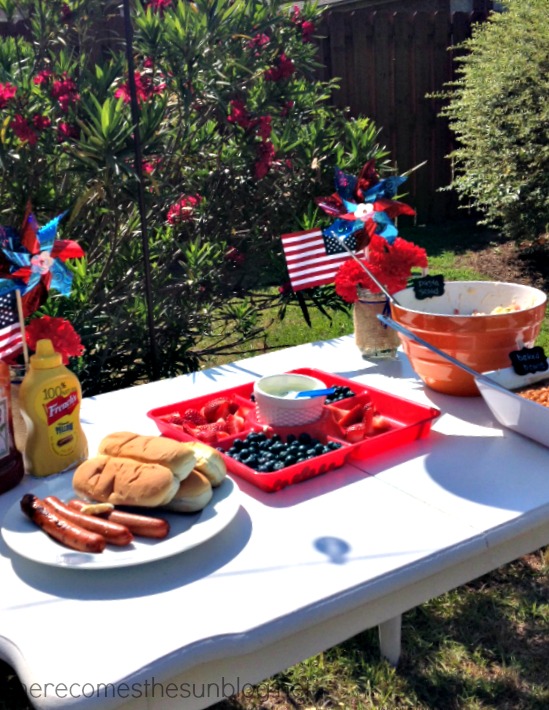 Have fun decorating for your July 4th party!
I would love for you to stop by and visit me! You can find me here
Facebook, Pinterest, Twitter, Instagram
Thanks so much, Bonnie and Trish for having me today!
****************************
Adorable! Are you following us to keep up with all the incredible ideas in our One Crafty Summer series?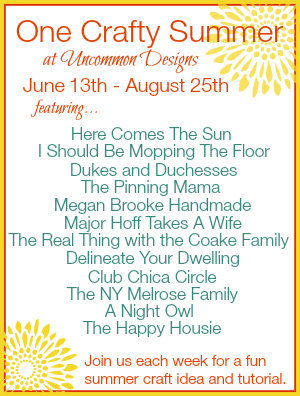 So many great projects all summer long from some incredible blogs!
Enjoy!
The following two tabs change content below.
Hey y'all! I am Trish and the creative voice behind Uncommon Designs. I adore party planning, holiday celebrations, and all things crafty! I am so excited to share my creative adventures with you!
Latest posts by Trish Flake (see all)