Creating Fabric Inspired Painted Easter Eggs…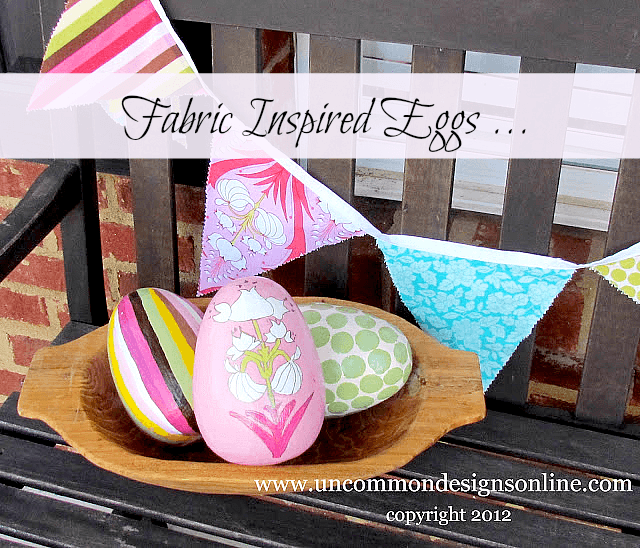 Hey y'all!  I hope that you are having a great weekend!  We just had to share our Fabric-Inspired Easter Eggs that were a part of It's Overflowing's Easter Egg Hunt last week! 
 Our husbands would say that we have an addiction to modern quilting fabric, but we prefer to see it more as a large collection.  Some people like beautiful shoes… we like pretty fabric! Since we love it so much, we decided to paint a few eggs that were inspired by this beautiful fabric bunting that we made last year!
To make your own Fabric Inspired Easter Eggs you will need: 
a pencil
paper maché eggs
paint brushes
acrylic paint
 your inspiration fabric
You may also choose to apply a layer of Modge Podge if you would like your eggs to be glossy like ours.
Your technique for painting the eggs will depend on the design of the fabric you have chosen.  Here is how the eggs featured above were made…
Polka Dots:  To make the polka dotted egg, I painted the background colors with a few shades of antique white craft paint and let it dry fully.  You will then take a foam dot stamper brush, dip it in the paint and press the sponge lightly to make the dots.  You may want to go over the dots with a regular paint brush to make sure they are filled in.  Paint one side with the dots and let it dry and then do the other.  Let dry and apply a coat of Modge Podge, if desired.
Stripes: Determine how many colors you will use and how wide you want your stripes to be.  You could draw the lines with pencil if that would help. Take a an angled paintbrush and paint a stripe and then apply the same color all around the egg. You may need to let the paint dry about halfway around the egg for each color.  Let dry and apply a coat of Modge Podge, if desired. 
Free Hand: Paint the base coat color one or two coats and let dry completely.  You will then draw the design on the egg.  The key thing to remember is that it doesn't have to be exact or perfect!  I know mine isn't, but it is still beautiful!  Now, paint in the sketch.  I used a metallic paint pen to go over the lines to bring out the design.  Let it dry and add a coat of Modge Podge, if desired.
Just remember to have fun! 
If you love these, be sure and hop on over to see our Temporary Tattoo Easter Eggs….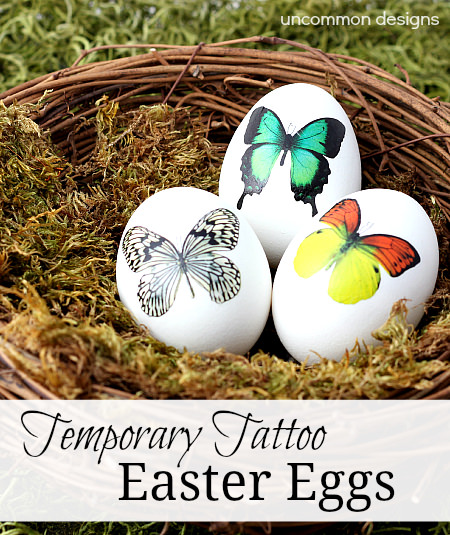 *Trish
The following two tabs change content below.
Hey y'all! I am Trish and the creative voice behind Uncommon Designs. I adore party planning, holiday celebrations, and all things crafty! I am so excited to share my creative adventures with you!
Latest posts by Trish Flake (see all)