Hello readers of Uncommon Designs!! It's Krista from The Happy Housie back again and I am so excited to be here sharing this fabulous Knockoff Wooden PEACE Sign that is the perfect addition to your walls for the upcoming Christmas season. The moment I saw this sign on the Pottery Barn website I knew that I had to make my own and I am so thrilled with how it turned out.
To make this DIY PEACE  sign,you will need:
wooden board (mine measured 12″ by 48″ – the pottery barn one is 12″ by 54″)
wood stain (I used Varathane Provincial – but in retrospect I could have gone darker)
white latex paint (I used some leftover trim paint – Benjamin Moore's Cloud White)
red craft paint (I used Martha Stewart Tartan)
access to a photocopier to print your lettering on 11×17 paper
Vaseline
sanding block or sand paper
dark wax (optional)
I started by having a piece of pine cut to size (I had mine cut to 12″ by 48″):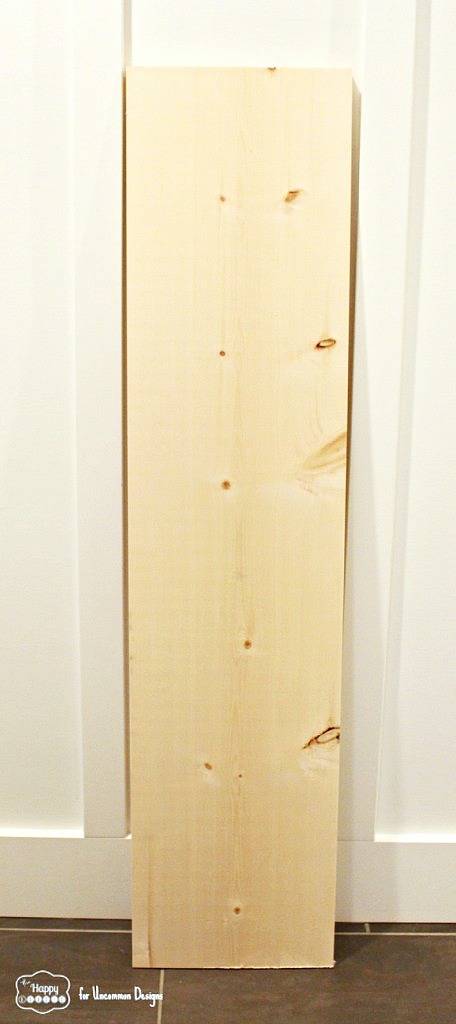 I gave it a coat of wood stain to darken the wood color… I used Varathane brand Provincial (color) but would use a darker stain color if I were to repeat this project.
After letting it dry thoroughly I used a technique with Vaseline in order to create a distressed paint finish. Before doing this I read a few online tutorials to get a basic idea of what to do- you can see these tutorial on my Pinterest Board DIY.
Now that I have tried it I would say it is a super effective technique- but I would apply it in thinner lines in order to make my distressing slightly closer to the style of the PB sign. Basically, you apply some Vaseline… paint over the whole thing… and you can see right away where the paint isn't going to adhere.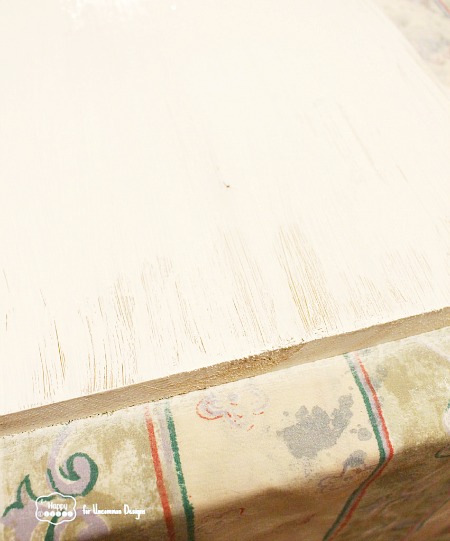 Let your paint dry overnight and then you can literally rub the paint right off… no arm injury from hours of sanding!
The next step was to print some lettering. I used MS Word to create the word PEACE and then had it printed on a photocopier on 11×17 sized paper. (Staples has inexpensive copies and you can bring this document in on a memory stick).
Here is my MS Word Document with the lettering peace if you wish to print this for yourself. Note that the A and C lose a small corner of themselves when printed but I simply used a ruler to fill that in.
I used the pencil transfer method to add my lettering to my sign – turn your letters over, pencil along the edges of the letters on the back of the paper…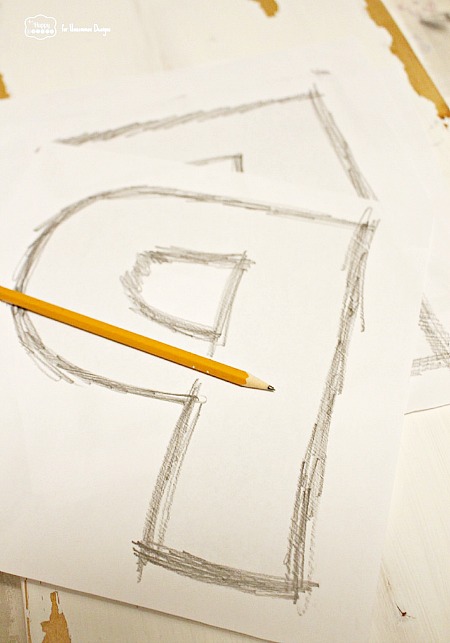 And then flip them back over, adjust and measure for the correct placement, and then trace the edges of the lettering with your pencil.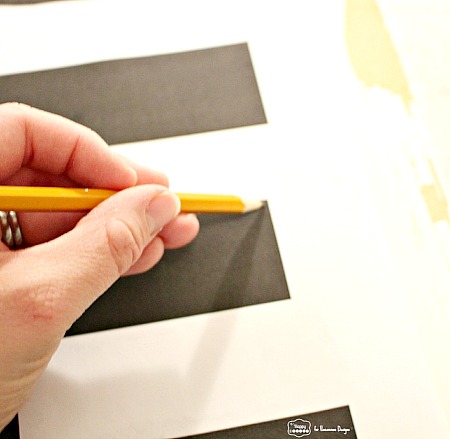 This transfers your lettering right onto your sign.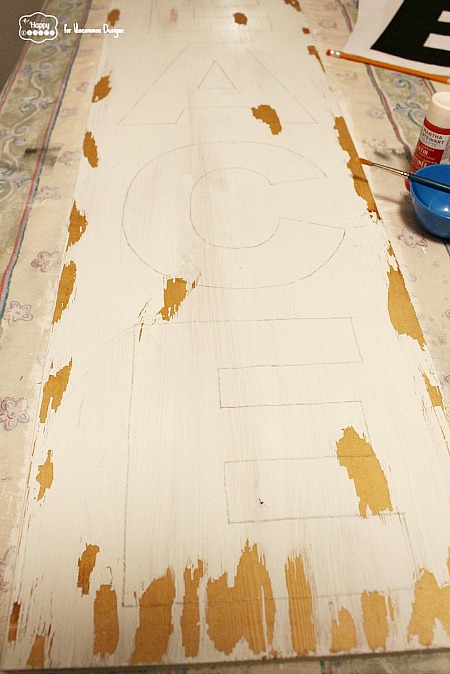 Now it is time to paint- I did three coats of red (Tartan) craft paint…
Once the paint was thoroughly dry I sanded the whole piece using a sanding block. You want to be careful when sanding the red lettering so that all the red dust doesn't get stuck on your white paint – sand slowly and dust it off as you go.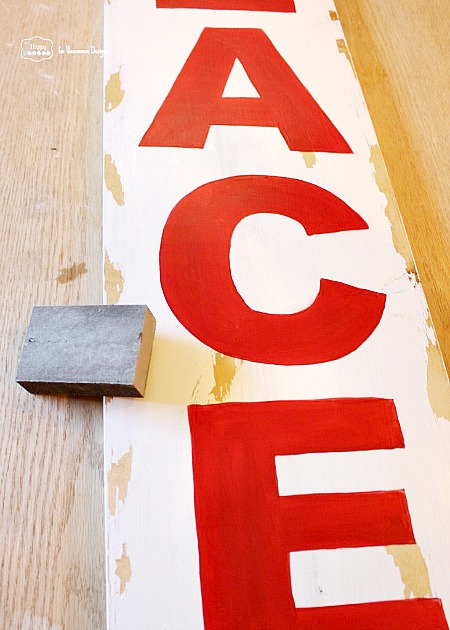 Lastly I finished it off with some dark wax to give it a further aged effect. If you don't have dark wax you could try using a little bit of watered down wood stain or tea stain instead (testing it first in an inconspicuous area).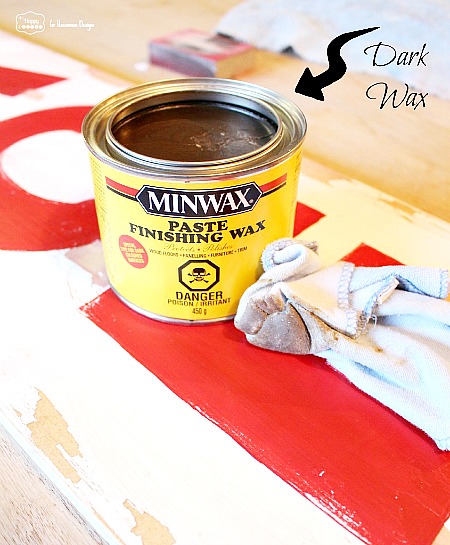 Done!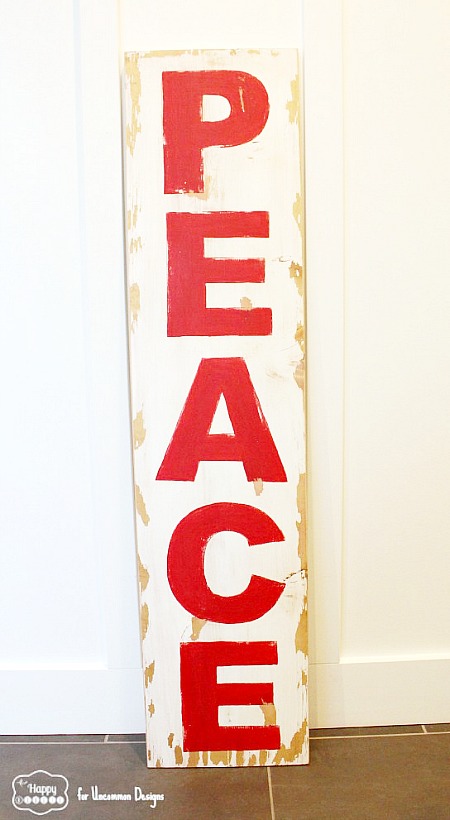 I am thrilled with how it turned out – it has found the perfect home in the corner of our dining room.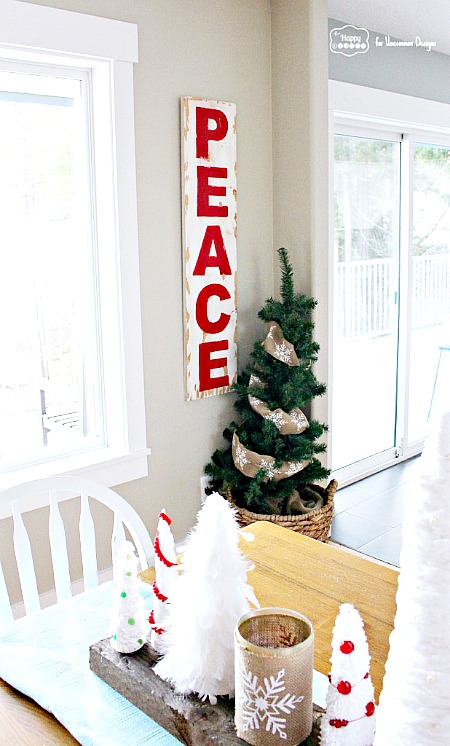 Budget Breakdown:
$10 for the Pine board from the hardware store

$2 for the Craft Paint from Walmart
Had already: white trim paint, paint brushes, wood stain, sanding block, Vaseline, wax
I'm pretty excited to start decorating the whole house for Christmas really soon… I have been work hard crafting up some other projects and crafts to use in our décor this year.
Are you excited about decorating for the Christmas season? Any big projects planned for it?
Thanks again for having me over at Uncommon Designs today, Bonnie and Trish! I can't wait to come back!
Thanks for reading. And remember my housie friends, HOME isn't built in a day. Enjoy the journey.
The Happy Housie is a home décor and lifestyle blog that was named this because I must admit to you that I am a bit of a "housie"… (think foodie but for houses). I love all things related to houses: decorating, DIY, organizing, crafting, gardening, and more. I love sharing projects and ideas, and especially love finding old pieces and fixing them up to make them vibrant and beautiful again.
The following two tabs change content below.
Hey y'all! I am Trish and the creative voice behind Uncommon Designs. I adore party planning, holiday celebrations, and all things crafty! I am so excited to share my creative adventures with you!
Latest posts by Trish Flake (see all)