Do you remember when you were little and daydreamed about that boy…you know…the one you wanted to carve your initials in the tree…just like the movies? Sigh, yea, that was a magical feeling. I just love that nostalgic feeling, and wanted to make something extra special for my loved ones this year for Valentine's Day. I decided to combine the look of the carved initials into a sweet sentiment… DIY Faux Moss Heart Valentines…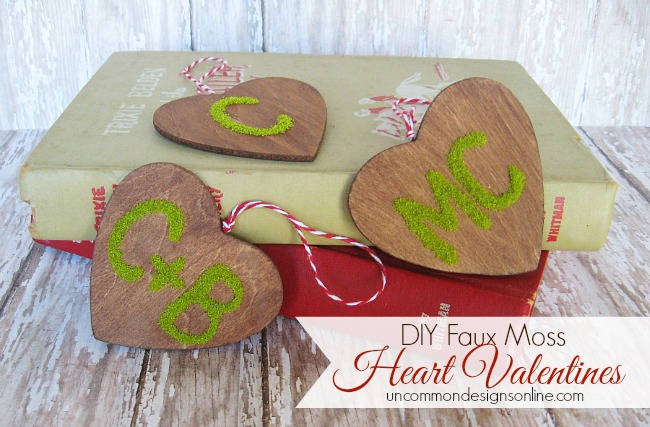 These vintage look little valentines turned out precious! I love the rustic and simple look. They are perfect to hang from a simple tree limb in a vase, or to embellish your special Valentine's Day gift.
I created one for my husband and I, and then one for each of our children. They will be a perfect, simple decoration for Valentine's Day.
Supplies needed to make your own DIY Faux Moss  Heart Valentines… (affiliate links)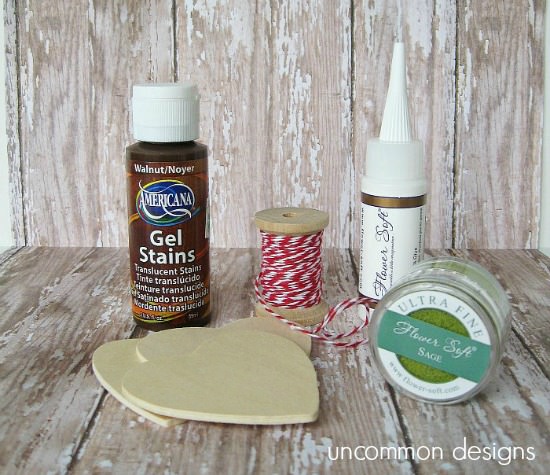 Glue Gun and Glue Sticks
Foam Paint Brush
Step One…
Start by simply brushing the gel stain onto the wooden heart cutout. Make sure to also stain the sides and back. Allow the stain to dry fully. TIP: Use your hairdryer on the cool setting to speed up the drying time!
Step Two…
Next, you will use the Flower Soft Glue to write the monogram or initials of your loved one, on the wooden heart. The tip of the glue is pointed, and makes writing the initials not too difficult. It is very thick and easy to control.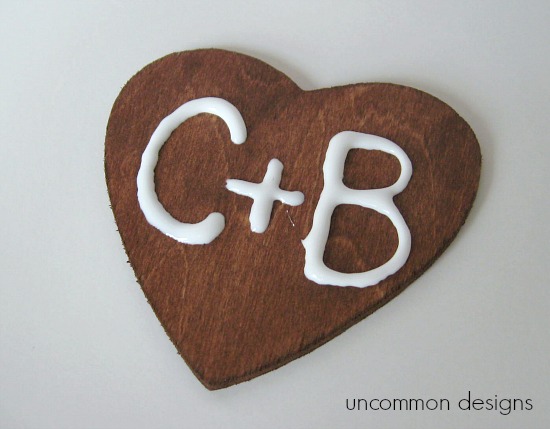 Step Three…
Now, you will take the Flower Soft and gently sprinkle it over the glue initials. I placed a paper plate underneath the wooden heart, to catch the excess so that I could reuse it…budget crafting!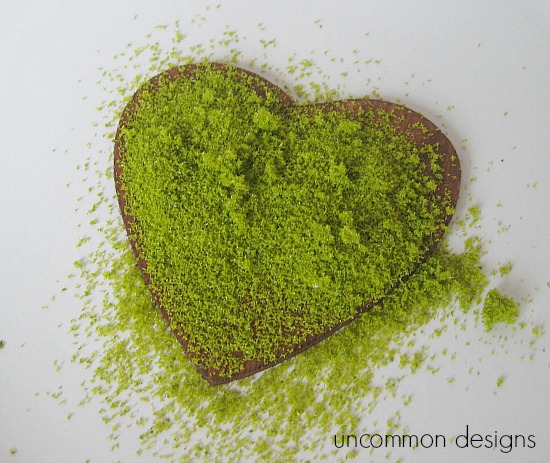 Step Four…
Now, you will gently pour the excess Flower Soft onto the plate and tap the back of the heart to get the remainder of the excess Flower Soft off of the initials. TIP: Use a clean, soft makeup brush to very carefully brush off any remaining Flower Soft from the wooden heart.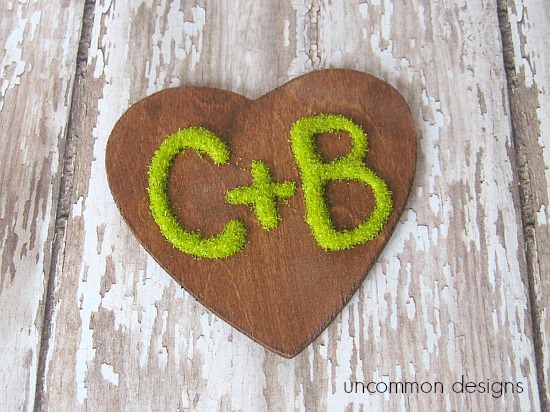 I just loved how these were turning out! The Flower Soft is so easy to work with and created little faux moss initials. Take a look at how these moss initials look from the side, the texture and raised look add to the charm of these little heart valentines.
Step Five…
The final step is to attach little hanging loops of the baker's twine on the back with your hot glue and glue gun. I simply looped about 7 inches of baker's twine ove,r and tied a knot about 1 inch from the end, and then glue it onto the back of the heart. I made a heart for each member of our family…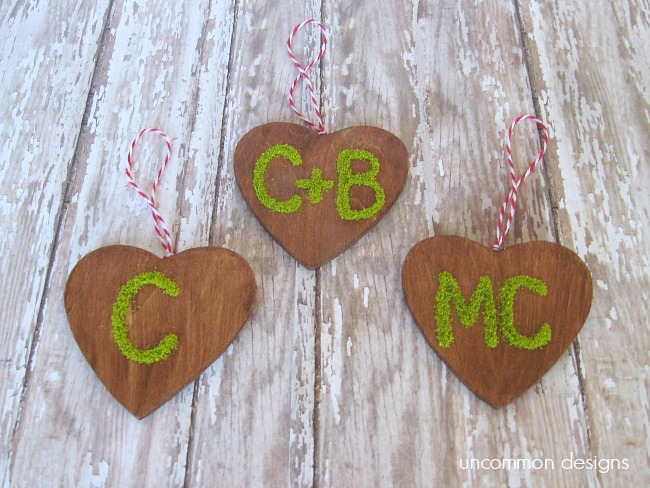 I love the vintage feel of these little faux moss personalized heart valentines. They remind me of a simple time in life…imagine carving your initials is a tree with your sweetie!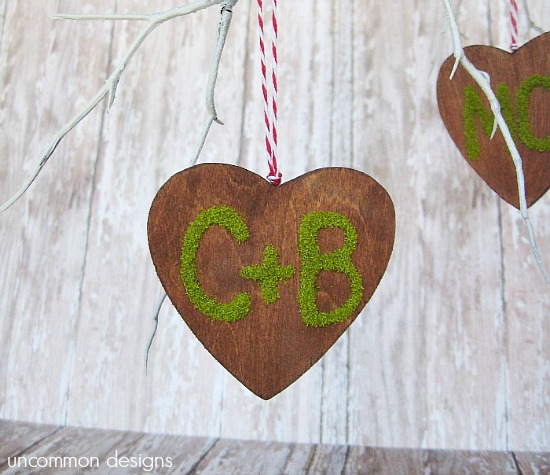 They would be perfect as an ornament, gift tag, or just to set out. We could also see these being used at weddings and anniversary celebrations as well.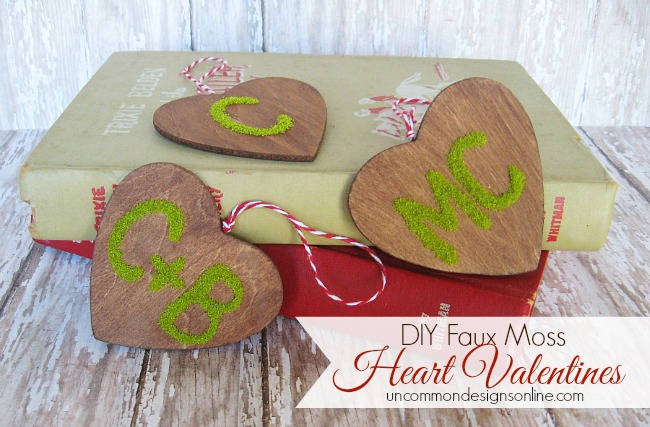 So, have you decided on what to make for that special someone in your life for Valentine's Day? These little moss heart valentines would make a sentimental statement in a very simple, yet personal way.
If you have never used this Flower Soft product, you simply have to try it! I also created these Faux Moss Table Number Cards using it…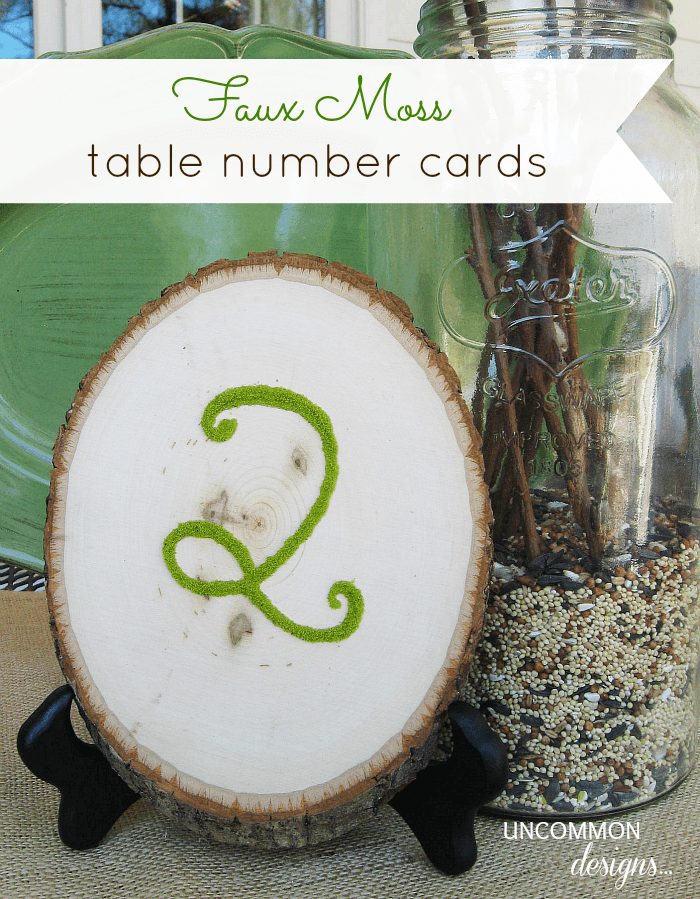 and for some more great Valentine's Day Ideas, be sure and check out our…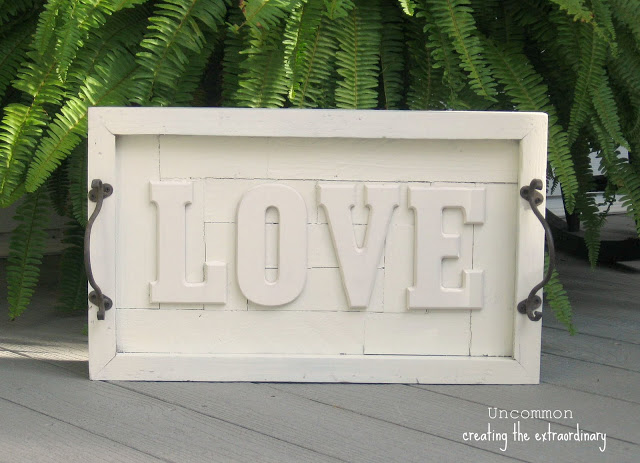 Pottery Barn Inspired Love Wall Art
Have a Wonderful Day!
Bonnie
this post contains affiliate links
The following two tabs change content below.
Hey y'all! I am Trish and the creative voice behind Uncommon Designs. I adore party planning, holiday celebrations, and all things crafty! I am so excited to share my creative adventures with you!
Latest posts by Trish Flake (see all)