There is something about the coast that instantly puts my mind at ease and relaxes me.  I love bringing it inside to remind me to settle down and enjoy the moment  when I am far away from the waves.  I decided to make my own dip dyed wood candlesticks to go with my starfish collection and I thought I'd share it with you guys!
You'll be surprised with what I used to dye the wood with… Tie Dye!!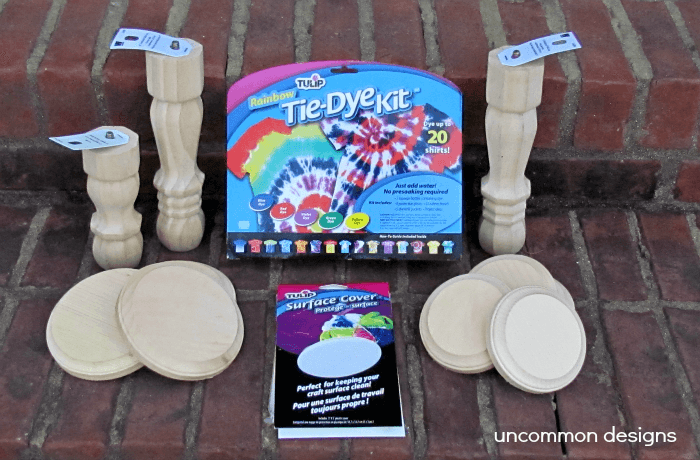 To make this beautiful set of candlesticks, I got some unfinished wood circles, table legs from the home improvement store, and a tie dye kit.
Woodworking Supplies:
To make a trio of the candlesticks you will need 3 sizes of furniture legs, 4 small wooden circles, 3 larger wooden circles, a package of 1″ wood screws and a package of 1 1/2″ double ended screws, pencil, ruler, drill bits, and a drill
Step One.  Find the center of the large circles and drill a hole that will accomodate the screws on the bottom of the furniture leg.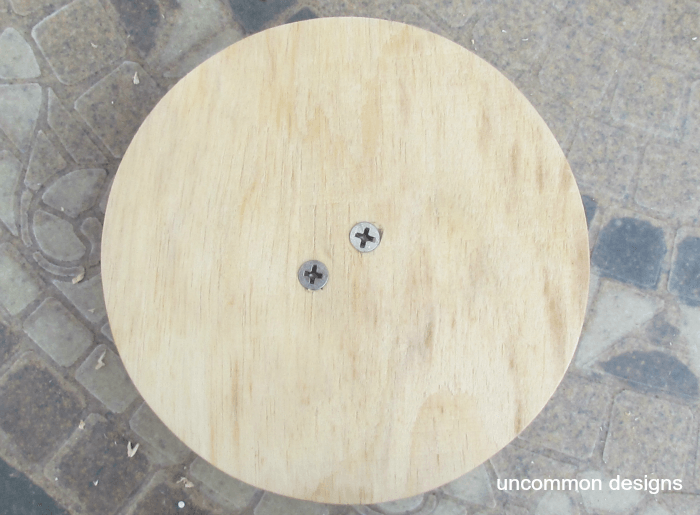 For the smallest candlestick, I added an additional small piece between the candlestick and the larger wooden circle.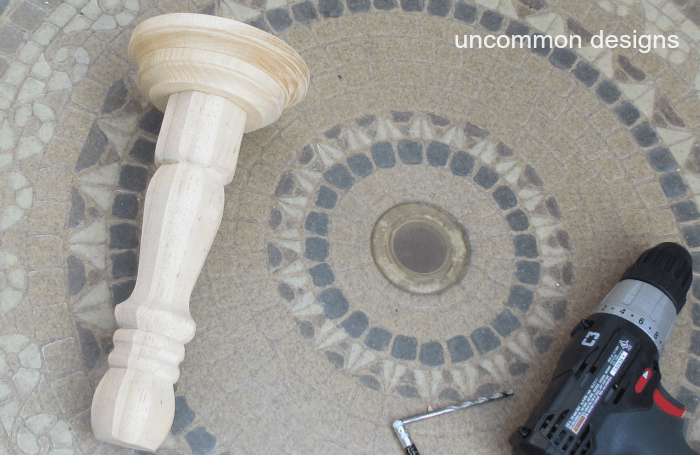 Step Two. Screw the large circle to the furniture leg.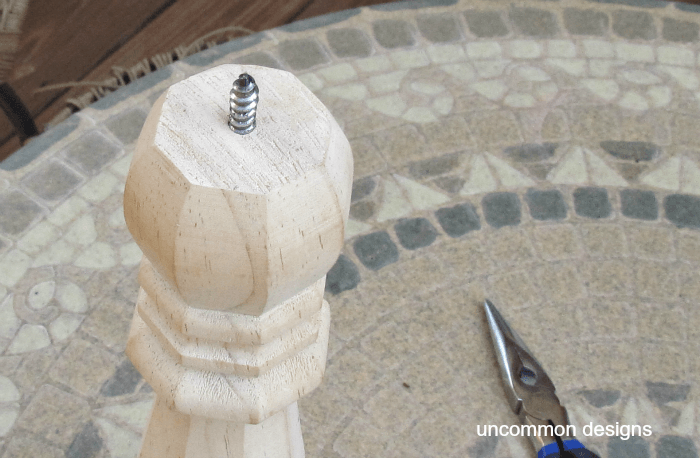 Step Three.  Now you will drill a pilot hole into the top of the furniture leg in the center and into one of the smaller wooden circles.  Attach the double ended screws to your drill like you would a drill bit and drill it into the top of the leg.  You will now screw this to the wooden circle top.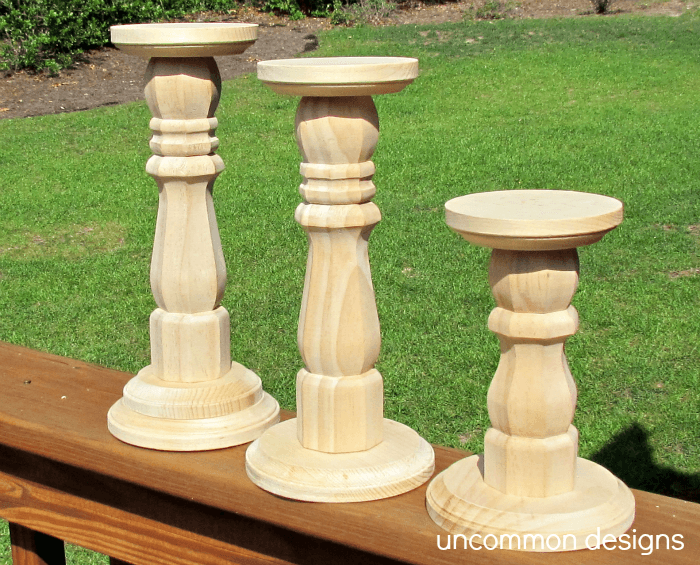 Now your candlesticks are complete and ready to be dyed!
Step Four.  Prepare the area with the surface cover and put plastic gloves on to protect your hands.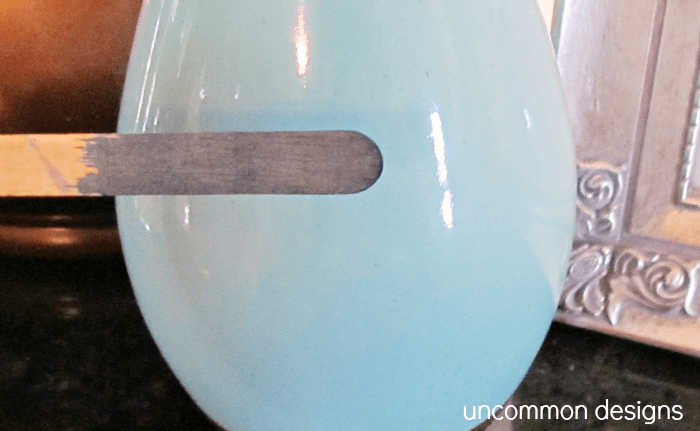 Step Five.  Now you will mix your dye according to the directions on the package.  I decided to mix the blue and green until it was a few shades darker than what I wanted.  I used a popsicle stick to test it out.
Step Six.  To dye the wood, I unscrewed the pieces of the candlesticks and dipped them into the dye until they were the desired color.  Now you let them dry and put them back together!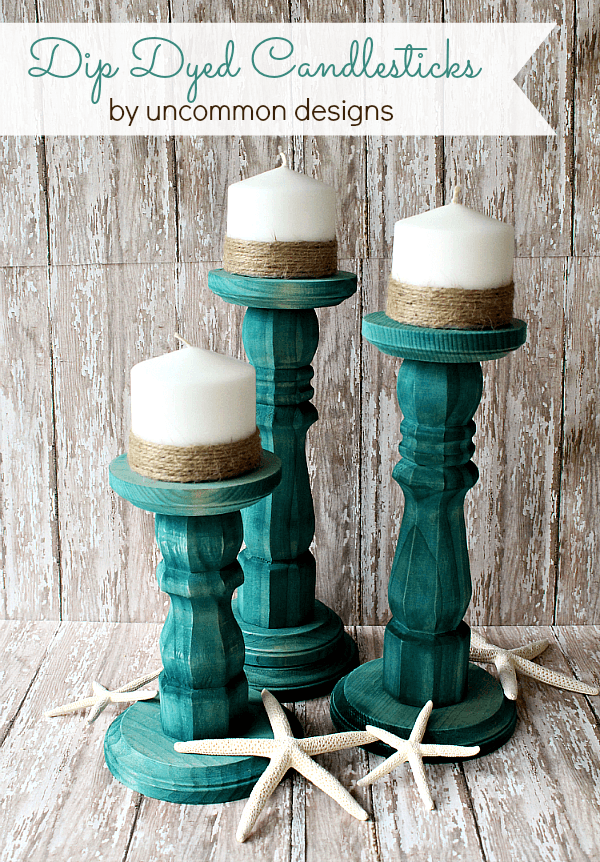 So pretty and serene!  What do you incorporate into your decor that helps calm you?
These candle sticks are the perfect accent to our Summer Beach Tablescape…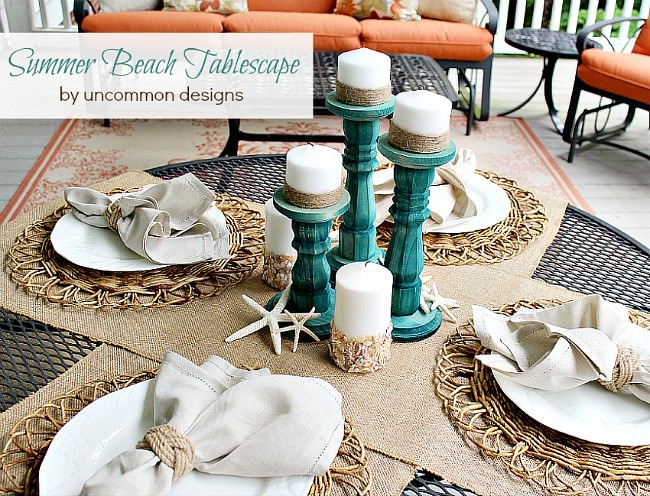 Combined with neutral touches of linen and burlap make a relaxing coastal vibe!
The following two tabs change content below.
Hey y'all! I am Trish and the creative voice behind Uncommon Designs. I adore party planning, holiday celebrations, and all things crafty! I am so excited to share my creative adventures with you!
Latest posts by Trish Flake (see all)