Are you thinking of Holiday Gift Giving yet? 
Do you like to give out baked goods to your co-workers and neighbors?
If you are, these Chocolate Dipped Toffee Cookies are a must to add to your holiday gift basket…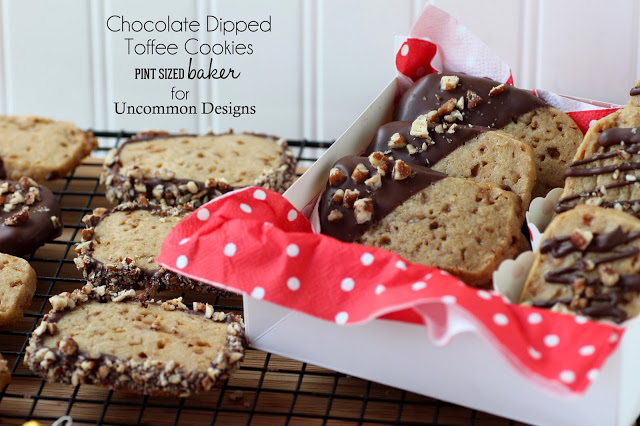 We loved them here! They were gobbled up in a few days by my husband.
I loved the variety of decorations on them. Don't limit yourself to the "best" way and there really is no "wrong" way to decorate them.
In fact, get your kids to help out with the decorating. You're sure to have some giggles and laughter as they fling chocolate over the cookies.
Ok, maybe some supervision for the little ones will be good… but they can still help out with sprinkling the nuts over them.
For a fun holiday twist, you can add some gold sanding sugar to the mix. It'll give them a fun sparkle and unexpected shine to the chocolate.
Whoever receives these will be very happy to eat them.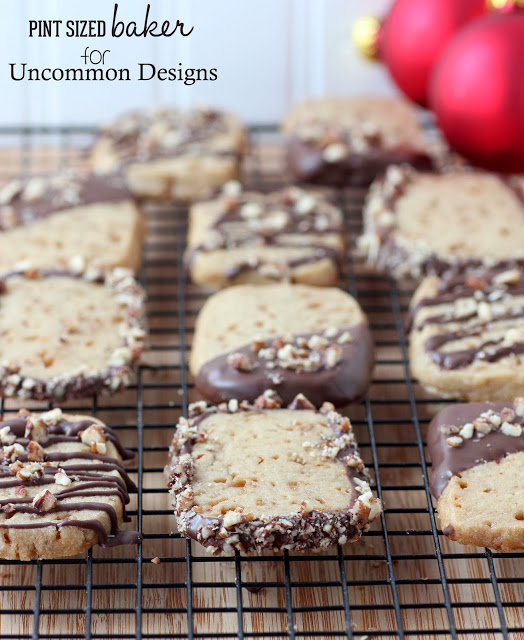 Chocolate Dipped Toffee Cookies
Keywords:
chocolate toffee Christmas cookie
2 1/3 C flour
1/2 tsp baking powder
1/2 tsp salt
2 sticks Butter (16 Tbls)
1 C packed light brown sugar
1 egg
1 tsp vanilla extract
1 C Heath Toffee Bits
1 1/2 C semi sweet chocolate chips
1 Tbsl vegetable oil
2/3 C pecans or walnuts, toasted and finely chopped
Instructions
Combine dry ingredients together in a medium sized bowl.
In your stand mixer, beat butter and sugar for 3 minutes on medium speed. Add in the egg and vanilla and beat for 30 seconds. Reduce the mixer speed and slowly add in the flour mixture. Stir in toffee bits.
Divide the dough in half and form into a log on plastic wrap. Shape into a 9 by 2 1/2 inch wide rectangle, wrap in plastic and refrigerate for 1 – 2 hours.
Preheat the oven to 350 deg F and line two baking sheets with a silicone mat or parchment paper.
Remove the dough from the fridge and cut 1/4 inch slices using a sharp knife and place them on the cookie sheet.
Bake for 10 – 12 minutes or until just brown on the edges. If you are baking both cookie trays at the same time, switch position and rotate the pans halfway through.
Leave the cookies to cool completely on the cookie sheets and then bake the second roll of dough.
Melt your chocolate chips in a small bowl for 1 minute at 70% power in the microwave. Add in oil and stir to make it smooth. Dip or drizzle the chocolate over the cookies and then sprinkle with the toasted nuts. Allow 1 hour to dry before serving or wrapping up for gift giving.
The following two tabs change content below.
Hey y'all! I am Trish and the creative voice behind Uncommon Designs. I adore party planning, holiday celebrations, and all things crafty! I am so excited to share my creative adventures with you!
Latest posts by Trish Flake (see all)