Today I want to share these sweet DIY Carrot Napkins with you…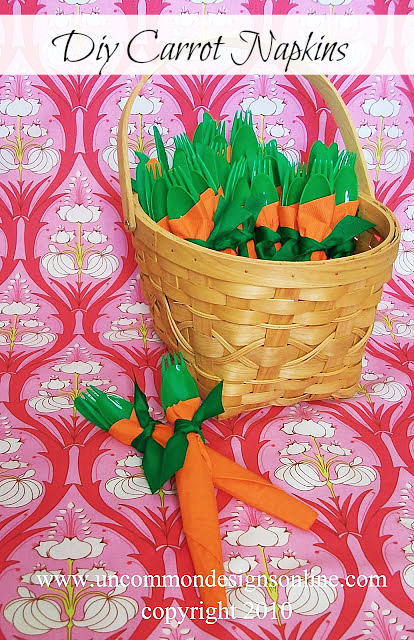 With the weather getting warmer, the green grass peeping through, and the trees blooming, I definitely have Easter on my mind!  My Dad  passed very unexpectedly last month and this will be our first big family get together without him. 
I wanted to change things up a bit and this year we will be doing an Easter picnic outside.  I thought some fresh air and seeing things new and beautiful growing around us would bring us some much needed peace. 
It won't be the same without him, but I hope that seeing God's wonderful work all around us will be a wonderful reminder of the greatest sacrifice ever known and how our Pop is up there reaping its  rewards. 
Crafting is like therapy for me, so this Easter will probably be a little over the top, but who cares!  I know you ladies will get that more than anyone else!   I had seen these adorable party carrots on Family Fun's website and wanted to do my own version with ribbon, of course!  Their website included directions, but I wrote a tutorial so you would have a picture for each step.  Enjoy!
Easter Carrot Napkins  Tutorial
Supplies Needed:
Orange Dinner Napkins, Green Cutlery, Green Gros Grain Ribbon 
Open napkin once to make a rectangle
Take lower right corner and fold up toward center crease line.
Stack cutlery largest to smallest and place at an angle on left side.
Begin rolling from the left side until you have all of the napkin coiled.
Tie about 8-10″ of  ribbon, trim and at an angle and you are done! 
 So quick and so cute!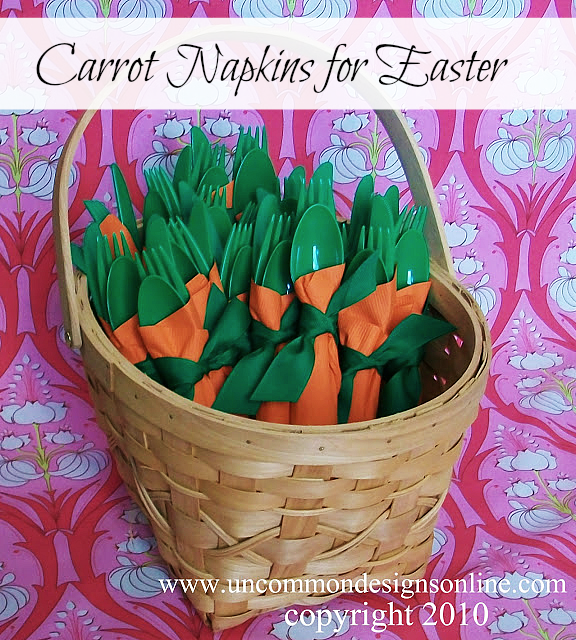 These little Carrot Napkins are perfect for your Easter table and our little Bunny Peep Straws would complete the look, you should go check them out too!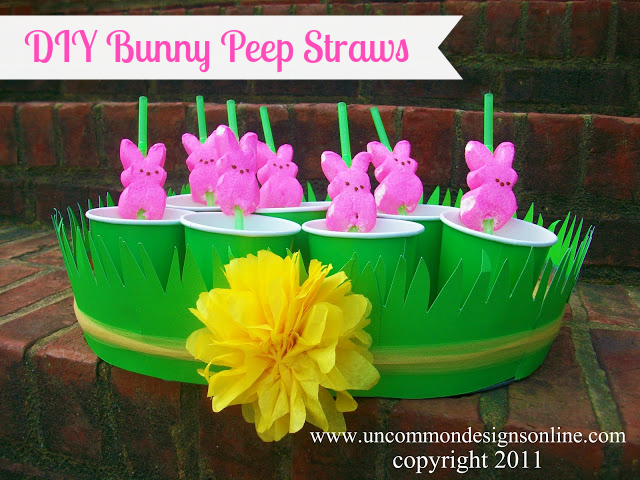 Also hop over to see our sweet Carrot Patch Easter Treat…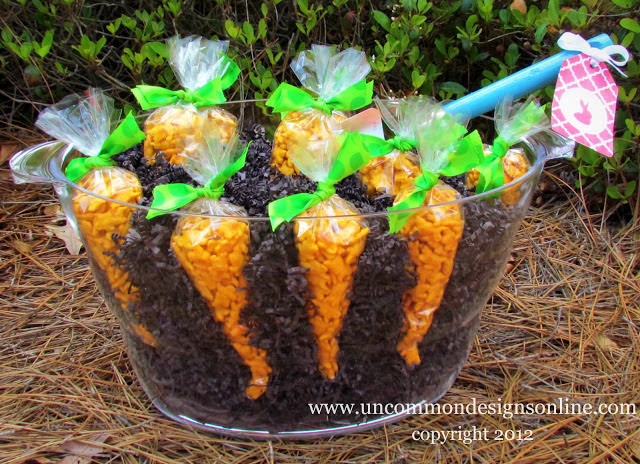 The following two tabs change content below.
Hey y'all! I am Trish and the creative voice behind Uncommon Designs. I adore party planning, holiday celebrations, and all things crafty! I am so excited to share my creative adventures with you!
Latest posts by Trish Flake (see all)